Rohit Roy who started his career with television and is still known for his cult shows like 'Swabhimaan' decided to quit his comfort zone for movies at the peak of his popularity. Later, he moved to films, followed by theatre – and now the actor has made his debut with an audio-series. He's getting a lot of appreciation for his audio series 'Woh Kaun Thi'.In a candid chat, Roy talks about this being the most creative space of his career, his regrets, how it was a struggle for him to not act like
Amitabh Bachchan
and lots more. Excerpts from the chat….
You've received a lot of appreciation for the audio-series 'Woh Kaun Thi' and your role as Inspector Vijay.
I think I couldn't have asked for a better debut in the audio section than to be working with Audible. And especially on a show like 'Woh Kaun Thi'. It's got every element that I wanted to dabble with. Since it was a murder mystery, you need to convey those kinds of emotions, a lot of things come into play in terms of the voice modulation. It was a win-win for me. I got to challenge my own vocal cords. And I got to debut with a show that is definitely, one of those marquee shows.
But how does it feel to emote just through your voice and yet convey the message?

I'll let you into a little secret which I haven't actually told anybody. Even when I was doing the audio series, even when I was recording 'Woh Kaun Thi', I always pretended that there was a camera in front of me. Being an actor for the last 25-30 years, that's something that comes naturally to me. And I would always think that there is a camera in front of me and I'd go full on in terms of acting. That was my little secret because I'm a debutante here.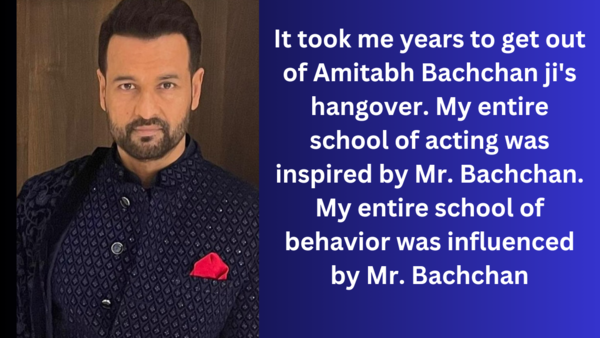 It's interesting that you have no qualms about calling yourself a debutant despite being an actor for close to three decades. Does that mean there's still a lot of hunger in you to re-invent?

I think I am someone who really just wants to keep learning and exploring new things despite being there for so many years. You've used the operative word. You have to reinvent. If you don't reinvent there's a sense of fatigue that can creep into any actor's work. Even during the beginning of my career, I might have done lesser work, but I've done work that pushed me on. I'm not saying that I've done outlandish stuff. I've done stuff in keeping with commercial cinema and television, but I've tried to make sure that my rules are different. My performances are different. I made my stage debut at 35. I like to push myself into a zone that makes me uncomfortable. Having done television for so many years, I'd become comfortable, which is why I stopped doing TV totally. Then I started doing cinema. Then I thought that if anyone wants to call themselves a bonafide actor, then they need to be on stage. And that's what I learned. Now, with the coming of these audio series, I've realized that I'm an absolute novice when it comes to this format. You could say, this is another attempt to break the glass ceiling and try to enter another horizon. I actually enjoyed myself during the audio series because I made it sound very different from what people have heard me as. (Rohit modulates his voice to speak like Inspector Vijay and laughs).
You almost sound like you're imitating Amitabh Bachchan while playing Inspector Vijay. Is that your homage to the icon?

It took me years to get out of Amitabh Bachchan ji's hangover. I've said this many times, but my entire school of acting was inspired by Mr. Bachchan. My entire school of behavior was influenced by Mr. Bachchan. So I tried my best, but it took me about 10 to 12 years to get out of that hangover and get into my own. Strangely, when you start off your career, doing a show like 'Swabhimaan', where you're playing the angry young man and then they call you the angry young man of television, somehow, it kind of seeps into your system. But all is well. I'm happy the way I am now.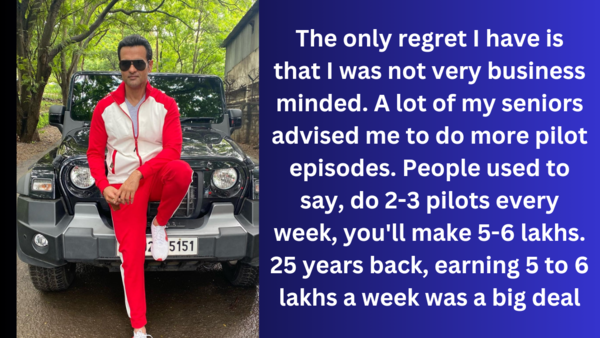 Do you have any regrets about leaving television at the peak of your career and joining the movies?
I have one minor regret. Even when I was doing television, I never really bothered to do more. I was very happy doing a show here or doing a show there because I was very happy with the stuff I was doing. I was content. Maybe if I was hungrier, then I would have had a couple of bungalows in Juhu next to Amitji. That's the only regret I have in the sense that I was not very business minded. I was not very commercially inclined. In fact, a lot of my seniors advised me, I cannot take names, but they advised me to do more pilot episodes. Those days, pilots used to be shot quite often. And 25 years back, I would have made a couple of lakhs doing just one pilot. But my approach was that, if I don't like this story, I won't do it. People used to say, do 2-3 pilots every week, you'll make 5-6 lakhs. Twenty five years back, earning 5 to 6 lakhs a week was a big deal. I might have had a little more money had I done that. But other than that, I don't regret anything. I had to stop doing television because it was going nowhere for me. I was not comfortable. I didn't like the way people worked. Unfortunately, in the field of TV, your back is always against the wall. That was great when I was training. I am what I am because of television. But after the first decade, I realized unless I fly the coop and try something different, I'll get stuck and remain a television actor all my life.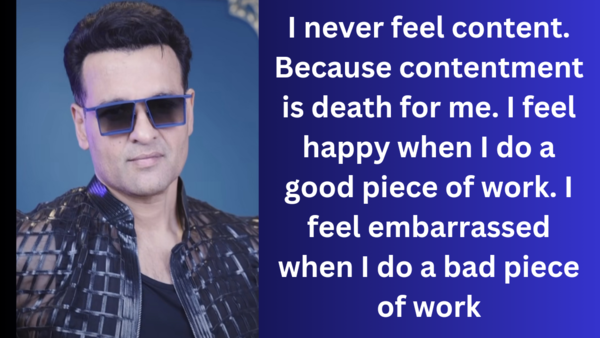 How do you feel about this new phase where slowly, actors have broken away from being typecast, and OTT content is pushing the envelope each day?

This is the most creative phase of my life. Earlier, there was a demarcation. People used to label you as a Tv actor when you graduated to films. Us TV actors actually used to end up meandering between the two formats. Every two, three years, you'd get a great role on TV. And one would go back to doing television. While I owe my existence to television, believe it or not, people don't think I'm a TV actor anymore. It's so strange. Maybe it's because of my roles in the films that I have done and somehow they've superseded what I had done on TV. But for me, I still think that the availability of multiple mediums is great for us actors. With the advent of OTT, we've realized how the consumption of entertainment has changed. And now the latest kid on the block is the audio series format. They have completely changed things. There is a paradigm shift in entertainment and the way it is consumed. I'm a huge fan of audio series.
Are you saying you're content with the kind of work that you're getting now?

I never feel content. Because contentment is death for me. I feel happy when I do a good piece of work. I feel embarrassed when I do a bad piece of work. That hasn't happened for a while, but I do. Like I told you before, I'm in the most creative phase of my life. I'm writing, producing and directing a show for my own company, Rohit Roy Productions. And I'm doing it with one of the leading content providers. I can't give you more details, but it's something that I've really wanted to do. Acting for me was an accidental job. I just got into acting without thinking. And then once you set the ball rolling, you have to run behind it. But now acting is not the only thing I'm doing. For me, writing and directing gives me creative joy like nothing else.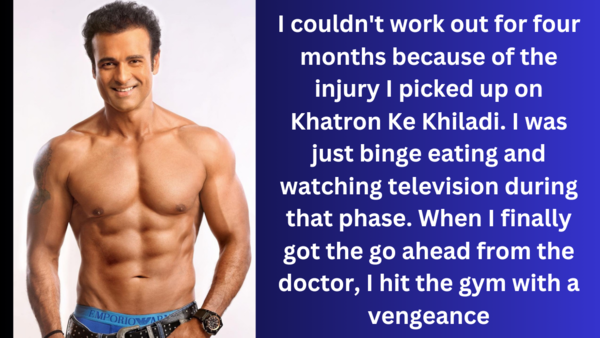 You also continue to remain fit, flaunt your chiseled body and your pictures on Instagram are proof.

God has been kind. I guess I got my parents' genes and I work hard. My wife calls me a dog with a bone. There have been times when I've put on weight. I couldn't work out for four months because of the injury I picked up on Khatron Ke Khiladi. I was just binge eating and watching television during that phase. And then, I finally got my go ahead from the doctor and I hit the gym with a vengeance. I became a dog with a bone. If I decide to do something, no force can stop me. So I'm back now in the gym and I enjoy it. It makes me sleep well at night.