Blood Red Sky Movie Review
Blood Red Sky Movie Review
Blood Red Sky movie was released on Netflix. This is a very interesting movie because this movie targets two different concepts in one movie. First, it's a Plane hijack movie with vampire evil, Which makes this movie more interesting. My kids love Plane hijack movies, so we planned to watch this movie on Friday night (23/07/2021). Trust me they loved this movie.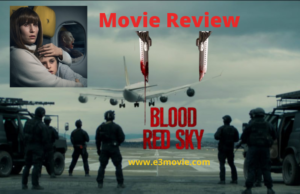 Storyline: A thrilling movie which is about a lady's mysterious illness and how she uses her evil character to save her son from the Plane hijackers.
German director: Peter Thorwarth.
Filming Location: Primarily used the studios in Zličín, Prague to film. Inside the studio, Team built a model of an aircraft to film the whole movie. The shooting was interrupted in September 2020, as one of the crew tested covid-19 positive.
Movie release date: Blood Red Sky will release on Friday, July 23, 2021, on the OTT platform Netflix only.

Movie language: German and English

Subtitles: German and English
You May Also Like to Read :
Movie Full Cast
Peri Baumeister … Nadja
Carl Anton Koch … Elias (as Carl Koch)
Alexander Scheer … Eightball
Kais Setti … Farid
Gordon Brown … Bill Morris
Dominic Purcell … Berg
Graham McTavish … Col. Alan Drummond
Kai Ivo Baulitz … Bastian Buchner
Roland Møller … Karl
Chidi Ajufo … Curtiz
Jan Loukota … Jurij
Nader Ben-Abdallah … Mohammed
Leonie Brill … Julia Weber
Rutger Lysen … Todd
Rainer Reiners … Rainer huber
Ilona Schulz … Ingelore huber
Petra Michelle Nérette … Stewardess Gifty (as Petra Michelle Nerette)
David Hürten … Marvin (as David Huerten)
Florian Schmidtke … Air Marshall Michael