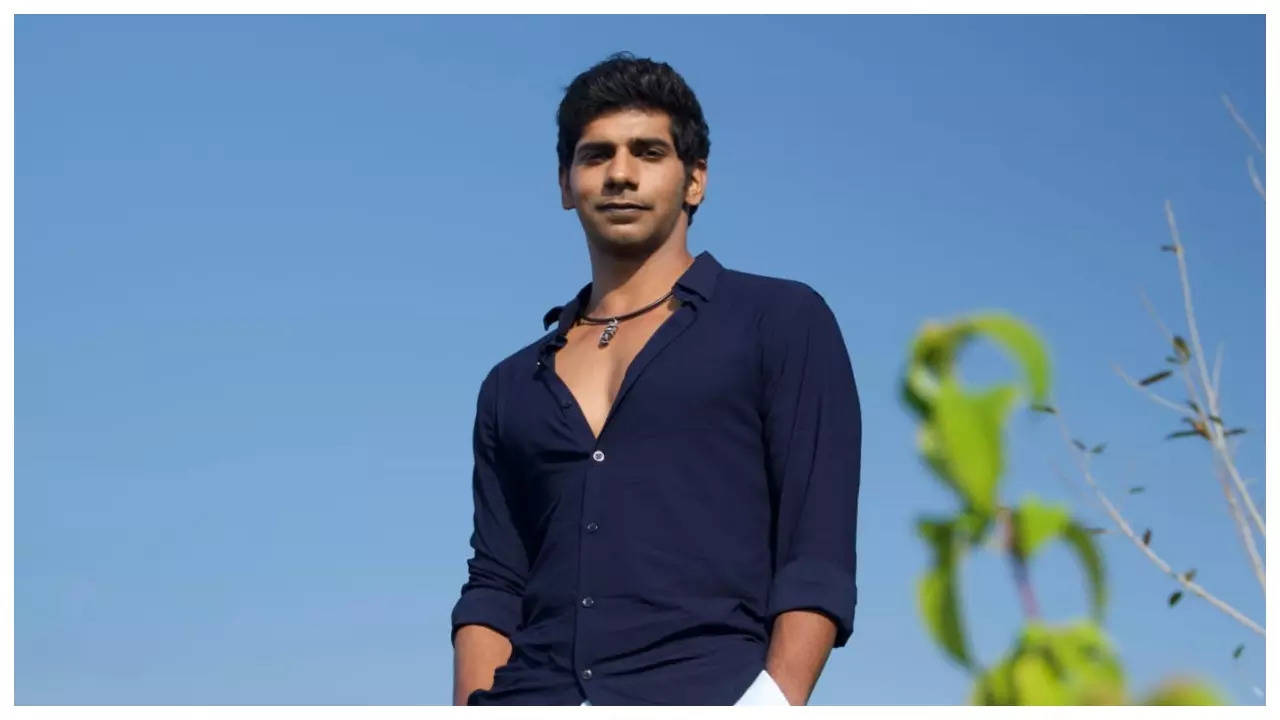 Karan Hariharan
, son of the legendary playback singer Hariharan, recently made his debut as a lead actor in the romantic drama 'Pyaar Hai
Toh Hai
'. In a quick chat with ETimes, the actor talks movies, his take on love stories and more….
Talking about how Pyaar Hai Toh Hai came about, the actor said, "I had been giving auditions for such a long time, that at some point (somewhere in 2021), I was finally like, bhagwaan ji ab toh kuch kara do.
I auditioned for Armaan (his character in the movie) and they liked my tape and called me back. While I was randomly sitting after the audition, my director Pradeep R.K. Chaudhary and I started talking about movies like Shutter Island, and how we both were big fans of the Christopher Nolan genre of cinema. Hearing this, Pradeep looked at me and said, 'Mujhe mera Armaan Mil Gaya' ". He further added his mother was so happy on hearing the news that she started crying!
When asked that Bollywood tends to make love stories by dime a dozen, Karan had an interesting take. He said, "I mean, the beautiful thing about love is that it is so universal, and has so many ways to express it, that even though we have made so many movies on it, we've barely scratched the surface of the abundance and infinity that the emotion stands for. And as humans, we all, at the end of the day want to be loved and love someone. And, watching that unfold on screen is just something that resonates with all of humanity."
Karan also took us through that one unforgettable moment during the shoot of the movie. He said, "During my first shot of the film, my director came with his own shirt and asked, 'Karan, could you please wear this for the shot?' It was truly overwhelming for me as an actor and as an artist, because it was a reflection of his hopes, dreams and aspirations, right? And to add to that, he said, 'you know, if it doesn't look good, we'll change it'. And I told him don't do anything and I will make sure it looks good. And just like that, my first shot in the movie will be something that I will remember for the rest of my life."
As for his acting journey ahead, Karan says he is ready to explore any medium. He said, "I think that's the fun part of my job, right? I love the freedom it brings. Currently, my favorite part of filmmaking is pre-production, because that's where I am creating my character. That's where the fun happens, the improvisations in the middle of the night, the ideas that pop up, going for rehearsals with your co-stars, and just giving life to your character. In fact, I love it so much that I am obsessed with it."
Kartik Aaryan and Tara Sutaria dating each other or making appearances to create buzz around their upcoming movie 'Aashiqui 3'?
Having trained in Calisthenics (a form of strength training that utilizes an individual's body weight as resistance to perform multi-joint, compound movements with little or no equipment), Karan said that he would love to do an action movie next. He added, "The beauty of Calisthenics is that it allows me to understand my body better. So the more mind-muscle connection I have, the more control I have, and the better I can experience that moment on the set, " he wraps up.
Pyaar Hai To Hai co-stars Paanie Kashyap and is currently running in theatres…