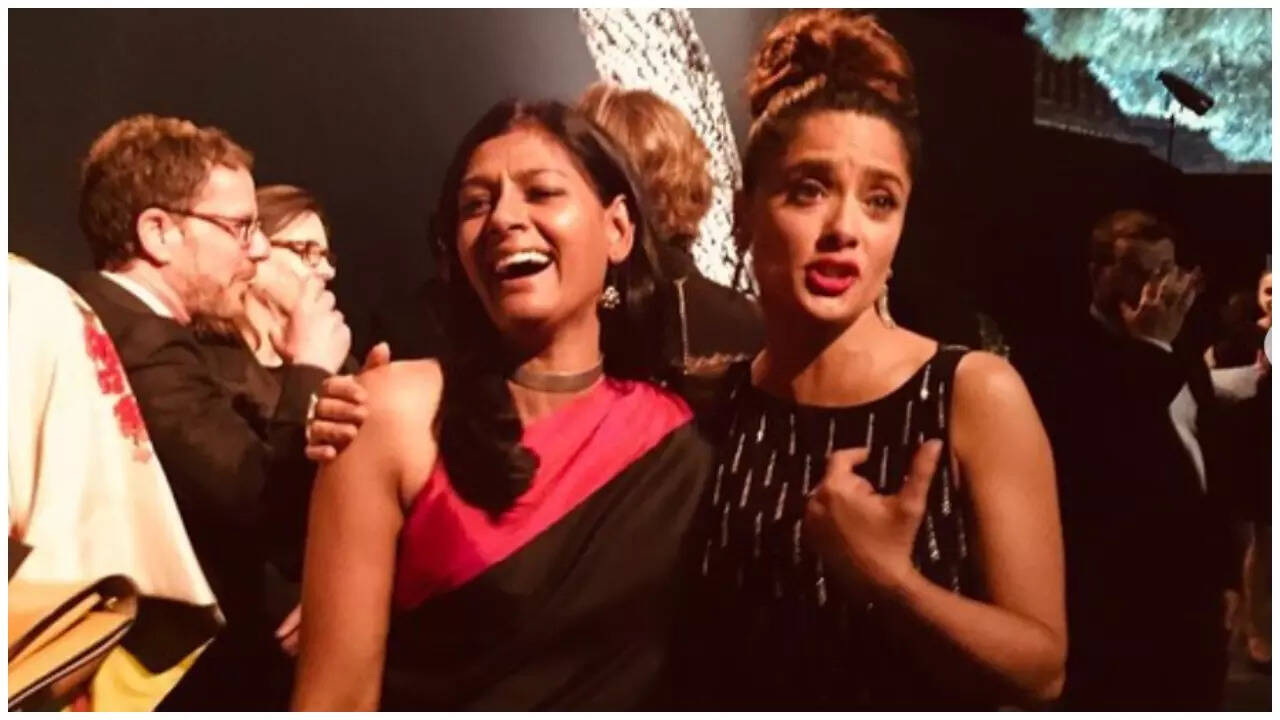 At a time when several Indian actors and even influencers made their debut on the Cannes red carpet, director
Nandita Das
' post created quite the flutter.
The director, on Saturday, shared some throwback photos from the Manto premiere at the festival. Penning her thoughts in the caption, she wrote, "Sadly missing Cannes this year. Sometimes people seem to forget that it is a festival of films and not of clothes!"
She went on to comment about the fashion-forward appearances made on the carpet today and compared it with the much simpler attire worn a few years ago. "Here are a few images through the years in Cannes. And only the ones in Saris as there is a fair amount of chatter about the 'celebrities who wore saris in Cannes'," she wrote.
Her post seemingly sparked off online debates with many questioning the presence of influencers at the event, the focus on fashion choices by actors rather than the films presented and more. Reacting to the 'unintended debate', Nandita issued a clarification of sorts and expressed her amusement about how the post was perceived as a 'dig'.
Sharing a bunch of throwback photos from the Cannes Film Festival, she said, "It seems like my post about Cannes has sparked an unintended debate! It's amusing how a spontaneous sharing of thoughts and throwback images was perceived to be 'a dig'! Pointing fingers is a pointless exercise. Things are often more nuanced than we think they are."
Speaking about the fashion element at the event that has taken centre-stage, she added, "At such events, men have far less pressure about how they look. They can repeat their tuxedos, and no one will know or care. Whereas women have a much greater burden of looking beautiful, sexy, regal, stylish, stunning, unique etc. etc. Blaming them is overlooking the role each of us plays in perpetuating this disproportionate pressure. The celebrities, the festival, the media and us viewers and readers…we are all complicit."
"Please read my posts for what they are and not what you think is between the lines! I dislike sitting on judgement just as much as I don't like to be judged for my choices," she said.
Das went on to add that she should not have written that the festival 'is about films' and explaining why, she said, "Nuances are often lost in short-form communications. For instance, I should not have written that the festival is about films because it is also about conversations and collaborations between filmmakers, storytellers, producers, technicians and film lovers. That was between the lines! A lot of the festival happens outside the Palais, in the informal spaces – in cafes and lobbies and on the Croisette and streets of Cannes."
Opening up about her experience attending the film festival over the years, Nandita said, "Over the years I have met some incredible minds and made friends that are going to last a lifetime. There is a reason why such events are called 'festivals'. And in festivals, people are meant to wear festive clothes! As long as we don't limit ourselves to it or obsess about it, we are doing justice to such experience."
"I have never had a PR or a personal photographer. So here are some more Cannes candids with people I cherish, meeting and knowing. And memorable events like when 82 women who had a film in Cannes, walked the red carpet, demanding gender parity," she concluded.
The Cannes Film Festival comes to a close this weekend. This year, a host of Indian celebrities from Aishwarya Rai Bachchan to Sunny Leone, Anurag Kashyap to Vikramaditya Motwane, Sara Ali Khan, Diana Penty, Urvashi Rautela, Mrunal Thakur, Esha Gupta, Manushi Chhillar, Aditi Rao Hydari, and Mouni Roy, among others attended the gala.