Filmmakers Anurag Kashyap and Vikramaditya Motwane could not hold back their excitement as they hit the Cannes red carpet for the grand world premiere of
Martin Scorsese
's 'Killers of the Flower Moon' starring
Leonardo DiCaprio
and
Robert De Niro
.
The Indian directors are currently in France for the premiere of their film 'Kennedy' at the prestigious film festival on Wednesday, May 24.
Kashyap took to his Instagram stories on Sunday to share a picture of himself posing with Motwane on the red carpet. "Wo aa gya!!! WO AA GAYA Mer film ke liye WO AA GAYA," he captioned the click that saw them dressed to perfection in black tuxedos.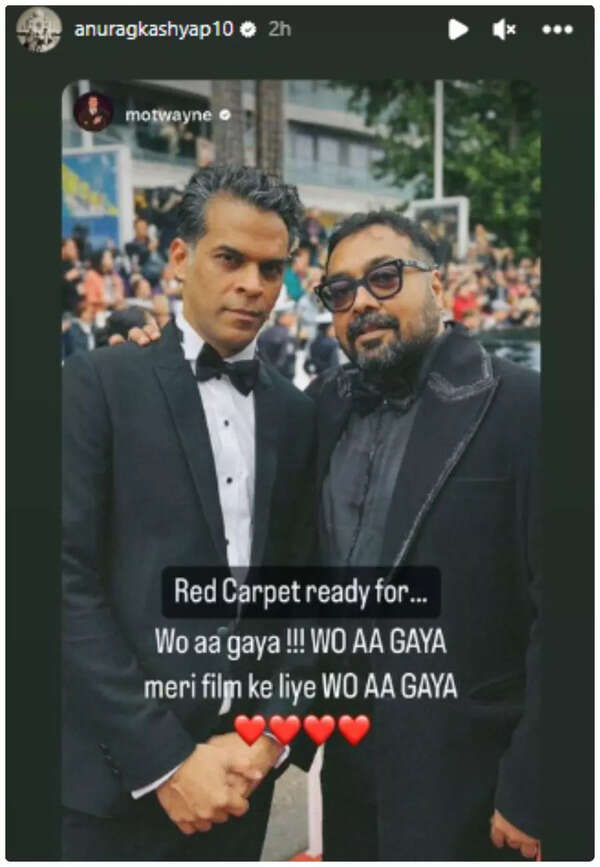 Motwane also posted photos from the festival on his Instagram stories. He also shared some close-up shots of DiCaprio, Scorsese and De Niro during their nine-minute standing ovation at the end of the film's screening.
Kashyap will return to the red carpet for the premiere of his film 'Kennedy' which stars Sunny Leone, Rahul Bhatt and Abhilash Thapliyal in the lead roles. The film revolves around an insomniac ex-cop, long thought to be dead, but still operating for the corrupt system, and looking for redemption. It has been selected for a Midnight Screening at Cannes Film Festival 2023.
Motwane, on the other hand, has been receiving a lot of appreciation for his web series 'Jubilee' which stars Aparhsakti Khurana, Aditi Rao Hydari, Prosenjit Chatterjee, Wamiqa Gabbi, Sidhant Gupta, Nandish Sandhu, and Ram Kapoor in pivotal roles.
His next project is an untitled cyber-thriller film starring Ananya Panday in the lead role. The official release date of the film is still awaited.