Skater girl 2021 movie review
Today we wanted to explore and review a new Netflix movie. This is an inspirational movie. Let's reveal the name of this new Netflix movie "Skater Girl".
I have watched this movie on Friday night date 11 June 2021 with my family on Netflix. My kids were very excited to watch this movie since they have watched the trailer of this movie. By the way, also can watch the official trailer – Click here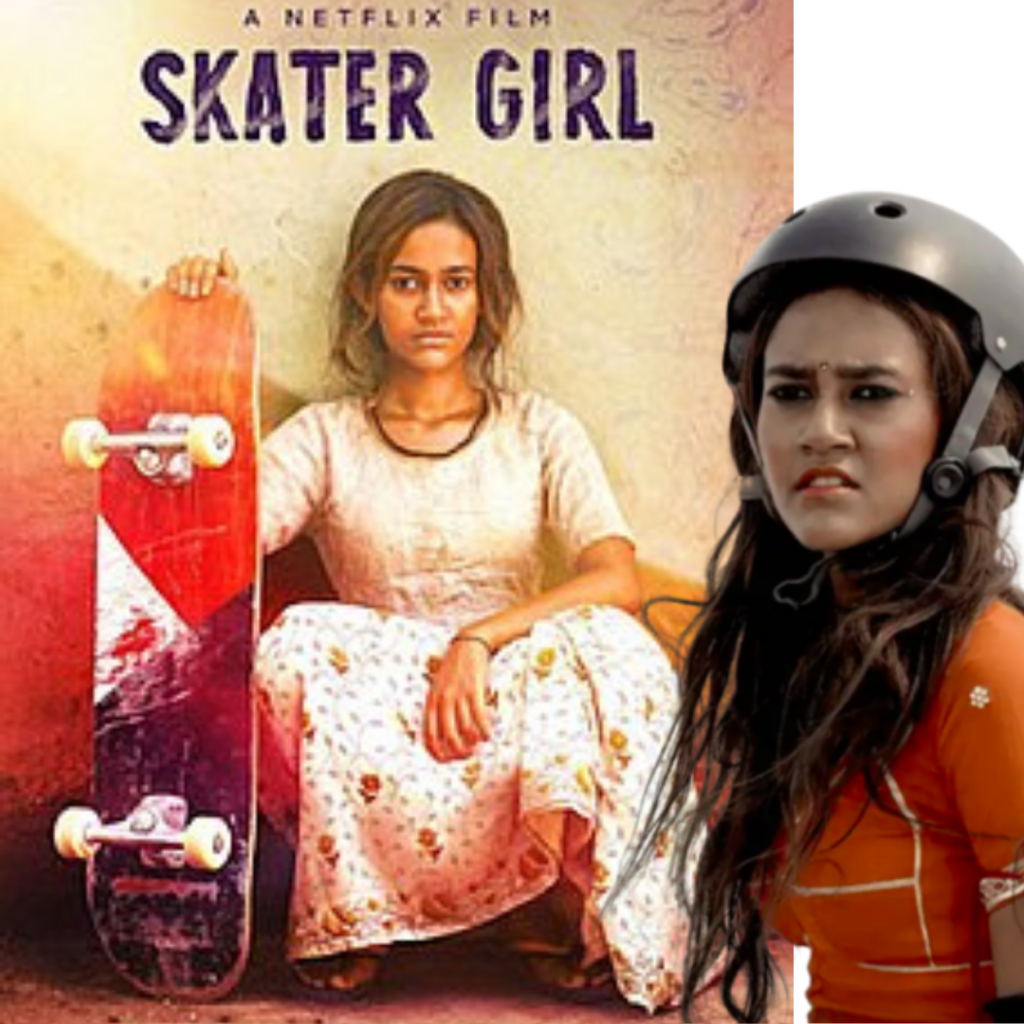 My wife always searches for a good movie for a good Friday night. For and the first time my kids and my wife found interest in a movie togetherly.
Anyways let's talk about this movie. This a free Friday for skater girl as no other Bollywood was released. It set the course for the movie.
If we talk about the cast two characters are the main for this movie. Rachel Sanchita Gupta as Prerna and Amrit Maghera as Jessica. The movie is running around these two characters only.

If you have a fitness goal watch the useful links below to reduce belly fat
Other Skater girl cast and crew for this as per below

Shraddha Gaikwad as Gunjan
Waheeda Rehman as Maharani
Shafin Patel as Ankush
Anurag Arora as Mahesh
Jonathan Readwin as Erick
Swati Das as Shanti
Ankit Rao as Vikram
Ambrish Saxena as Ramkesh
Vivek Yadav as Tipu
Sohan Suhalka as Vishwanath
Sahidur Rahaman as Police Officer
Directed by Manjari Makijany. 
Quick Skater Girl Movie Plot
Skater Girl is a coming-of-age story about confidence, courage, and the profound impact of blazing your own trail. Set in a remote village in Rajasthan, India. When a teen in rural India discovers a life-changing passion for skateboarding, she faces a rough road as she follows her dream to compete.
Year 2021 
Age 7+ 
Duration 1h 49m 
Genres Dramas
Gopalakrishnan Ka day ago    
Skater girl is a cute beautiful film about how group of children learn skating and steps out to win against odd.
Trailer itself gives a big picture of how they managed to achieve their dream. I loved few scenes that they never revealed in the trailer. One is cast based discrimination. From separate handpumps to denied from mingling with each other, Skater girl focuses on caste system within the villagers. There need to be a good backstory setup for a character settled in London to come to India  ...MORE
---
Roshni Kumaria day ago    
#sktergirl 💜

Very emotional and inspiring movie.  I felt very good.  I have already seen the preview of this,Great movie. Prerana - Inspiration - A sense of Freedom.You can't skip during watching time.And how much his younger brother is inspired, how much he inspires his sister, helps her.  I felt very cute. Thanks for the making this kind of movie 🎦.congratulations team SKATER GIRL for making such a nice inspiring movie 👍

जब जुनून हो सीने में कुछ कर दिखाने की तो वो पूरी हो के रहती #sktergi ...MORE
2 people found this helpful.HelpfulUnhelpful
---
Nachiket Mokashi2 weeks ago    
A feature about an Indian village girl born in a poor family and her discovery of the sports of skating. The story moves forward showing us her struggles and situations that eventually convince her poor and caring father to accept her love for the sport. Nothing that we have not seen earlier (with different sports themes). The story briskly moves forward as expected from OTTs. "Teary- eyes" moments here and there, nothing melodramatic, the location and the story are very rare like a scene when t ...MORE
4 people found this helpful.HelpfulUnhelpful
---
bhatt premshwairaya day ago    
This movie has more focused on higher caste, and lower caste. rather than sports.

Well portrayed skate girl movie by telling high and low caste discrimination will take you on negative mode if this happens in every village neither Ambedkar can read nor anyone else can criticize India. And Bollywood can make money by making odd about their movie. When Librandu does not get anything anti-Hindu, then play your picture by showing the pan of upper caste and lower caste. #SkaterGirl 
#NetflixFilm


T ...MORE
1 person found this helpful.HelpfulUnhelpful
---
Murlidharan AVa day ago    
Superb movie with a social message and promising performances by everyone, specially the kids who have acted so naturally. Rachel Sanchita Gupta as Prerna steals the show with her effortless performance...an actress to look forward to in coming years...Ankush her younger brother is simply adorable 😊

Congratulations team SKATER GIRL for making such a nice inspiring movie 👍
1 person found this helpful.HelpfulUnhelpful
---
S Venkat Narayan23 hours ago    
I loved this inspirational film, so sensitively directed and beautifully photographed. It was great to see my favourite actress Waheeda Rahman make a special appearance. Girls too need opportunities. Only then they can show what they are capable of. Bravo TEAM SKATER GIRL!
Was this review helpful to you?HelpfulUnhelpful
---
Monisha Charles2 days ago    
Brilliant .

Visited the 58th National Championship in Tasoli village ...this movie resonates deeply.  Experiencing the real thing and seeing this movie on 11 June 2021 day of its release with my mom and son a skateboarder....it was my Aaaha moment etched forever in my mind
1 person found this helpful.HelpfulUnhelpful
---
Has Tag Crovrya day ago    
This film is just not where you spend your 1 hour and 49 minutes but this is an emotion this is an inspiration .
Anyone who have a dream to do something in their life, bro..! I welcome you to be inspired and work like an crazy mad dreamer.
Thank you for this film manjari makijany and your team
Was this review helpful to you?HelpfulUnhelpful
---
Ginny Poona day ago    
Such a simple sport idea, yet so appropriate in delivering a changing youth culture. The content is thought provoking on entrenched expectations placed on women, this film embraces a belief system on everyone. Magnificent cinematography to top it all.
Was this review helpful to you?HelpfulUnhelpful
---
tripti  
I found it a good movie though a bit comedy sort of. The acting of the main character 'the skater girl' so called prerna was not pretty good , it seems overacting at some time. Otherwise all were good. 
A strong message given by the movie is that there is a need for providing platform for different talents in the society- and the government is the main source for the support except the individual who wants to bring change and help in providing a path to all.
---
Vijay Gujjara day ago    
#SkaterGirl 3.5/5
Inspiring
Conclusion
A movie that can inspire us with a lots of messages in it.Netflix presents A truly inspirational movie with perfect character plots and entertaining drama.