Janhvi Kapoor has been rumoured to be dating Shikhar Pahariya for a while. While the couple has been relatively private about their personal lives, their occasional public appearances together have fueled speculation about the nature of their relationship. Despite the intense scrutiny, they have handled the spotlight with grace and discretion.
Fans have also been smart enough to gauge from Janhvi and Shikhar's social media posts, when they've been on a holiday together.On Thursday night, Janhvi was spotted outside Shikhar's house in her car. She was seen in a very casual avatar and while the paps tried to take her pictures, Janhvi was seen laughing and hiding her face.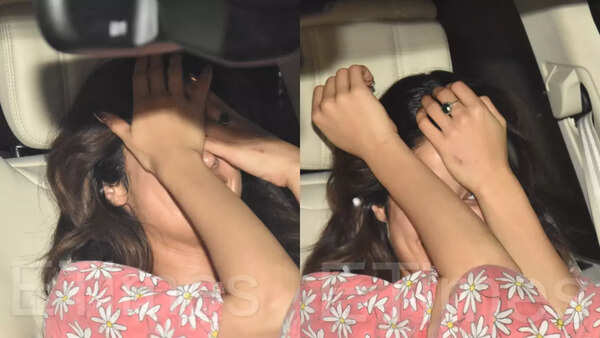 A few days ago, Janhvi and Shikhar were also spotted at the airport as they flew for a holiday. Meanwhile, Shikhar has also been spotted at parties with Janhvi's father, Boney Kapoor. Looks like, even the families have given their support to these love birds.
For those not in the know, Shikhar is the grandson of former Union Minister Sushil Kumar Shinde ad is an accomplished polo player. The duo were dating earlier and had broken up. It was revealed by Karan Johar on his show, when he said that Janhvi and Sara Ali Khan were dating two brothers. Karan hinted at Shikhar and Veer Pahariya. Sara was dating Veer reportedly. After that Koffee With Karan episode, it was soon found that seemingly Janhvi and Shikhar have reconciled.
Meanwhile, Veer is set to make his Bollywood debut now with Akshay Kumar in 'Sky Force'. Janhvi was also seen cheering for him when the announcement was made.