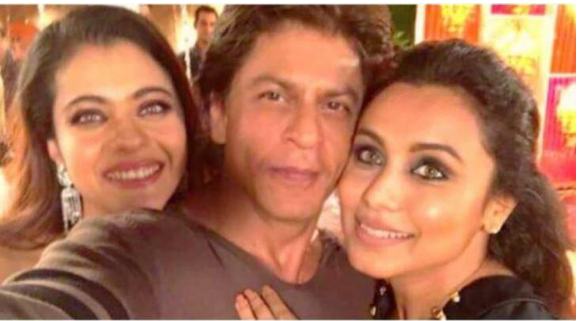 Love stories will come and go, but few will recreate the magic of Karan Johar's directorial debut Kuch Kuch Hota Hai that has now completed 25 years. On this special occasion, a special screening of the movie was held in the city. With that, Karan also completes 25 years in the business, and the film continues to remain iconic over the years. During the screening, Karan, Shah Rukh Khan and Rani Mukerji surprised fans at the theatre.
SRK
looked handsome as always in a black leather jacket, meanwhile Rani wore a saree.
While fans loved seeing SRK and Rani come together once again, they sorely missed Kajol, who too, played the female lead in the movie. However, Kajol had to miss the occasion due to her work commitments, but she did pass on a message through SRK. In a video going viral, SRK can be heard saying, "Kajol, who unfortunately is not here because she had to rush to a shooting outdoors said that please give my lots of love to all of you."
At the screening, SRK even thanked Salman Khan for playing an extended cameo in the movie and fans loved him as well.
Shah Rukh Khan, Deepika Padukone, Alia Bhatt and Ranbir Kapoor's pictures and videos from IOC event go viral
Earlier, what caught the attention of everyone was that, when SRK-Rani entered the theatre, Shah Rukh was walking behind Rani and he held her saree when they climbed the stairs. It looked like a romantic scene straight out of a movie and fans were left in awe. They showered love on him seeing this gesture. One fan wrote, "Hard to get a guy like him🥹🫶", while another said, "King for a reason 😢😍❤️."
A user said, "Why don't other men just learn instead of just competing with him." A fan added, "Kya banda hai yaar itni success pake bhi itna down to earth 😢❤️" Netizens felt that everyone must learn how to respect women from him.