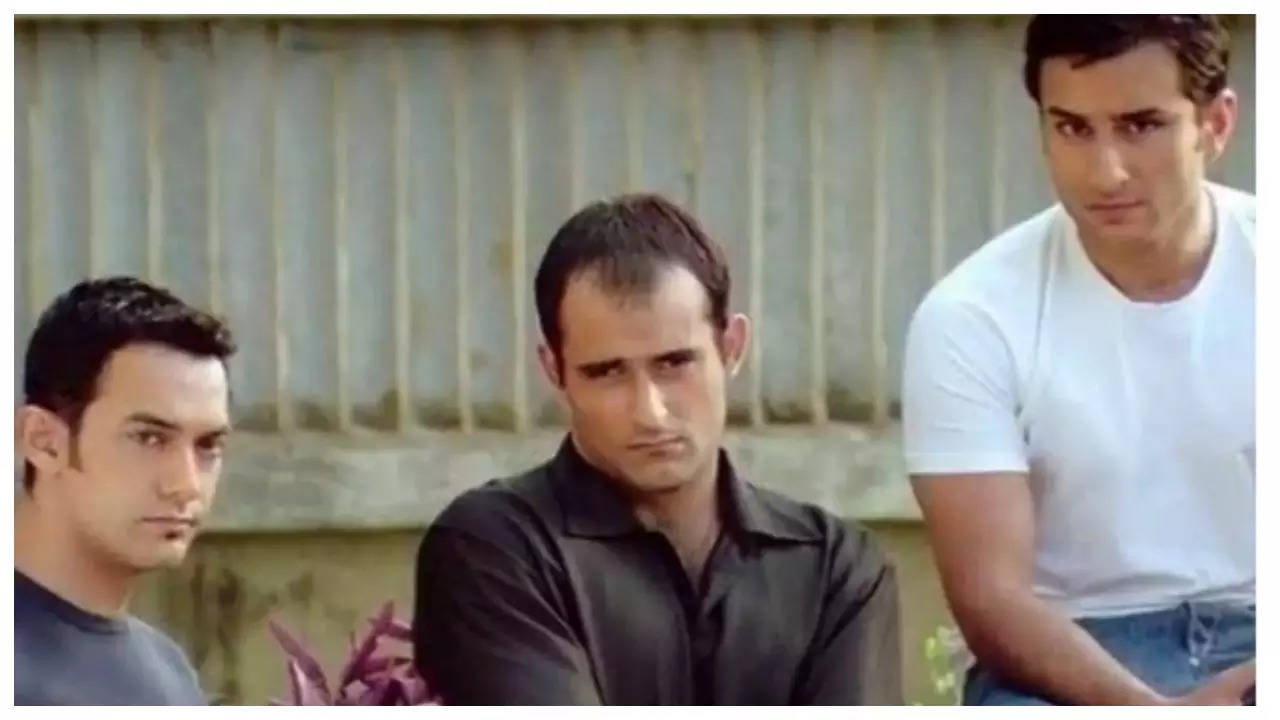 Do friends have to be alike to get along? Do they need to always agree with each other? Do they need to have common goals, ambitions, likes and dislikes? The answer to all these (basic) questions is a resounding NO. Unlike romantic relationships, friendship works on a completely different tangent – you can be as different as chalk and cheese, and yet get along like a house on fire – a fact that Farhan Akhtar's Dil Chahta Hai (2001) deftly portrayed.
For his (surprise surprise) debut movie, Farhan showed extreme levels of finesse in portraying millennial friendships as they are, even if the movie is now more than 20 years old. Initially touted as too 'westernised' and 'ahead of its time', the friendship saga that Farhan also wrote, has achieved a cult status over the years, setting the benchmark for millenial friendships for decades to come.
The urban tale, taking place through flashbacks, narrates the story of Akash (Aamir Khan), Sameer (Saif Ali Khan) and Sid (Akhaye Khanna), who have been best friends since college and navigate life together. Even though they share a strong bond, the three could not have been more different from each other. Akash is footloose and immature, often inviting the ire of his well-to-do parents, who want him to stand on his own two feet. Sameer is confused, geeky and wears his heart on his sleeve, falling in love and getting his heart broken multiple times (even hilariously and tragically getting conned by a white woman and her boyfriend in Goa). Finally, Sameer towers (literally as well) as the 'father figure' in the group, an artist and dreamer, whose stoic silence and mature take on life often falls outside the realm of his otherwise well-meaning, but emotionally restricted friends.
The three come with their own quirks and take a road trip to Goa and reminisce about life at the iconic Goa fort scene that set the tone for the entire film. As Akash and Sameer plan to visit Goa each year, the practical Sameer gives them a reality check, saying 'saal mein 1 baar toh chodo, 5 saal mein 1 baar mein milna mushkil ho jayega', (forget once a year, even meeting once in 5 years will become difficult), as he foresees getting stuck into the rut of getting out in the world and making a living.
Even with all their differences, the trio are immensely thick, that is until Sid falls in love with the much older Tara Jaiswal, his neighbor who is divorced, and has an alcohol problem. When he confesses the same in front of his friends, Sameer, initially shocked, decides to take a backseat, thinking he has limited knowledge on the matter, however Akash does not hold back in displaying his disapproval.
When things get too heated, Sid slaps Akash across the face saying, 'har dosti mein ek hadd hoti hai jise paar nahi karna chahiye, aaj tune vo hadd paar kar di'. (there is a line in every friendship, today you have crossed that line). The three of them go their separate ways, with Sameer as the common thread between the estranged Akash and Sid, but the friendship, it looks like, has been damaged beyond repair, or has it?
Saif Ali Khan and Kareena Kapoor Khan's airport look is all about style and comfort
A far cry from 'Yari hai imaan mera' narrative, the movie deftly paints a realistic picture of friendship, that is replete with misunderstandings, arguments and lots of ego clashes. Millennial friendships don't work on the 'this is my best friend' lingo anymore and woke adults are not afraid to call out their friends and give them a reality check when they have screwed up.
Like explained earlier, unlike romantic relationships, you and your friends do not have to think alike in order to form a bond. You can enjoy (or dislike) completely different things and yet, get along. However, factors like respect, understanding, giving each other space are non-negotiable and once certain lines are crossed, the bond will turn sour, like any other relationship.
For his debut movie, Farhan shows immense restraint in depicting urban male friendships as they stand, without going over the top. The romcom, breezy affair is full of hilarious moments (read Sameer's half-baked conversation with his girlfriend over the phone, getting conned in Goa and then hitchhiking with a truck owner, and not to miss the inimitable Subodh!) However, when exactly needed, the movie gives us a reality check as the mature Sid and the carefree Akash clash, even as a helpless Sameer looks on, having neither the emotional maturity, nor the gumption to sort this out.
Of course, the core message apart, the movie was extremely well packaged, and shot the already popular destination Goa through the roof in the tourism department, coupled with fab cinematography and peppy music. The women, though not the pillars of the movie, lend wonderful support, including Sonali Kulkarni and Preity Zinta. Dimple Kapadia, in an extended cameo, aces her role to the T and is a breeze to watch.
To say that everyone needs friends in life is both an understatement and gross cliche. Sure, humans are wired to mingle with people their own age (apart from family/siblings), but finding your 'breed' amidst the mix becomes a challenge. The superlatives apart, adult friendships are even more difficult to grasp, as we move out of playdates and school crushes, instead navigating issues like career stress, heartbreaks, marriage and the like. Amidst all this, finding a few elusive ones is a blessing, someone who lets you be, is not afraid to call out your bulls**t and someone you can pick up the threads with even after years of meeting. After all, it is all about the little things, right?
You can watch Dil Chahta Hai on a leading OTT channel…
ETimes Decoded is our weekly column where we deconstruct movies, characters or plots to uncover a fresh, often undiscovered perspective.