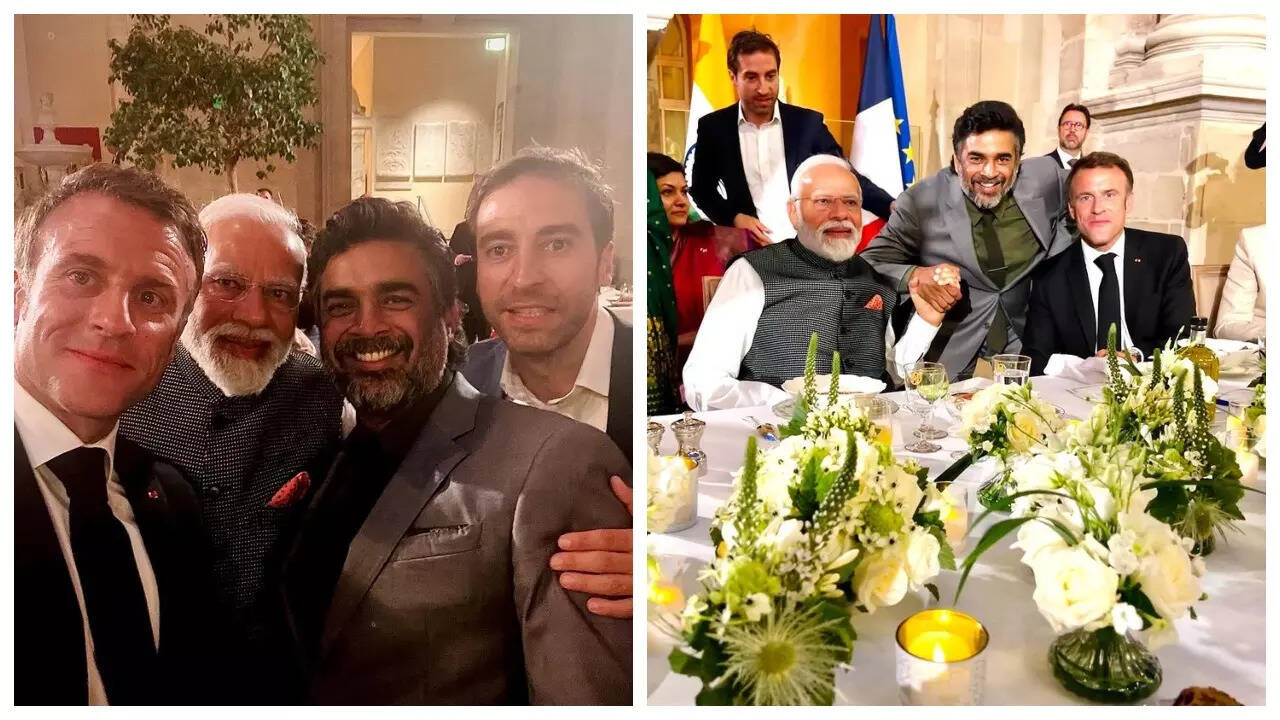 Actor R
Madhavan
took to Instagram to share his memorable experience at the Bastille Day celebration in Paris on July 14, 2023. He attended a banquet dinner hosted by French President Emmanuel Macron in honor of Indian Prime Minister
Narendra Modi
at the Louvre Museum. Madhavan shared several photos capturing the event's highlights.
In the first picture, the celebrated actor is seen shaking hands with Prime Minister Narendra Modi, who was seated at a table with President Macronand other dignitaries.Accompanying them in the next photo is Grammy-winning musicianRicky Kej, who sat beside Macron. Madhavan looked dapper in a green shirt, black tie, grey suit, and trousers.
One of the most notable moments Madhavan shared was a clip of President Macron taking a selfie with Prime Minister Modi and former French footballer Mathieu Flamini. They all smiled for the camera, and Madhavan expressed his admiration by folding his hands in gratitude. Throughout the evening, Madhavan also engaged in handshakes and conversations with Macron.
Capturing the essence of the occasion, the '3 Idiots' actor described the passion and dedication exhibited by both leaders in strengthening the Indo-French relationship and serving their respective nations. He expressed awe at the dinner and emphasized the positive and respectful atmosphere that permeated the event.
Madhavan extended his gratitude to President Macron and Prime Minister Modi for imparting a lesson in grace and humility. He expressed his wishes for the continued prosperity of France and India. Additionally, the popular actor acknowledged the successful launch of Chandrayaan 3, India's lunar mission, on the same day. He highlighted the collaboration between India and France in developing the Vikas engine with the assistance of SEP France and offered his prayers for the mission's success.
The 'Rocketry: The Nambi Effect' director expressed his admiration for the vision and dreams of both leaders and the impact of the memorable moments he experienced during the Bastille Day celebration.