The epic modernised mythological film that earned decent figures until this weekend has reportedly earned close to 9+ crores on its sixth day from all its languages, as per the early estimates.
The film reportedly did over Rs 5 crores in the Hindi version, and Rs 4 crore in the Telugu version, while other languages like Malayalam, Tamil, and Kannadamanaged to collect Rs 13 lakhs, Rs 17 lakhs, and close to Rs 13 lakhs, respectively.With this, the film has minted close to Rs 400 crore at the global box office. However, the makers of 'Adipurush' published the below, therefore the film mints close to Rs 410 crores at the Global Box-office so far in 6 days from its release.
Adipurush Movie Review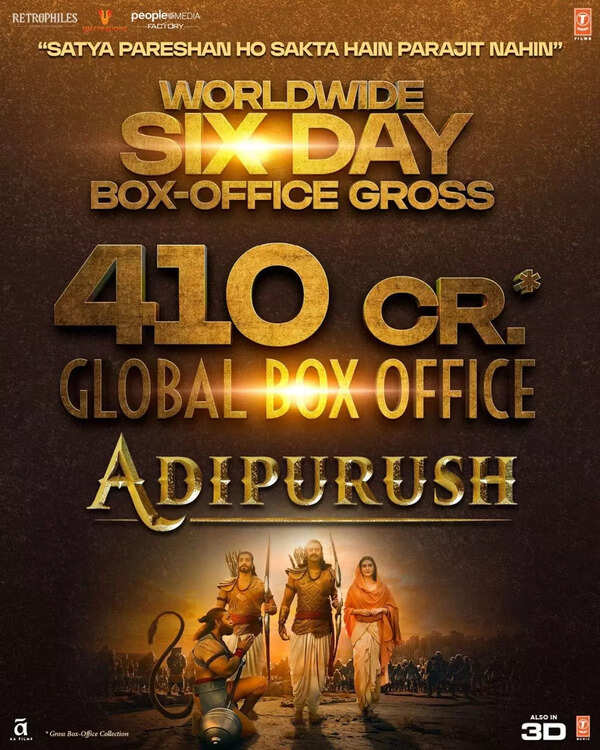 Image courtesy: Instagram
The film has been getting a lot of trolls lately for its content, execution, and portrayal of the characters. The above mythological action film based on the Ramayana is co-written and directed by Om Raut. The film was shot simultaneously in Hindi and Telugu for a whopping Rs 500 crore, and the film has received praise for its soundtrack and visual effects.
While the film's cinematography is taken care of by Karthik Palani
, its background score is jointly composed by Sanchit Balhara and Ankit Balhara. Moreover, the film's soundtrack is composed by Ajay-Atul and Sachet-Parampara.
The film, jointly edited by Apurva Motwale Sahai and Ashish Mhatre, was released in theatres on June 16, 2023.
Also Read: Tollywood actresses sweating out in Gym