This Jimmy Sheirgill starrer has a gripping plot; wish it had a tighter direction too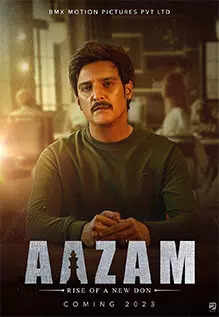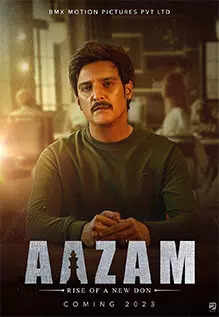 Story:
Set in the seedy underbelly of Mumbai,
Aazam
revolves around the power struggle that ensues in the Mumbai underworld after Nawab Khan, the unquestioned mafia don, succumbs to cancer and faces his final days.
Review: Aazam brims with guns, goons, and audacious exploits aplenty. With a plot that ventures slightly off the beaten path, this crime drama unveils a facet of the Mumbai underworld that has long been absent in an industry often enamoured with tales of the city's mafia. Rather than a conventional tale of cops versus gangsters, this crime drama delves into internal affairs, exploring the relentless pursuit of one man to dominate the underbelly of Mumbai, regardless of the cost. Executed with a clinical precision akin to chess moves, he embarks on a rampage, systematically eliminating his adversaries. Aazam proves to be an interesting spectacle that holds your attention, albeit with a few missteps in direction, preventing it from becoming an entirely joyous ride.
The movie centers around Nawab Khan (Raza Murad), the unrivalled mafia don of Mumbai, now confined to his deathbed. Following a crucial gathering involving the home minister and Nawab Khan's trusted inner circle, a decision is reached: Anya Shetty (Vivek Ghamande) shall ascend to Nawab Khan's position. However, upon learning of this development, Kadar Pathan (Abhimanyu Singh), Nawab Khan's son, and Javed (Jimmy Sheirgill), his loyal confidant, swiftly spring into action. Together, they craft a meticulous scheme to eliminate each participant of the meeting, one by one. This treacherous path ahead is peppered with betrayal, deception, and treachery, with lives hanging in the balance throughout a single fateful night.
Aazam unites a formidable ensemble of industry talents, many of whom deliver earnest performances. Jimmy Sheirgill's portrayal of Javed stands out with its icy demeanour and calculated approach, showcasing a side of him previously unseen. His performance exudes believability in a role that demands an unyielding presence. Abhimanyu Singh, despite his intermittent appearances in the film, leaves an impression with his limited screen time. Indraneil Sen Gupta brings a raw and gritty essence to the character of IPS officer Ajay Joshi. However, the real hero of the film is writer Shravan Tiwari, who ventures into unexplored territories within the underworld narrative. Regrettably, the same level of excellence cannot be attributed to his direction. In certain instances, it appears feeble and lacks the finesse one would expect.
While Aazam presents a fresh narrative that uncovers a new dimension of the Mumbai underworld, its downfall lies in its lack of astute direction. If only the camera had lingered a little longer after pivotal moments, it would have left a more profound impact. Though tension permeates the film, it fails to truly resonate with the audience. The film also yearns for a stronger art direction. Scenes shot with chroma effects feel jarring and detract from the overall experience. Moreover, it is perplexing why filmmakers have an infatuation with deafening soundscapes. These overpowering audio elements diminish the intended impact, and they could have learned a lesson from Satya, where the resonating sound of just gunshots without a BG score dominated most sequences.
The filmmaker deserves credit for stepping outside the conventional boundaries and presenting a story that diverges from the typical mafia narratives. It offers a refreshing and engaging experience. The film contains several well-crafted sequences that maintain a steady momentum. However, the direction would have benefitted from some tightening. In essence, Aazam is a film where Shravan Tiwari, the writer, overshadows Shravan Tiwari, the director, overpowering the overall execution.