Kumar Sanu: Today's film music lacks good composition, lyrics and heroes – #BigInterview | Hindi Movie News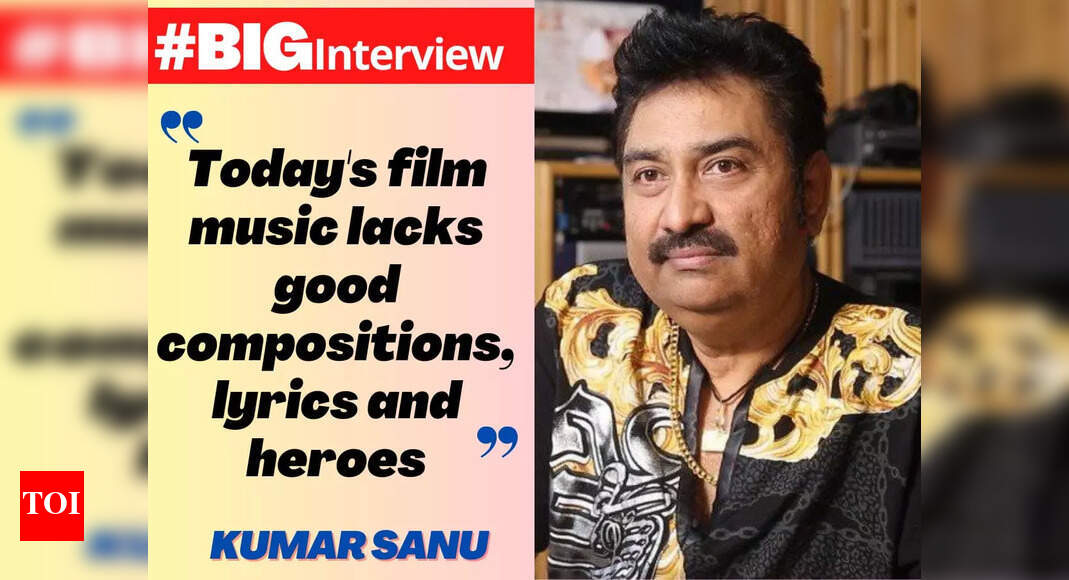 Acclaimed singer Kumar Sanu, who is known for holding a World Record, a room full of Film Awards and for singing over 21000 songs in a career spanning four decades, met with ETimes recently for an interview that looked back at his achievements, his high points and stories with his film industry colleagues and mentors. In this week's Big Interview,
Kumar Sanu
takes us down memory lane. Sanu Da, who started off singing
Kishore
Kumar songs at bars and restaurants, eventually became the one to fill Kishore Da's void in the music industry, after the legend passed away. Kumar Sanu has lent his voice to every A-list actor in the Hindi film industry. His songs for iconic movies like Aashiqui, Dilwale Dulhania Le Jayenge, Sadak, Kuch Kuch Hota Hai, Baazigar and more have been etched in cinema history forever. Read on to discover untold stories from the master singer…
Kumar Sanu's HONEST Chat On BAD State Of Music Industry, Lack Of 'GOOD' Heroes & More |#BigInterview
Before you became the 'Kumar Sanu', in your initial years when you were singing at restaurants, did you know deep down that you were meant for bigger and better things in life?

I had no clue, it was a struggling period but it was this stubbornness to do something big in life that kept pushing me to move forward irrespective of the result.
When you set foot in the Hindi Film industry, there were already quite a few established singers in the music industry. However, there was a void after Kishore Kumar's demise and you managed to fill that, eventually making your own mark. Tell us more about that era?

When a singer enters the industry, they usually follow some other big singer, it was the same with me too. I used to follow Kishore Da. I used to try to find a lot in his songs – how he used to make variations and voice modulations and I picked from those aspects to explain the craft to myself. When I used to sing his songs, there would be some kind of resemblance, so much so that my fans would often lay challenges whether it was my voice or his. This voice quality I have is surely God gifted, however I feel if a new singer follows his idol, it definitely leaves an impact that people often contemplate whether one is on purpose imitating his idol. In my case, the voice quality was always similar so I never really had to forcefully replicate Kishore Da's voice. When I got a chance with Aashiqui, I showcased what could happen when both these voices mixed to create that punch. Given our voices were similar, I got this as an advantage to catch onto his minute details which I incorporated in my singing and that became a success with Aashiqui and my identity was thereafter made.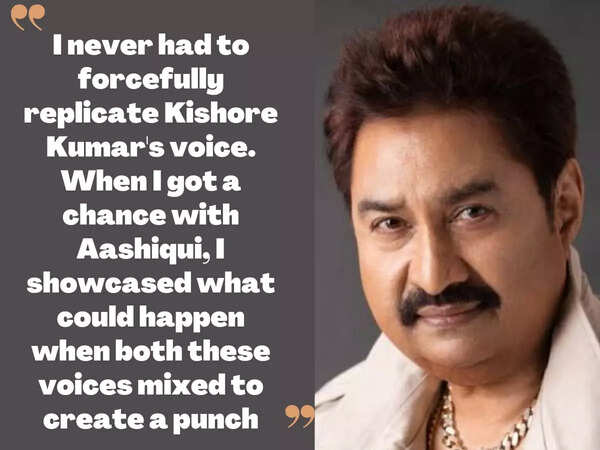 In your case, you had a great bond with many music composers and singers such as Nadeem-Shravan, Anu Malik, Alka Yagnik to name a few. How was this bond formed?

I have always tried to grab every music director's style. When I was to sing a song for Anu Malik, I would try to adapt and deliver in Anu Malik's style and how he wanted it to be. Similarly, the same thing happened with Nadeem-Shravan and other composers too. I would never replicate one composer's style at all times. Instead, I adapted and moulded my style based on who I was working with whether it was Bappi Da, Jatin-Lalit, Anand-Milind, Anu Malik, Nadeem-Shravan or anybody else. But, I personally loved it the most when I worked with Pancham Da. Ek tuning bann raha tha unke saath.
Speaking of Pancham Da, 1942: A Love Story was the last we saw of your collaboration with the legendary music director. He invested great faith in your singing for that iconic album.
It's not just 1942, Pancham Da used to trust me. There are many films where we have worked together, including Bengali films. There are about 20-21 songs of Pancham Da and I with T-Series which have not been released yet. Sometimes a music director believes that one particular singer can sing any song he composes, Pancham Da had that same belief in me. I had that kind of tuning with him. But it all ended when Pancham Da suddenly passed away.
Kalyanji-Anandji were known to give names to music industry icons. They gave you your industry name as well. Can you take us to the moment when this happened?
Yes, it's right, they only gave me the name 'Kumar Sanu'. While I am a very fluent singer, I'm not a very fluent speaker. When it comes to singing, my Urdu pronunciation is extremely strong but not as much when I speak, so it was easy to figure out that I'm a Bengali. However when I'd sing a song, one could never tell. Being a Bengali, there's a misconception and imagery that we cannot sing Urdu songs and rightly so, as there are some Bengali singers who via their singing give way but that wasn't the case with me. Hence, Kalyanji-Anandji decided to remove Bhatacharjee from my name and changed it to Kumar Sanu. I have been using this name ever since.
When you were told to give playback for Amitabh Bachchan for the very first time, back in Jaadugar (1989), you were clueless that you were recording a song for him. What exactly had gone down on that day?
I salute Amit ji. He was shooting in the US and Kalyanji-Anandji sent a cassette of my first recorded song through Sanjay Dutt to him to hear my voice. He had to take a call seeing my potential as a singer and if I could do playback for him. Amitabh ji heard the song over there and he agreed to give me the chance. He told Kalyanji-Anandji to make me sing all the songs and because of his consent, I was asked to sing for Jaadugar. But, even when I was recording the song, I had no clue I was doing playback for Amitabh Bachchan. I got all the backstory much later. In the middle of my recording, Kalyanji-Anandji came and told me to sing forcefully with an open voice, adding power in my voice. That's when they told me that I was singing for Mr Bachchan. The minute I heard that, I got chills running down my spine. I somehow managed to record the song. When I went to the recording booth later, I saw Amit ji was sitting there and he complimented me in Bengali. He indeed speaks good Bengali himself as his wife, Jaya ji is also Bengali, so it's a given he'd be well versed with the language. It was because of Amit ji that I got to enter the industry even though the film didn't do well, the word was out in the industry that a new boy did playback for Amitabh Bachchan and that benefited me a lot.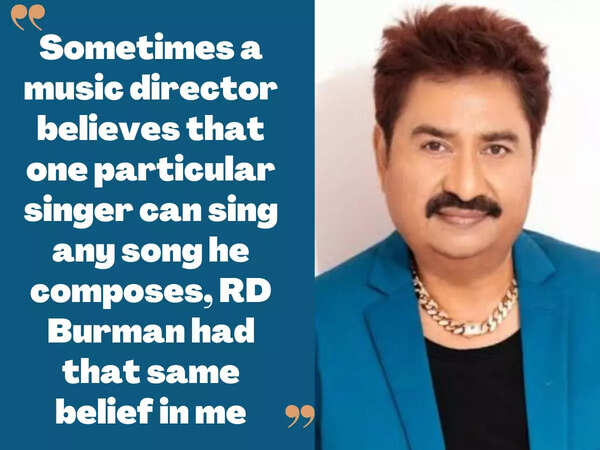 In the past, on many occasions, you have expressed that if anyone did utmost justice to your songs on the screen, it was the late Rishi Kapoor. How was your bond with him?
There wasn't really an equation where we met regularly, but whenever we met, he met me with a lot of affection and always appreciated me. I was one of his favourites and he often spoke to me of my songs, which he liked and he praised me for them, too. I do feel he did have a lot of love for me somewhere deep down in his heart. I most definitely feel that Rishi Kapoor's name should come first among other actors. After him, it has to be Shah Rukh Khan, Akshay Kumar, Salman Khan, Aamir Khan along with others.
Music plays a very crucial role in the Hindi film industry. The most popular films in history have gotten that credit because of the songs and music. Do you agree?
Absolutely, music is a very big part of our movies. If your film's music is good, half your stress is relieved as that would be a pulling factor to get audiences to the cinema halls. A whole bunch of advertisements and PR cannot create the kind of pull on the crowd as good music can for a Hindi film. Today, music has become secondary, while it used to be a priority at some point. There's so much over confidence in contemporary filmmaking that at times they don't even consider keeping good music. That's a major reason why our industry is suffering.
You have sung songs in many Indian languages, do you speak all these languages? If not, then how did you bring out that conviction in the singing?
I have sung in 26 languages, however I cannot speak all of them. Irrespective of that, I always write my songs in my mother tongue, which is Bengali. It doesn't matter what language it is. I have my own shorthand format and when these songs are dictated to me, I shorthand them in exactly that manner with minute detailing that makes the process easy for me.
You have never been bothered by competition, despite being constantly pitted against Udit Narayan and Abhijeet during the 90s and early 2000s. How were you unaffected by the comparisons and competition?
This is primarily because of my upbringing. I have seen my father's struggles and his standard of living. That really impacted and influenced me. Accumulation of those feelings built up within me and I had to keep myself away from all the gossip. I'd rather be busy working than trying to find out what other singers are doing. If a particular singer had sung a song, it was his destiny. That's my thinking – always stay positive. If something is good, I always appreciate it. If I can narrate a small incident, I'd like to tell you about my meeting with Shabbir Kumar. When I met him for the very first time, I was already famous and well established as a singer. Despite that, when we met at a recording studio, I saw Shabbir ji and I touched his feet. The minute I did that, he hugged me and had tears in his eyes. He was astonished with my gesture since it was unexpected. But, this is what I have learned in life through my upbringing. One must always respect their seniors no matter what. From that day onwards, Shabbir Kumar ji became my ardent fan and always showered me with immense love and became my friend.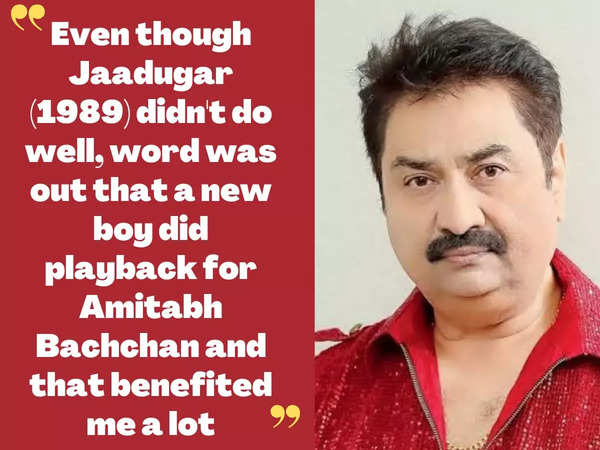 You made a world record by singing 28 songs in a single day. You have said that it happened by sheer fluke and wasn't planned at all. Take us through that day.
The feat was entirely unplanned. According to me, as long as one's vocal cords are in good shape, singing a large number of songs in one go is doable, particularly considering that during live shows, we usually perform around 25-26 songs for the audience. In 1993, I had plans to go on a 40-day tour of the United States, but all the producers who had pending projects with me were in a state of panic. They wanted me to complete their songs before I left. At a studio in Juhu, I instructed my manager to schedule all the recordings back-to-back, allowing me to record and complete 28 songs in one sitting. The news was first reported by the Times of India and helped bring attention to this achievement, ultimately resulting in my name being added to the Guinness Book of World Records.
Your collaboration with Alka Yagnik, Kavita Krishnamurthy and Anu Malik have given us some amazing songs. Are you still in touch with your colleagues?
Yes, we are. In fact we are very good friends and we often hang out together. We go to each other's houses, they come to my house as well. Our friendship is intact.
If you had the power to bring about change in today's music industry, what changes would you make?
There are few factors that need to be fixed, such as lack of good music composition, lack of good lyrics and the biggest of it all being lack of great heroes. Today's singers are all very capable, however their potential is not being exploited to its fullest. Our generation was lucky that we had all of the above. If our music directors today focussed less on turning towards the West and focussed more on our Indian music culture, we'd be able to better ourselves. The power should rest with the experts and not otherwise. Today, even actors are deciding which singer would do playback for them and we should get rid of this kind of interference.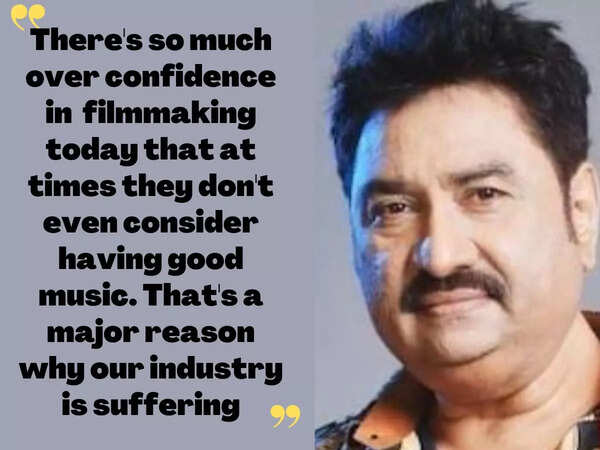 Lastly, late Gulshan Kumar and you also had a great bond. He played a huge role in helping you relocate to Mumbai. How was the equation between you two?
Gulshan Kumar was the reason I never faced any money related issues after coming to Mumbai. He gifted me my first new car and he also invested financially in helping me buy my first house. He most certainly played a huge role in my life.