Watch video: Shah Rukh Khan gets kissed by a female fan, netizens seethe in anger over the woman's indecent behaviour | Hindi Movie News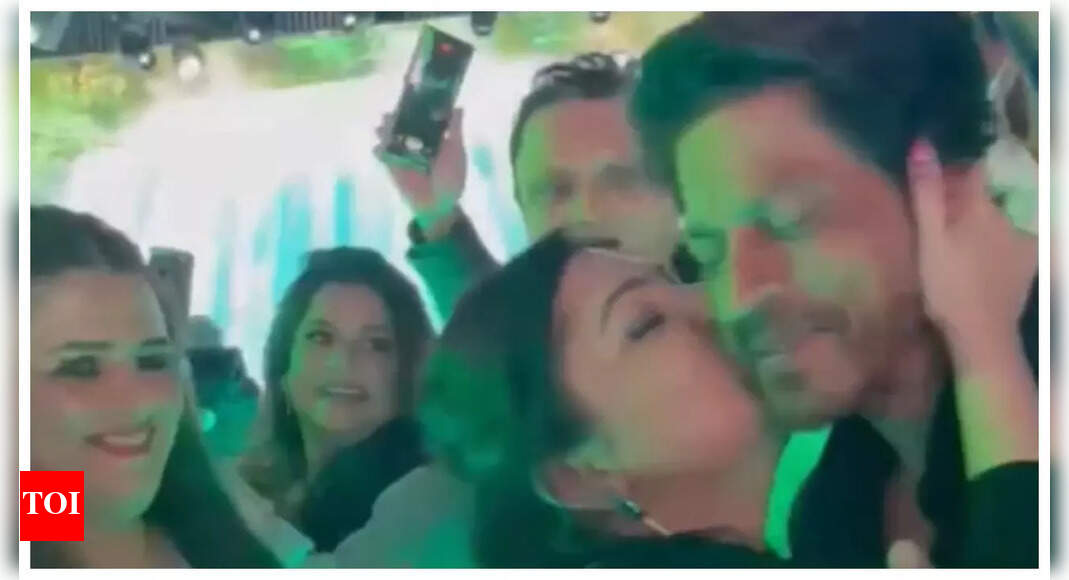 Shah Rukh Khan
was in Dubai recently to promote a friend's real estate brand. Post the event, he met up with a few guests and that included some of his fans. What one fan did however, didn't leave a good taste behind for netizens.
In the video now going viral, SRK is seen walking towards the backstage area with his manager Pooja Dadlaniand a few bodyguards. A man shook hands with Shah Rukh and then kissed it before giving him a hug.Then, a woman in a black dress approached him and asked, "Can I give you a kiss?" Before Shah Rukh could reply, she planted a big kiss on his cheek. Shah Rukh is seen smiling with his eyes closed at her gesture. The woman then moves away and is seen grinning from ear to ear.
This action by the woman must have made her day, but netizens have found it quite inappropriate. While one user suggested that the woman be put behind bars, another one wrote "Let's see a middle aged short guy do exactly the same with Madhuri or Sridevi or Kareena and get away with it."
Being the biggest superstar in the country, SRK has had his share of good and bad experiences with his fans. Recently, he chatted on a video call with a terminally ill fan, which lasted for over 40 minutes. He even promised to meet her soon and help her financially with her treatment expenses.
The fan's daughter said that Shah Rukh wished for her mother's speedy recovery and even read a dua (prayer). He told her he would visit her Kolkata home to have home cooked fish curry but on one condition – that it would have no bones.