Pathaan, Shehzada, Zara Hatke Zara Bachke: Analysing Bollywood trends, hits and misses in first half of 2023 – #BigStory | Hindi Movie News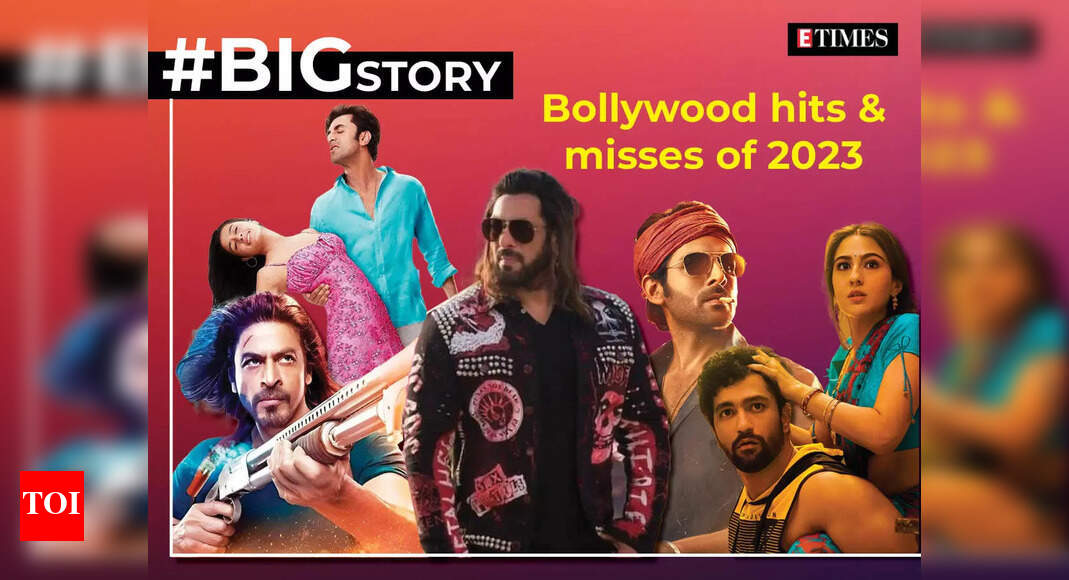 We're almost halfway through 2023 and Bollywood has been full of surprises as far as theatrical releases are concerned. While we had some record shattering films like Pathaan, we also saw the success of underdogs like The Kerala Story. While a film like Salman Khan's Kisi Ka Bhai Kisi Ki Jaandid impressive business despite poor reviews, we also had movies like Selfiee, Shehzada, Bholaa that tanked at the box office despite being remakes of highly successful South films.
And then there were some mid-budget movies likeMrs Chatterjee vs Norway and Zara Hatke Zara Bachke that brought about some box office cheer.
Clearly, the movie business is as unpredictable as can be. In today's #BigStory, we speak to industry insiders and analyse the trends in the first half of 2023, whether stars still have the power to pull audiences to theatres, do mid-budget movies stand a chance against films mounted on a big scale, is the charm of romcom genre still intact, the future of remakes and what to expect in second half of 2023. Read on.
Do stars pull audiences to theatres?
The combination of star power and strong content can prove to be the most potent formula for success. When a film successfully marries the charisma and talent of its stars with a compelling story, engaging characters, and high-quality execution, it has the potential to leave a lasting impact and enjoy a long run at the box office. In the ever-evolving landscape of the film industry, the role of star power remains a subject of debate. While star power can undoubtedly generate initial hype and attract footfalls to cinema halls, it is the content of a film that ultimately determines its long-term success.
Says trade analyst Atul Mohan, "The Kerala Story demonstrated how films without big stars can achieve surprising success. It relied on its compelling narratives, controversy and positive word-of-mouth, which helped it thrive at the box office. Pathaan's success is a glorifying example tha star power with hit music and controversy can write a BO success story. Kisi Ka Bhai Kisi Ki Jaan, despite having Salman Khan, faced challenges at the box office because the film failed to resonate with audiences due to various factors like weak script, poor execution, or lack of novelty. But it did business of over Rs 100 crore where films are struggling to achieve even half of its numbers. That's star power!"
Trade analyst Komal Nahta agrees, "Content is the king, it always was. But the pulling power of the stars is not what it used to be in the pre-COVID days. Shah Rukh Khan drew the audiences for Pathaan, no doubt. But had Pathaan not been a good film, even that would have flopped because we've seen several films of topmost stars hitting the dust. So definitely, people have become more selective, they want good content because they're exposed to great content on the digital platforms. So their whole nazaria of watching films has changed, they've started appreciating world cinema, so they compare everything they see, every content is compared to the highest standards. Therefore it's become difficult for the filmmakers and therefore several films have to bite the dust. But of course, films like Pathaan, The Kerala Story saved the day, definitely."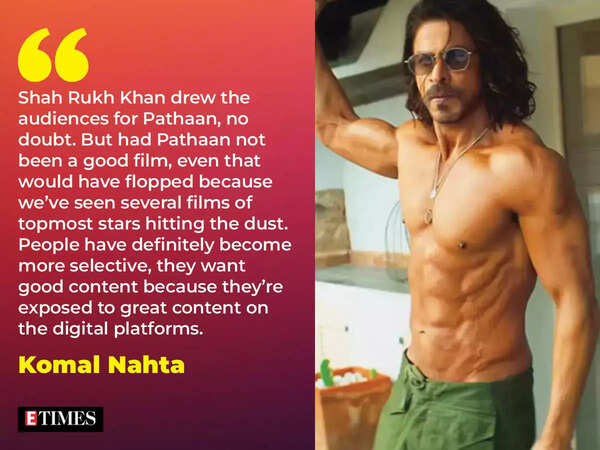 Filmmaker Vipul Shah believes star power will always have an impact. "You can never deny that. All these stars have seen bad phases. Shah Rukh had a lean phase before Pathaan smashed all the records of all times. This is true for even Salman. And I think for every other actor, once they have a very good film on their hands, their power will take that film to very high numbers. Tiger 3 can come and smash all records, for instance. That's quite possible. Or Oh My God can be that film which will come and be a record-breaking success. The real problem is that stars' real duty is only to secure openings. But unfortunately, our media always gives the credit of the entire film's success to the stars. And that needs to change. They need to understand that the writer, the director, and the makers of the film have a huge role to play in the success or failure. It is the star who only gets you the opening. After that, it is the film that will work."
Do budgets make a difference?
While a star-studded film will most likely do very well at the box office, a non-star cast film can get appreciation, but not necessarily do big numbers. The 2023 first half exhibited a slight deviation where even small films or mid-sized films have done impressive business. This is indeed a welcome change made possible with the change in the audience mindset.
Vipul Shah feels it's not about the budget, but about the content. "Zara Hatke Zara Bachke or Mrs Chatterjee vs Norway or for that matter, The Kerala Story were very, very well-made films. And they were very beautifully performed by every actor, technician, everybody. And it has got nothing to do with budget. I think films don't necessarily work well if you spend a lot of money. Film works only on merit. If people connect emotionally with the story, the characters, the narrative, the subject, then the film will work."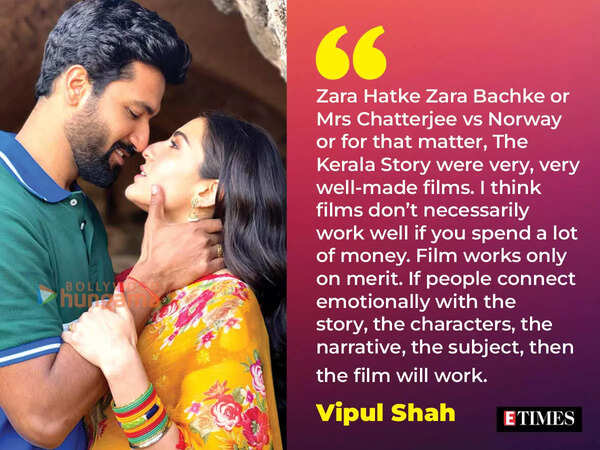 Shariq Patel of Zee Studios adds, "Mrs Chatterjee vs Norway working at the box office was validation that a strong story backed by a great performance by a star and marketed and distributed correctly can yield results at the box office. And what do I say about Bandaa, it's delivered amazing results and it's the first film in my career that I have seen unanimous praise for. Not one bad word of mouth comment from anywhere."
For any film to work it has to emotionally engage the audience, feels Nahta. "That emotion could be laughter, that emotion could be thrill, that emotion could be sentiments, that emotion could be comedy, anything. It has to emotionally engage the viewer. Genre doesn't matter, budget doesn't matter."
But are we going haywire with the kind of budgeting that we are doing in films? "Yes, which is why lesser films are being made, which is why stars seem to have a lot of free time on their hands because they all are sort of wondering what works and what doesn't work," says Nahta. "So it's better to take two steps back, wait, think, ponder and then start films."
Do romcoms still have an audience?
The romcom genre has been a popular and enduring genre in the film industry for many years. While the landscape of cinema has evolved and diversified over time, there is still a significant audience that enjoys romantic comedies.
"Although the number of romcom releases may vary from year to year, the genre continues to resonate with viewers who seek light-hearted, feel-good stories centered around love, relationships, and humour," says Atul Mohan. "The success of Tu Jhoothi Main Makkaar, despite receiving a mixed response, indicates that there is still an audience for romcoms."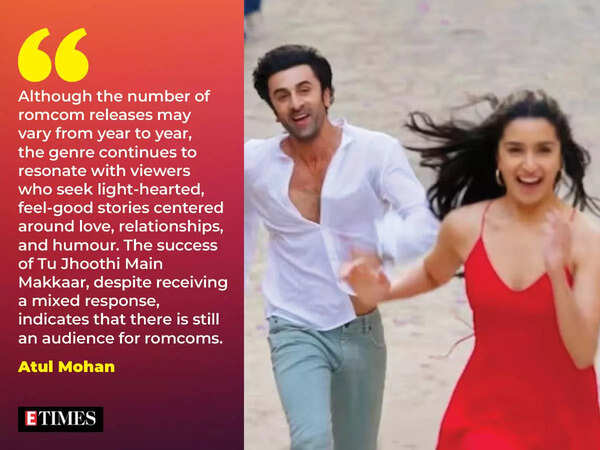 Vipul Shah thinks all genres will survive. "Sometimes a genre may become a little less attractive for a period of time. But then it will again bounce back with a good film. And then people will say, we have not seen this genre of film for a long time. Let's see if it's fun. So I don't think that any genre typically becomes dated. How we as filmmakers will present that genre to the audience, will decide. Like Zara Hatke Zara Bachke is a great example of a film which has come as a surprise success," he says.
Nahta adds, "I have a feeling that the first half will end on a very good note because Satyaprem Ki Katha is looking very promising. So it just might bring a big smile to people's faces, and to the trade space."
Future of remakes
We saw a number of remakes in 2023 – Selfiee, Shehzada, Bholaa to name a few. Despite the fact that these films were headlined by big stars, they failed to leave a mark.
"I think it has become a little dicey for remakes," says Nahta. "Because that content is available on platforms and nowadays there are dubbed versions and subtitled versions. So people don't wait. In the olden days, South Indian films used to be seen very sparingly, nobody was bothered. When satellite channels started streaming them, people realised that it's fun, it's fun with subtitles, it's fun even if it's dubbed. Because that has adversely affected the business of remakes, people should think 100 times before remaking a film because that content may have already been consumed in another language or in the dubbed language."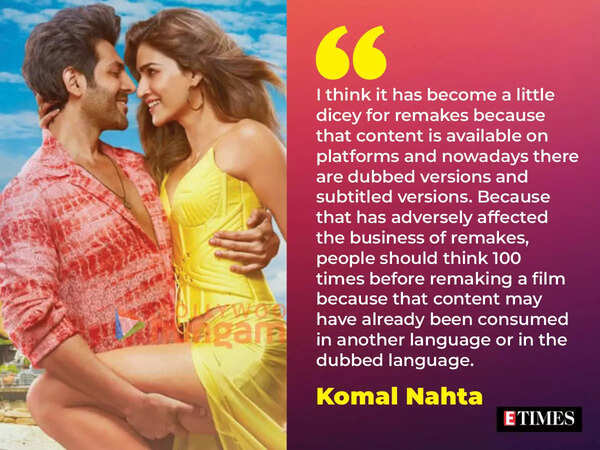 "Drishyam was a remake and it has done amazingly well at the box office," points out Vipul Shah. "You will have to look at not merely just because it's a remake, it has to do well. The remake will also have to be made well. Just because you have the rights of a successful film does not guarantee success in today's time. You will have to make that film equally well or even better. For audiences to like it. If that happens, then a remake will also work. If that's not going to happen, then even originals will not work."
Shariq Patel of Zee Studios emphasises that remakes need to be adapted and not just remade for them to succeed.
What to expect in the second half?
The second half of 2023 looks promising with films like Rocky Aur Rani Ki Prem Kahanii, Gadar 2, OMG 2, Jawan, Ganapath, Tiger 3, Dunki, Maidaan among others. Shariq believes the coming months are looking great and is hopeful these titles will strengthen the box office collections for the industry at large.
"The second half of 2023 appears to offer a diverse array of films across genres, ranging from romantic dramas to action-packed blockbusters. These films are expected to entertain, engage, and captivate audiences with their storytelling, performances, and technical prowess. As with any cinematic experience, individual preferences may vary, but the lineup suggests a promising period for film enthusiasts with a range of choices to look forward to," says Atul Mohan.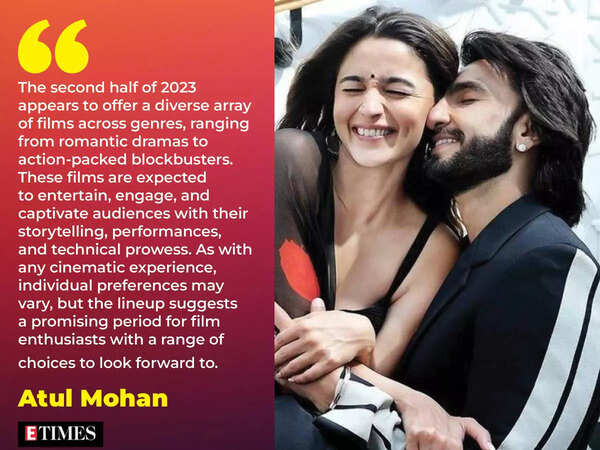 Vipul Shah has been very optimistic about 2023 in general. "The films are going to address today's demand of the audience or today's expectation of the audience from the cinema. And I have a feeling that like Pathaan, there are going to be lots of films like The Kerala Story. There are going to be so many films in the second half which are going to surprise everybody with the kind of success they will achieve. This will be a year where the boundaries of box office collections will be pushed upwards. The fact that it was said, people will not watch such films in the theatre anymore, they will watch it at home, Zara Hatke Zara Bachke has proved everybody wrong. Likewise you will see a huge surprise coming in the second half of 2023. People who are in a hurry to write off Hindi film industry will be quite surprised with the success that we are going to see in the second half. And the first half is testimonial to it."
Media sector analyst Karan Taurani talks numbers. "From a number standpoint, the domestic Hindi nett box office was somewhere closer to Rs 1400 crore in the first half of 2023 and this is 30% lower as compared to pre-Covid levels. The pre-Covid level numbers were somewhere close to four to four and a half thousand crores in terms of nett box office, and we are somewhere closer to 30 percent lower than that. If the content clicks in the second half, which looks highly unlikely in my opinion, then at best we will end up coming closer towards 90 percent of pre-Covid levels at the box office in the second half of 2023."
"In the second half we have Tiger 3, Jawan, we have very, very exciting content coming our way. I think the second half is going to be better than the first half. In spite of the fact that we have had two blockbusters, super blockbusters in Pathaan and The Kerala Story, in the second half, we have Gadar, the teaser of Animal has been so, so loved. So there are lots of good films in the pipeline," concludes Nahta.