Nushratt Bharuccha: I didn't have the heart to ask the makers of 'Dream Girl 2', "Why didn't you cast me?" – #BigInterview | Hindi Movie News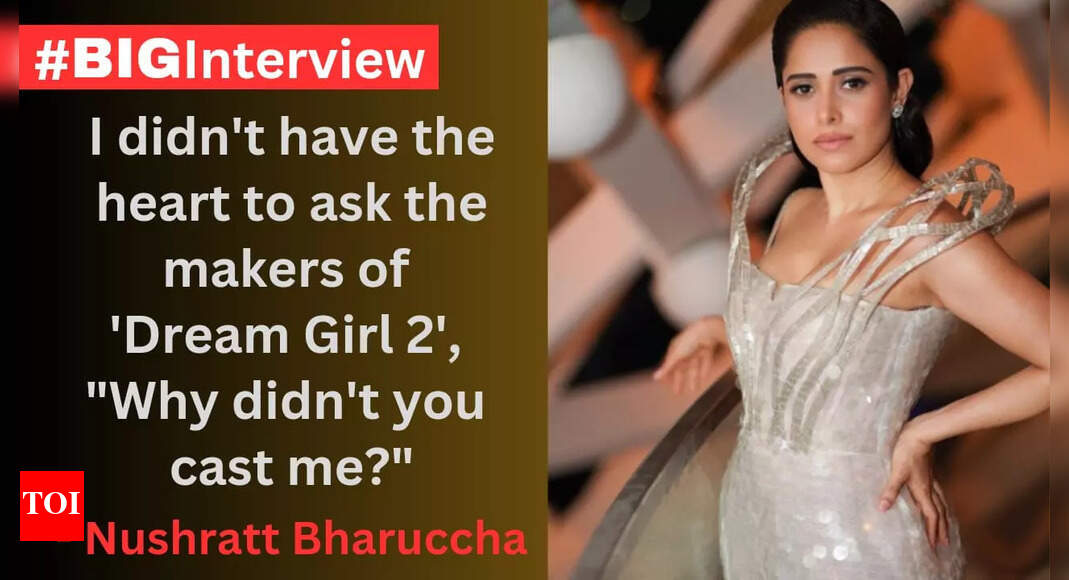 Nushrratt Bharuccha made her debut with 'Love Sex Aur Dhokha'. But it took her a while to finally get the kind of offers she always dreamt of. It's certainly not been easy, but as you talk to Nushrratt you discover that, she's positive, fun, vibrant and speaks her heart. That's been her driving force for the past decade and more. She's come a long way and has even bigger dreams.
As ETimes gets into freewheeling chat with Nushrratt, the actress talks about her journey in the industry and much more in this week's Big Interview. Read on to find out…
Do you find it rather funny that this year, people didn't talk about 'Selfiee' but can't stop gushing over your cameo in 'Tu Jhoothi Main Makkaar'?
This comment and this question just makes me smile and think and I get so happy. I'm thrilled because, it's a Ranbir Kapoor and Shraddha Kapoor film. To do even one scene with RK was like a dream come true. I did it for the pure joy of it. I did it for the pure presence of being on set with him and watch him, just be like his fan. That's the fact that people actually are talking about it. It gives me so much happiness because I didn't even think people will notice or remember it. But if it's connecting to people and if it's standing out, that's really making me very happy.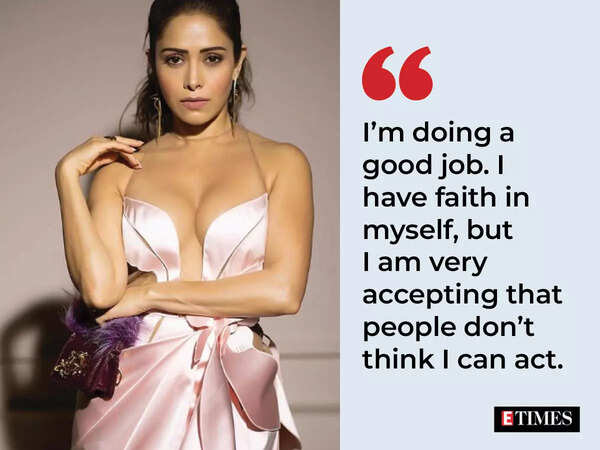 It's been a year to the release of 'Janhit Mein Jaari' but the film is still getting love after its release on OTT. How does that feel?
I just did a meeting with one of our country's very prominent directors somebody who I've been wanting to work with and I haven't been able to. I went to meet him him at his office just two days ago. Of course, I can't take his name, it'll be a mess. I thought he'll tell me that he liked 'Chhorii' and 'Ajeeb Daastans'. Instead, he said, 'Listen, I saw 'Janhit Mein Jaari' and I think you were very good.' He said the film was so funny and good. I was surprised because he's not the audience of 'Janhit' at all. When I asked him if he's watched 'Chhorii' he was unaware of it. So, it's been a year since the film released and a director telling me this, is a very gratifying feeling.
Were you disheartened when big movies like 'Ram Setu' and 'Selfiee' didn't meet expectations at the box office?
Whenever a film doesn't work, it hurts everybody. Whether it's a big film or a small film, the effort was there. The heart was there. The penance was there. Your hopes are there. And it's not just the actors, it's everybody. It's a whole unit that's really excited and has worked so hard on it for a year. It's very disheartening. But I think I've taken it in my stride. You have to. People who are most attached to it will get the most affected. The rest of the crowd will just pass a judgment and say, this wasn't good, that wasn't good and they'll move on. They'll drink their coffee, tea, look at their Instagram posts, make a reel and move on. But we feel the pain. It takes time to accept that it didn't work. But the idea is to take some time off, get over it and then move on to the next.
When 'Pyaar Ka Punchnama 2' released, you'd said it's not just difficult to find success outside the franchise but also a challenge to find good scripts and parts. There clearly seems to be a change in that now.
When you're in a certain situation in the present, you can't see the whole picture. You don't know what's going to happen two years later and you can't put things into perspective. But I think now things have fallen into perspective for me. I finally understood what my journey has been and why it has been where it has been. You know, when 'Love Sex Aur Dhokha' came out, I felt like, this is it! I'm going to be working. People are going to give me great roles and I'm just going to be this really prolific actor and keep working and keep breaking boundaries. That didn't happen. Then I did 'Pyaar Ka Panchnama', which became a commercial success. But, it took 'Pyaar Ka Panchnama 2' and then of course, 'Sonu Ke Titu Ki Sweety' to finally put us in a place where we started getting various kinds of offers. Yeah. I got all the appreciation from 'Chhorii' and 'Janhit' and all these films, but those films came as an option when 'Sonu Ke Titu Ki Sweety' made 100 crores, when 'Dream Girl' made 150 crores. I think the fact that those films happened to me at a certain time was all part of a larger picture, which I couldn't see then. Nobody would have given me a 'Chhorii' or 'Janhit Mein Jaari' after LSD. People started coming to me with scripts after I had achieved a certain level of success through commercial films where my roles were your romantic, fun, just girl next door, 'gaane gao, sundar dikho, jokes crack karo khud pe' (sing songs, look pretty and crack jokes on yourself).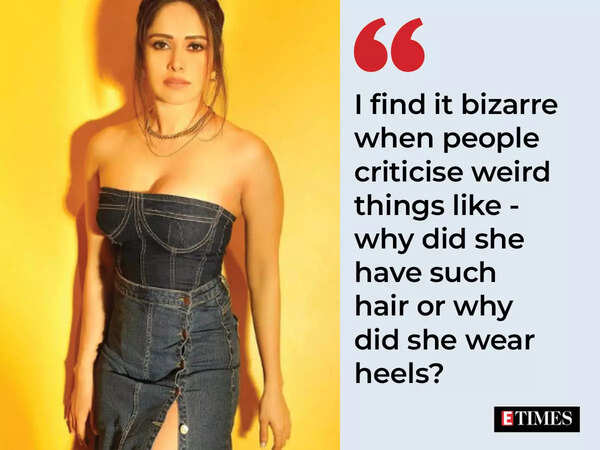 So, at what point did things fall into place for you?
The PKP franchise gave me a standing. It gave opportunities for other films to come my way and put me in a position where I could choose. Sometimes you go to bed with conflicts or questions about why is this happening. Now all those questions have died down. But in the last year and a half, it's just come into place for me.
But you've had films like 'Akash Vani' which you did early on which had a unique subject too. Did you feel you got your due a little late, or perhaps there's still a lot more scope to get that kind of acceptance?
'Akash Vani' happened right after PKP. But it took Luv Ranjan to have that gut feeling and act upon it and say that she and he can do it, even though we'd not proven ourselves as the actors by then. But nobody else offered me a film like that, it never came my way. Then during 'Ajeeb Daastaans', people on the set were coming and telling my director Raj Mehta, that we didn't know Nushrratt could act so well. So, this goes to say, it's so shocking that many a times people don't see or notice female actors giving different kinds of performances. I'm not being gender biased but this happens more to female actors. Somehow, people are not able to believe that an actress could act well and not just look glamorous. And I feel, this is the problem of casting in the industry. People don't cast based on the talent or that someone is a good actor and has done unique roles. People start casting based on your last success as they feel the footfalls you had in your last film, will be the footfalls you will generate for your next film. In that process – there is something called as 'grades of actors' in the industry. I feel we need to move towards the grade less pool of talent and a grade less pool of filmmaking culture because you now have OTT and so many talented actors doing such a variety of work. Actors like me sometimes get asked why we aren't getting our due or why aren't people asking me – is because people have grades in their minds. This is an 'A' grade actress, this is a grade 'B' actress. I don't know why that exists. Why can't people cast actors on the basis of their ability to act, whether the actor fits the role and narrative, whether she can do a great job. There are only two directors who have put that faith in me – one is Luv Ranjan and the other is Raj Mehta. And of course, Vishal Furia. I feel very few producers and directors are taking that strong step.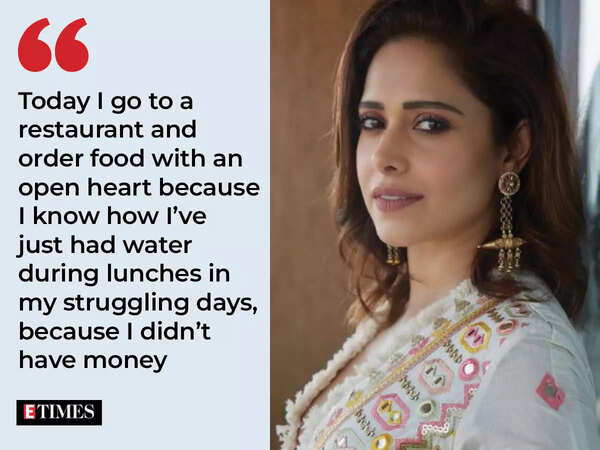 Have you become thick-skinned now towards failure or such scenarios within the industry? I believe you didn't watch a film for two years after 'Akash Vani' failed because you were taken aback.
More than thick-skinned, I've become slightly more accepting, not slightly more, I think fully accepting. The truth is, if I'm able to do a good job, then I have faith in myself and I believe that I'm doing a good job. I am very accepting of the fact that people don't think I can act. People think I'm just a pretty face. I don't get bothered by it. I don't even need to become thick skinned. I just smile and my reaction is, 'oh cool!' I know there are people who will critique your work and sometimes you'll be pulled down for it. It's tough being an actor because you put yourself in a position to be open to judgment with everything you do, every single time. You are choosing to do a performance in a film and be judged by audiences or critics or whoever else. I've become realistic. I read reviews and sometimes I find it bizarre when people criticise weird things like – why did she have such hair or why did she wear heels?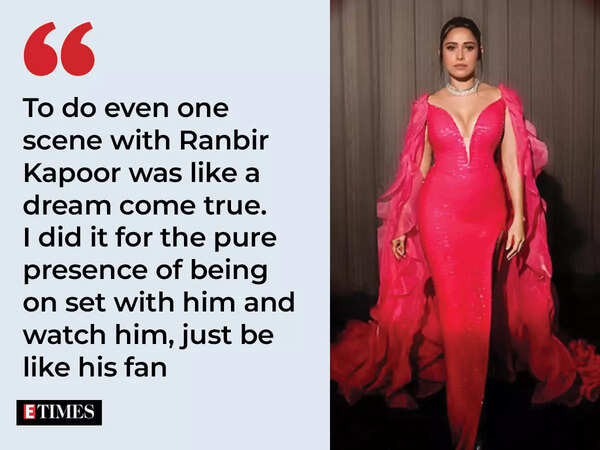 What's the most bizarre criticism you read about yourself?
I've got some really weird things and I'm shocked that people are pointing out such things. For me, it was bizarre when someone said, why is she wearing such high heels? How do I explain to them that if the boy is very tall and I'm not then I won't be visible in the frame. Then they have to give me height either with heels or use a platform. What do I do?
Nushrratt, you've revealed in the past how you would travel to college from Andheri to Churchgate and had a budget of Rs 8 for train travel. I'm sure things have changed now and you don't have to live on a budget.
That time, most of my friends came from very well to do families and their parents would give them great holidays and monthly expenses, allowances, which my parents never gave me. So I remember I used to sit through lunches, where they would order all the exotic dishes that I couldn't afford. So, I would just sit and drink water. I've sat through lunches and dinners drinking water. That was the only free thing over there. I used to tell myself, that there'll be a day where I'll make my money and I'll be able to order whatever the hell I like in the restaurant without thinking about whether I have enough money to pay the bill. That thought came to me then, and now it has happened. Now I go to a restaurant and order food with an open heart because somewhere I know what I've done in those struggling days, where I didn't have money. Now I order everything I feel like, because I can pay the bill.
How do you stay sane in the midst of all the social media chatter and all the speculations and noise that comes along with the stardom?
I have just gone off Instagram and deleted my WhatsApp as well. I've deleted both these apps from my phone at the moment, because, it was getting difficult on an every hour basis to be able to do anything. It was because WhatsApp messages were constantly buzzing, messages kept coming in, and I was constantly checking. One has to reply because the two blue ticks will tell the world you read it, but you're not replying or that you're purposely ignoring. On the other hand, Instagram is so consuming. I was reading a script and I couldn't get through more than three, four pages a day because I kept going back to the social media apps. I'm asked myself, 'what's happening? How can something take over me?' I told myself, 'I'm an actor. I'm here to act. I have to read the script for that. I have to give my mind, attention, time there. So I have to get rid of the rest of the distractions from life'. So I deleted those apps.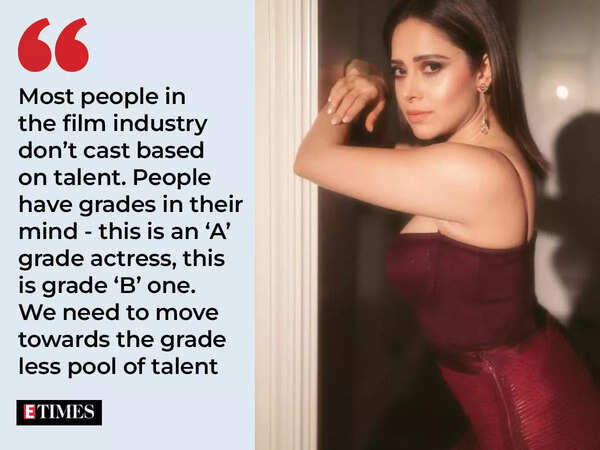 Your fans are going to miss you in 'Dream Girl 2'. Why aren't you a part of the sequel?
You'll have to ask the makers of the film that question. I really didn't have the heart to ask them, 'why did you not take me?' I couldn't. I just said, okay, they didn't ask me, it's okay. As I said, I've become very accepting. It applies to all aspects. I've accepted, so no stress (smiles).
Tell us about your upcoming projects.
We've finished shooting for 'Chhorii 2'. I have to still dub for it and the post production is going on. There's also 'Akeli' which is about a girl who's stuck in Iraq because of the ISIS attack and trying to find her way back to India. That's also shot and it's ready. There's another film, which I can't really talk about but I'm looking forward to. It's a revenge drama with the girl being the central character.