Jimmy Sheirgill: I wish to do more light-hearted films; most people just offer me intense films – #BigInterview | Hindi Movie News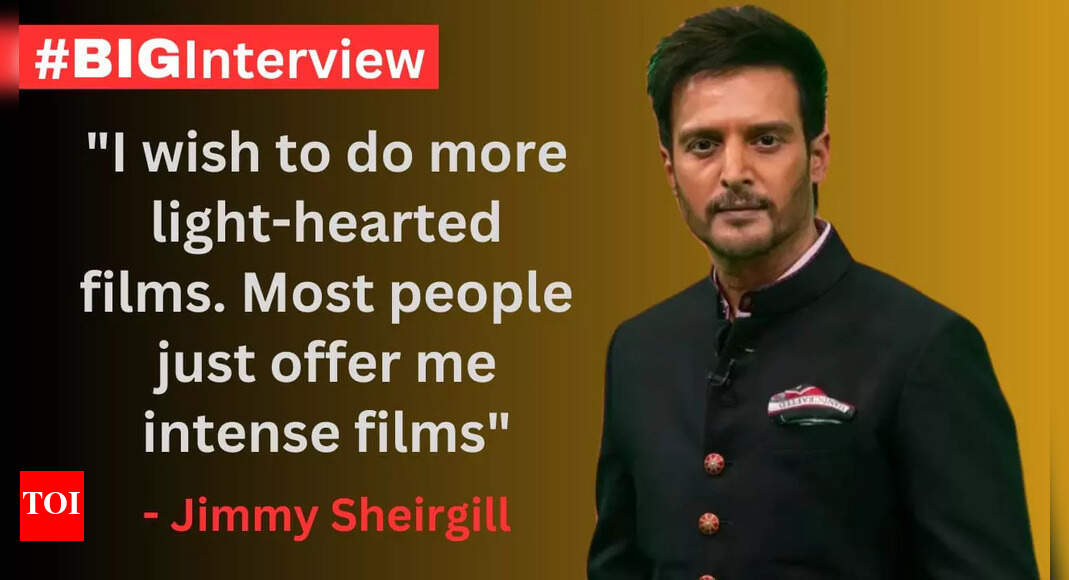 With an illustrious career spanning nearly three decades, Jimmy Sheirgill has left an indelible mark on the film industry. From his breakout role in Mohabbatein to his stellar performances in Tanu Weds Manu, Saheb Biwi Aur Gangster, and A Wednesday, Sheirgill has consistently captivated audiences with his nuanced portrayals.
In this engaging conversation, we delve into the actor's pivotal decision to break away from the stereotypical "chocolate boy" lead roles and embrace meatier character-driven parts, solidifying his position as a versatile performer.He may not have won too many awards, but that doesn't bother him one bit. In his inimitable nonchalant way, Jimmy tells us that he's ready to work harder and reinvent. He also gives us the lowdown on the future of his franchises – Tanu Weds Manu and Saheb Biwi Aur Gangster. Read on…
You've spent almost three decades in the film industry, going back to your debut in Maachis (1996). How happy are you with the way your journey has turned out to be?
I still want to be relevant. I still want to be a promising actor. People should want to work with me. It is important to keep moving with the times. I have kids and I learn a lot from them too. I am very flexible. I am not hellbent or stuck up on things. For example, take how Aazam (Jimmy's last release) started, despite me not being very keen on night shoots. I told Shravan (Tiwari, director) to make Aazam the way he wanted to. Everyone has budgetary constraints but despite that, Shravan gave a good mounting to Aazam.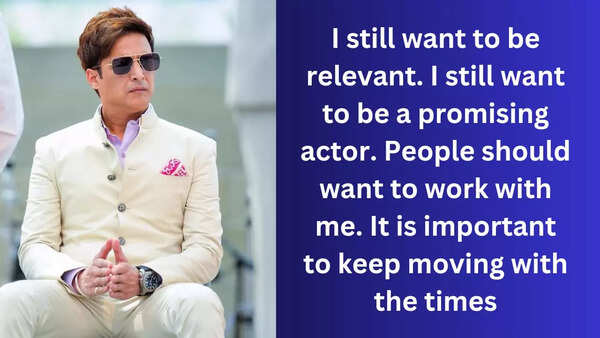 Do you ever feel that the film industry has not given you your due?
I feel nice when someone feels this about me. I think it comes from a genuine place. I take it as a compliment, and I often get this compliment. But I don't think about it [whether I have got my due or not]. Forget about the past. It's in the audience's hands to make a film hit or flop. If you feel for me that I haven't got my due, it's in your hands to give it by watching my films.
Do you think the performance of films, whether it is at the box office or on OTT, is not star-driven anymore?
I have always said that content is king. The script is the hero. But at the same time, you cannot take someone's stardom away from them. A superstar's films is a different kind of cinema. People come to watch the superstar, not the film. Sometimes, people like an actor for doing particular things like dance, action, or comedy. So, they watch his films for that. It is sad but that is the truth. When an actor, known for a particular thing, decides to do a different film, people don't come to watch that "experiment". Then the actor goes back to doing what he's famous for.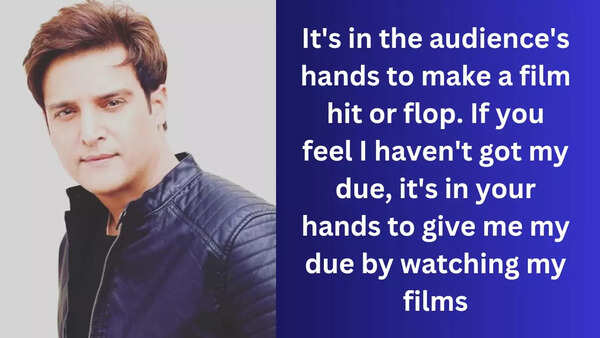 Did you ever feel that something fell short at your end for you not getting the due that you should have got?
I'll tell you what I think. After Mohabbatein, I worked day and night for two and a half years. But most of those roles were of a chocolate boy. When the media wrote about me, too, the phrase 'chocolate boy' was all over the place. I thought how far would it take me? Two or four years? Then, I'll be history. My story would be over.
So, I suddenly started choosing films that were drastically different. Whether it was Haasil, Munnabhai M.B.B.S., or A Wednesday in which I was not the leading man as I used to be in the solo lead or two-hero lead films. Suddenly, I was doing meatier roles. I did Tanu Weds Manu, Sahib Biwi Aur Gangster, etc. That broke my image. After A Wednesday, people thought, this guy can play an angry young man, too. After Munnabhai, they thought I could play intense roles as well. It was not me in those films. It was the characters.
While I was doing these experiments, my near and dear ones were telling me why I was breaking away from doing lead roles. At some point, even I had doubts whether I was doing the right thing. But today, when I look back, I'm glad that I took that step.
Did you ever feel that a performance of yours deserved a National Award or another accolade but you never got one?
I don't think like that. What's the use of an award if I have to ask for it? I feel I've won a National Award or an Oscar Award every time people say that I didn't get what I deserved.
What do awards mean to you?
When you get an award for a film in which you have worked hard and that film has also done well, it's like adding another feather in the hat. But I don't do films to win awards. I do films for my own enjoyment, for the audience, for the director, and for the story. There are other factors as well. Sometimes, a film doesn't get enough visibility or the right kind of release. I must have received nominations but awards… I received a few for Saheb Biwi Aur Gangster and A Wednesday.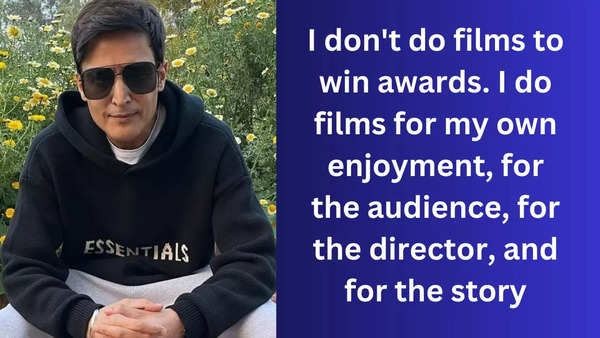 Mohabbatein (2000) was your breakthrough film. But, you haven't collaborated with YRF in a long time.
Yes, it's been a long time. They're very close to me. If they have a film for which they feel I'll be suitable for a character, they'll tell me so.
When there's a good actor on the block, an outsider per se, do the established stars try to corner him/her? Is there a cabal at work in the film industry?
I have never experienced that. When I entered the film industry, it was a lot of fun. Whether it was the film industry or the media, there was respect. People used to feel happy when somebody's film would become a hit. We used to party in whichever country we were in when a friend's film used to become a hit.
Do you think those 'fun times' don't exist anymore? If so, why do you think things changed?
I don't know. And I don't even think about that. Those times were different. Today, you don't know which place you go to will have cameras installed in some corner. I think ethics mattered a lot in the old days. Maybe because of the cutthroat competition, things have changed. But you can't blame anyone. Everyone has to make a living.
Do you think the industry likes to take sides?
I can't talk about today. But earlier on, a couple of decades back, people had their groups, but they were happy among themselves. There were some people who used to be a part of all the groups. But it was not like they'd make films with people only from their group. They'd work with everyone when needed.
Are there any plans of taking the Tanu Weds Manu and Saheb Biwi Aur Gangster franchises forward?
There's nothing happening in both franchises as of now. But I have just done one film produced by Aanand L Rai – Phir Aayi Haseen Dillruba. I have also done a film with Neeraj Pandey – Auron Mein Kahan Dum Tha. But I cannot tell you anything about either film. I have worked with both of them after a long time. Otherwise, I keep meeting often.
Do you have any plans to launch your son Veer in films?
He has just passed his twelfth-class exam. Right now, he's too young for all that. We will give him a couple of years, and then we will take a call on what he wants to do. But if he wants to get into this industry, then my brief is very simple – he should do it correctly, and he should study it. He is very interested in cricket and football. He has asked for a couple of years for himself.
What advice would you give to your son if he indeed wants to join the film industry?
If he really wants to join the film industry, why will I give only one advice to him? I'm his father. I'll give fifty. And I'd openly tell people, maine toh kabhi aapse kuchh maanga nahin. Mere bete ko de dena. Mere hisse ka bhi de dena (I've never asked for anything from you. But please give my son everything that I deserve). It would be easier for me to guide him if he joins the film industry.
What do you like about your son?
Everything. My son taught me how to dress up. He got me interested in a lot of things. After so many years, I didn't miss a single match of the FIFA World Cup, only because of my son.
How do you handle social media trolls?
You get affected for a while, especially when a film of yours has come out, and you're having a good time with your family. You start reading what people are saying about the film. Most of them are funny comments, so it's fun. But there's that someone who comments something nonsense. You think of only two possibilities: Either this person is doing it for the money, or he has been brought up like that.
Any particular type of role that you want to do?
I wish more light-hearted films are offered to me. Mostly, I get offers to do intense films. I wish I get lighter films like De De Pyaar De. I enjoy those films.
Do you feel actors get trapped in their image?
More than us, the makers are trapped. I am ready to break any image you want. Most of them typecast an actor.