Filmi fathers through the ages | Hindi Movie News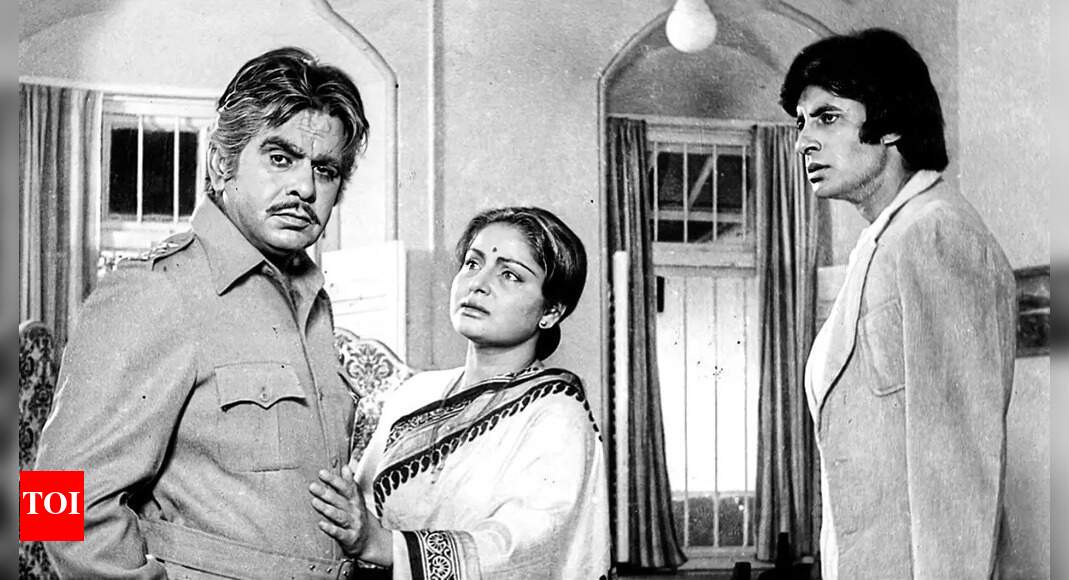 Father-child relationships have been a central element in several films. From high-octane drama between a father and son in Shakti to the tender bond shown in Masoom, the character of a father in movies has been diverse and ever evolving. Akshat Ghildial, the writer of Badhaai Ho, feels that father characters come from context, and that depictions vary based on the time period and as per the story.
B-WOOD DADS RANGE FROM PROBLEMATIC TO PATRIARCHAL
'Jaa Simran jaa, jee le apni zindagi' – this line, spoken by Chaudhry Baldev Singh, the patriarch played by Amrish Puri in DDLJ, is one of the most frequently quoted film dialogues. However, there is a slight problem in the line, says the dialogue writer of the film Javed Siddiqui, who asks why does Simran need the permission of her father to live her own life? This father character is a traditional patriarch who indeed feels that his kids and his wife need to follow his orders, he points out.
From problematic fathers in Deewar and Zanjeer to a father and son's ideological tiff in films like Shakti and Kaala Patthar, many films written by Salim-Javed also presented the narratives of an absent father.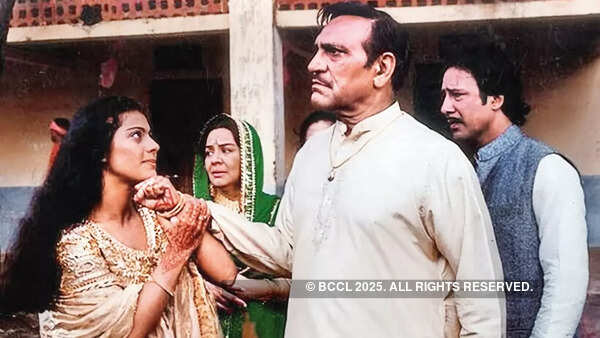 Amrish Puri in DDLJ
'AMRISH PURI KA KIRDAR AISE PITA KA HAI JO HUKM CHALATE HAIN'
Amrish Puri ka kirdar aise pita ka hai jo apni baat ko apni aulaad ko hukm ke tarah manwata hai. Isliye film mein ye line hai – jaa Simran jaa, jee le apni zindagi. Usually, apni zindagi jeene ke liye kisi aur ko permission dena odd hai. On the other hand, Anupam Kher as Raj's father is a dad who is his son's friend. In DDLJ, both fathers are quite antithetical as characters and create a contradiction – Javed Siddiqui, dialogue writer of DDLJ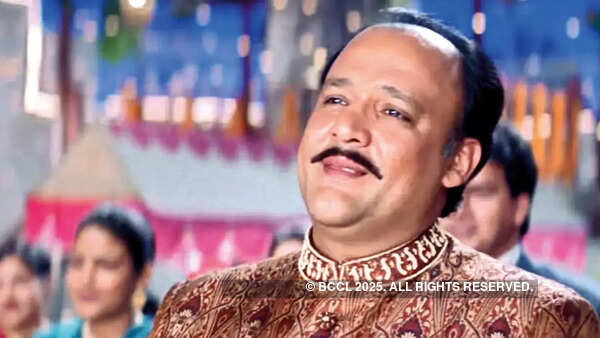 Alok Nath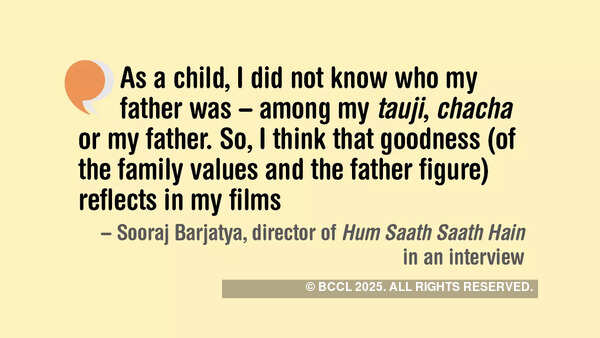 Sooraj Barjatya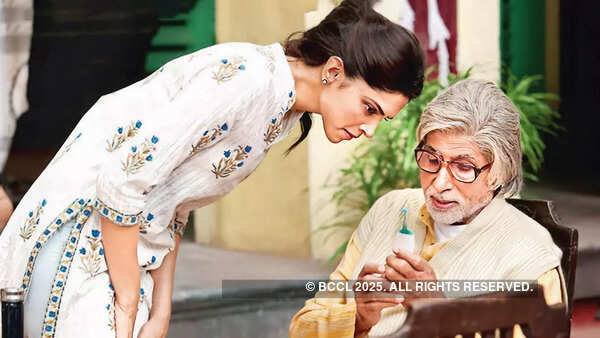 Amitabh Bachchan in Piku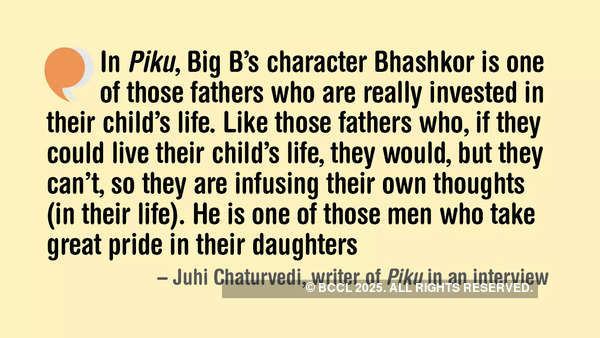 Piku
'B-WOOD HAS HAD VERY FEW REALISTIC DAD-CHILD PORTRAYALS'
Film writers say that very few films have been able to actually portray father-child relationships on the big screen in a realistic manner. Akshat Ghildial, writer of Badhaai Ho and Badhaai Do says, "At times, in our movies, we tend to write kids a certain way to portray them as smart. But kids do not behave like that in real life. Just to make a scene cool or comical, we give an adult's personality to a kid and that determines how the kid will interact with parents. In my view, no other film portrays the father-child relationship as well as Masoom (1983) does. I feel it is the best film ever made on father-child relationship and has great tenderness. The softness in this relationship between father and children is so real and so human."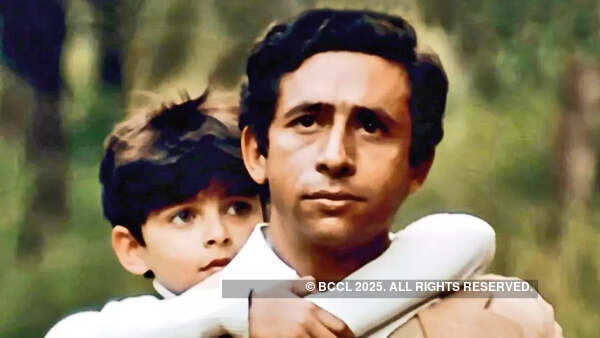 Masoom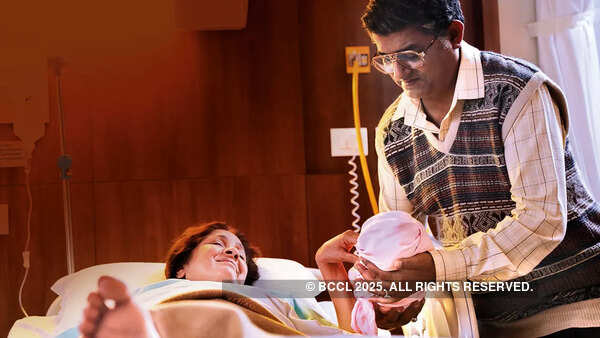 Gajraj Rao in Badhaai Ho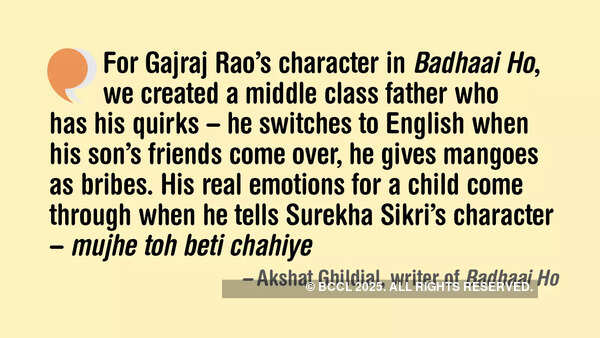 Badhaai Ho