Adipurush dialogue writer Manoj Muntashir Shukla believes it's a case of just five lines. "I wrote more than 4,000 lines as dialogues in Adipurush, some sentiments got hurt on five of those lines," he wrote on social media. The jury is still out on whether it's five lines or more, but the fact remains that the dialogues of Adipurush have sparked caustic reactions from audiences, politicians and film critics alike ever since its release last weekend.
The film has been widely panned for showing divine characters – especially Hanuman – speak lines that the film's makers call colloquial, but many filmwatchers have found to be crass. Bowing to the pressure, the film's team announced on Sunday that the dialogues would be altered, "valuing the input of the public and the audience". The makers said that they are "revisiting the said dialogues, and the same will reflect in the theatres in the next few days."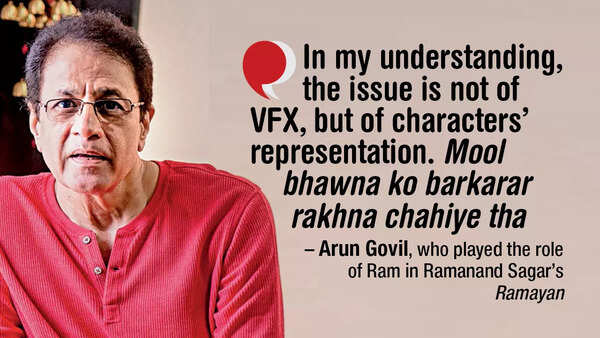 Arun Govil
However, such moves of altering scenes and dialogues post a movie's release are not unprecedented. Over the years, filmmakers from Guru Dutt and Bimal Roy to Sooraj Barjatya have sought postrelease changes in dialogues and songs for various reasons.
ADIPURUSH DIALOGUES THAT HAVE DRAWN FLAK
"Jo hamari beheno ko haath lagayenge unki lanka laga denge" "Teri bua ka bageecha hai kya jo hawa khane chala aaya?" "Kapda tere baap ka, tel tere baap ka,aag bhi tere baap ki toh jalegi bhi tere baap ki" "Aap apne kaal ke liye kaaleen bichha rahe hain" "Mere ek sapole ne tumhare sheshnaag ko lamba kar diya, abhi toh pura pitara bhara para hai"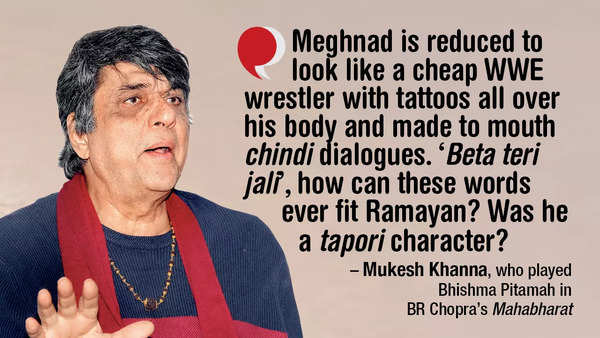 Mukesh Khanna
WE WILL REVISE SOME OF THE DIALOGUES: MANOJ MUNTASHIR
I wrote more than 4,000 lines as dialogues in Adipurush, some sentiments got hurt on five of those lines. In those hundreds of lines, where Shri Ram was glorified, Maa Sita's chastity was described, I was hoping to receive praise for them, which I don't know why I did not get. For me there is nothing greater than your feelings. I can give countless arguments in favour of my dialogues, but this will not lessen your pain. I and the producer-director of the film have decided that we will revise some of the dialogues which are hurting you and they will be added to the film this week – Manoj Muntashir Shukla, dialogue writer of Adipurush, on social media.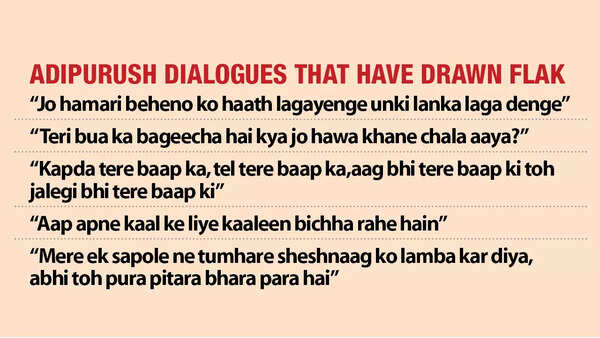 Adipurush dialogues
WHY MAKERS CHANGE FILMS POST RELEASE
While there are no recent examples, films that saw postrelease changes include those that were banned in some states or where the makers have made fresh edits, voluntarily. For example, Prakash Jha agreed to some changes in his film Aarakshan on the eve of its release after Uttar Pradesh and Punjab banned it over controversial scenes and dialogues.
Whenever a film makes any changes, it has to get the approval of the CBFC. Sometimes, these changes are also made for the film's satellite or streaming rights.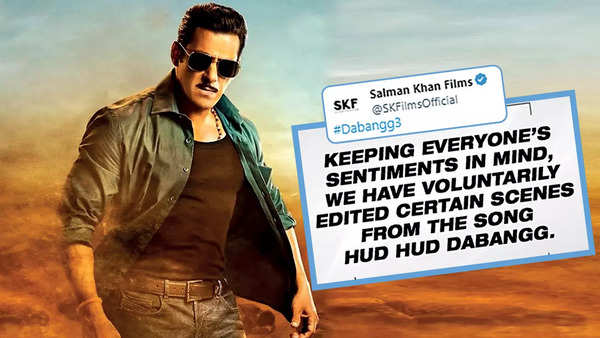 Dabangg 3
NINE MINUTES OF DABANGG 3 (2019) WAS CUT
The makers of Dabangg 3 announced after the release of the film that they voluntarily removed certain scenes from the film's title track, Hud Hud Dabangg. The film was trimmed by nine minutes. As per reports, about eight minutes were edited from the first half, which included a song, Awara, featuring Salman Khan and Saiee Manjrekar. Another song Naina Lade was also shortened. The film faced controversy when several groups objected to a sequence in the title song that featured saffron-clad sadhus dancing with guitars.
Hum Aapke Hain Koun!
FILMMAKERS SOMETIMES VOLUNTARILY SEEK MODIFICATIONS AFTER CERTIFICATION: CBFC OFFICIAL
Elaborating on the topic, a CBFC official says, "It is not uncommon for filmmakers – especially in the case of well-known directors and big-budget films – to revise dialogues and scenes. Many filmmakers voluntarily seek modifications after certification. On an average, we receive eight to ten requests from filmmakers across languages. While the film retains the original certificate in the cinemas, any updated modifications are endorsed on back of the certificate."
SONGS WERE CUT FROM HUM AAPKE HAI KOUN! (1994)
The initial reaction to Hum Aapke Hai Koun! after the industry screening was not very positive. The film, which has a running time of 3hr 26 mins, was even longer. In a recent documentary, the film's maker, Sooraj Barjatya, said, "For Hum Aapke Hain Koun!, we had a screening and that show was a disaster. However, Adi (Aditya Chopra) told me, 'Dhai gaane katoge toh nikal jayegi'. And honestly, it was on my mind for the last five months. He pinpointed the exact two-anda-half songs, which I removed the next day (sic)."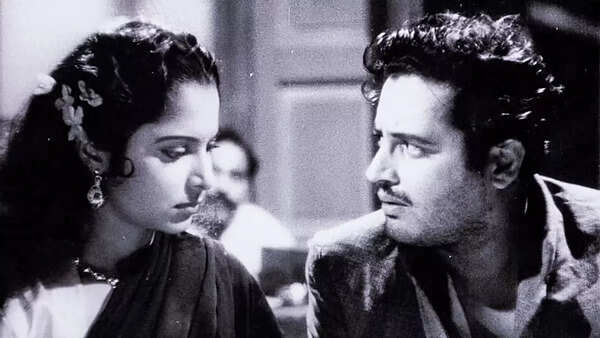 Pyaasa
GURU DUTT, BIMAL ROY ALSO CHANGED FILMS POST RELEASE
Film archivist and historian Shivendra Singh Dungarpur shares that it was quite common in the '50s and '70s for filmmakers like Guru Dutt and Bimal Roy to modify their films if they felt the audience was not connecting with the story. Dutt reportedly reshot scenes of Pyaasa after the release and also removed a song. When Dutt visited a cinema showing Sahib, Biwi Aur Ghulam, he decided to reshoot the climax after seeing the disappointed audience but later changed his mind and didn't change it. However, he did remove Meena Kumari's song Sahil Ki Taraf and some dialogues. Similarly, Bimal Roy also changed some parts of Devdas post-release.