Earlier Vivek Agnihotri took a dig at
Aishwarya Rai
Bachchan's 'uncomfortable fashion' after the
Bollywood
diva was seen in a stunning hooded gown at the Cannes red carpet. The filmmaker, in his tweet, criticized the celebrities who need assistance on the red carpet and he even included Aishwarya's picture from this year's Cannes Film Festival.
Now, 'The Kashmir Files' director has once again made a sly jab at celebs who are making headlines with their stylish appearances at this year's Cannes. In his latest tweet, he reminded everyone that it's a film festival and not a 'fashion show.' His new tweet has yet again kicked up a social media storm.
In the new tweet, Vivek wrote, "Do you know that Cannes Film Festival is about films? I thought I should remind you just in case you were thinking it's a fashion show."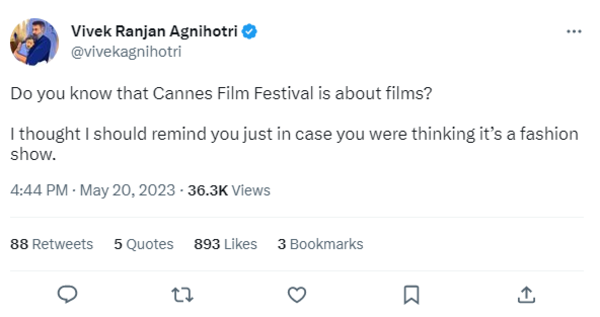 While many have backed the filmmaker supporting his thoughts there were others who didn't like it at all. However, actor Meera Chopra who made her Cannes debut last year agreed to what Vivek wanted to say. She wrote, "Its very sad, I said the same thing when I went there last year.. that it's become a fashion parade. Bollywood only talks about what you are wearing and where all you are being covered in media, to the extent that it becomes stressful. Believe me it's not the same for other countries. They've not gone crazy like us on fashion and pr!"
On Friday, 'The Kashmir Files' director posted a photo of Aishwarya Rai's red carpet moment this year and wrote, "Have you guys heard of a term called 'costume Slaves'. They are mostly girls (a suited man in this case). You can see them now in India too with almost every female celeb. Why are we becoming so stupid and oppressive just for such uncomfortable fashion?" Some agreed with what Vivek Agnihotri was pointing out but Aishwarya Rai's fans questioned his judgment.