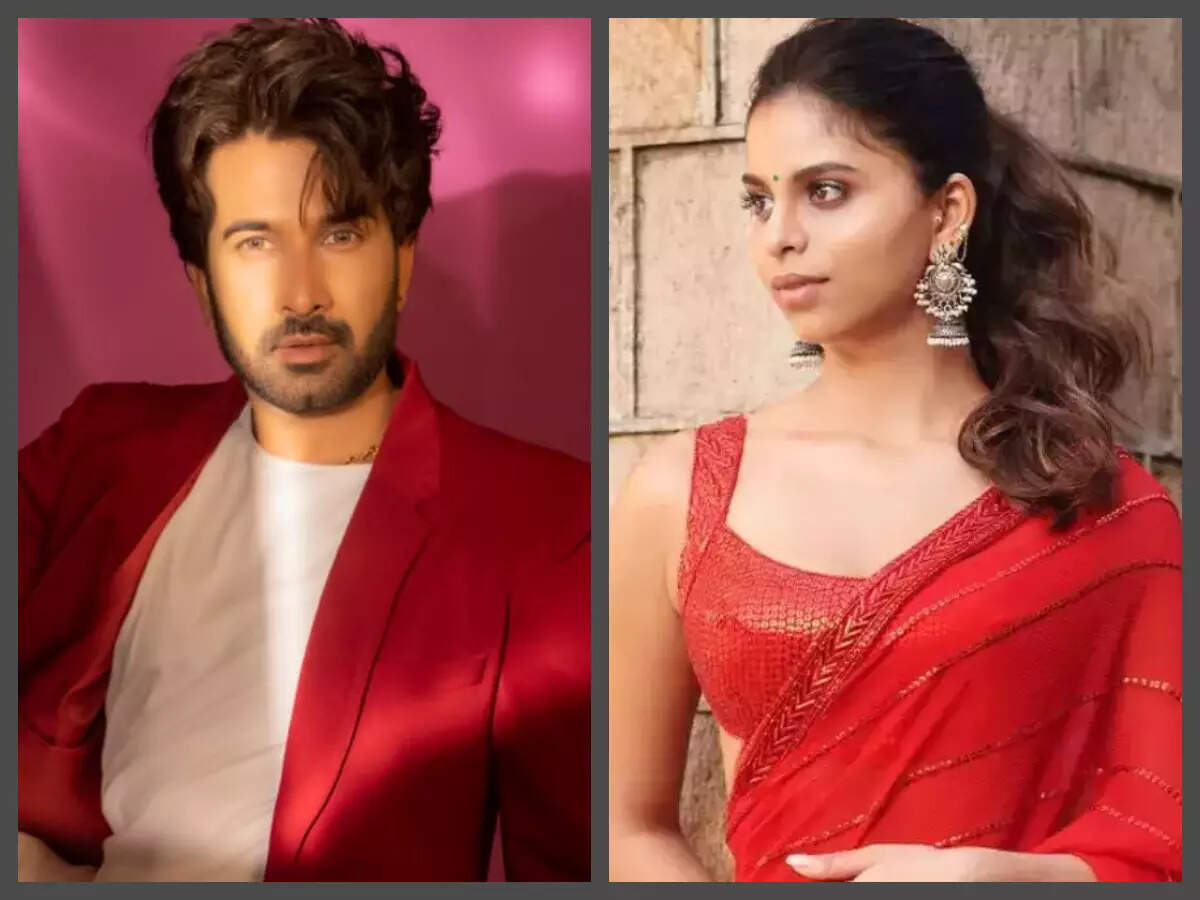 After assisting directors like Sanjay Leela Bhansali and Rajshree Ojha, actor Vishal Mohan is all set to make his big Bollywood debut with Sunil Reddy's untitled film with
Arbaaz Khan
. He has also bagged the sequel of Hamid Ali's 'Mehendi 2'. ETimes caught up with the budding star for an exclusive chat where he opened up about his wishes to star opposite
Suhana Khan
, his
Bollywood
idols and more. Excerpts…
How and when did the acting bug bite you?
I belong to a business family. However, I wanted to do something in the field of art. I started taking up modeling assignments in Indore while working with my father. It was difficult initially to meet the right kind of people and get the right work. I worked really hard to reach this level.
You have had the privilege of assisting filmmakers like Sanjay Leela Bhansali and Rajshree Ojha. How was the experience?
I got the opportunity to work with Sanjay Leela Bhansali sir and Rajshree Ojha ma'am through Paresh Rawal sir. Basically, my job was to place the juniors and arrange them. They have made the career of so many actors. When you get an opportunity to work with ace directors like them, you grab it with both hands. It was a big achievement for me to start my career with these people. I got to learn a lot from them. Everyone I have worked with in my eight years of journey in this industry has had a big role in what I am today.
Both the directors are poles apart when it comes to filmmaking. What were your learnings from them individually?
It is true that both Bhansali sir and Rajshree ma'am are different as directors. I admire Bhansali sir's discipline and the way his mind works. He is a magician of direction. Rajshree ma'am, on the other hand, is a classic director. I got to learn a lot from her too. I am fortunate to have got the opportunity to learn from different directors. Even today, when I am acting, I am able to see how my directors are working, how their mind works. Even today, when I am behind the scenes, if I am shooting for 24 hours, I am rarely in the room. I am usually with the director. So, I got inspiration from Bhansali sir and Rajshree ma'am. I am still learning. I still feel I have a lot to learn.
You will be making your big Bollywood debut alongside Arbaaz Khan. Tell us something about the film and your character.
I got a chance to work with Arbaaz sir because of Laksh. Laksh is one of the producers of this movie and a big star in South. Laksh is a good friend of mine and he trusted me and insisted me to take this role. Then I got a call from Sunil Reddy sir and I was told about the character. My character in this movie is one of the main negative characters. He approaches an honest person with a purpose and that purpose is to promote him. He goes towards a negative path and he sees nothing. He does not see his father or mother. He has only one thing in his mind that he wants to get his promotion. To get that promotion, he removes everyone who comes in his way. In Bollywood movies, there are people who are heroic. But in this movie, I play a police officer who is different from the people around him. He is different from his family. You will get to see a new character in this movie.
Who do you like better – Arbaaz Khan as an actor or Arbaaz Khan as a director?
I would like to say one thing about Arbaaz sir. I never felt that I was working with Arbaaz Khan. He is very friendly, very down to earth. As an actor, he is brilliant. He gives a lot of input. He is very friendly with his co-actors. Arbaaz sir looks very strict on screen. But he is a very soft hearted, very beautiful person. We never felt that we were working with a great actor. As a director, I would like to work with Arbaaz sir. We see the world from behind the curtain and make our own perceptions. But as a person, as a friend, he is a very good person. He takes care of everyone on set.
You have also been roped in for Mehendi 2. How did you come on board for the film?
I worked with Hamid Ali sir in 'Yeh Hoti Hai Maa'. I got to learn a lot from him. He not only showed faith in me as an actor but also motivated me to polish my skills. After 'Yeh Hoti Hai Maa', he offered me 'Mehendi 2'. I was on cloud nine. We will be starting the shoot of 'Mehendi 2' in Lucknow soon.
Tell us something about your character in the film?
In 'Mehendi 2', I play the role of a rockstar, a singer. Women are very powerful and they can even bring mountains down if they have the will. This is the essence of this movie. The film is a journey of my character as a singer, his relationship with his wife. It is about how he gets lost and how his wife brings him back on track.
Have you seen the original film? What can the audience expect from the sequel?
'Mehendi' was very different. The second instalment of the film will be a new version by Hamid Ali sir. It has a different flavour and has a youth connection to it.
Mehendi starred Rani Mukerji in the lead role. If you could choose an actress for the sequel, who do you think can pull it off?
Rani Mukerji has set a high standard in 'Mehendi'. She was absolutely amazing in the film. If I could choose one actress from the current generation to play this role today, it would be Shah Rukh Khan's daughter Suhana Khan. She's a very good actress. I saw her short film. If I am lucky, I would like Suhana Khan to be in 'Mehendi 2'. She fits in the character very well. She has a lot of power.
Do you have actors you look up to in the industry?
I look up to Hrithik Roshan and Ranbir Kapoor in the industry. Hrithik is a dedicated actor and he is a great inspiration for me. I watch him a lot and observe him a lot. And I get a lot of inspiration from him. He will be an inspiration for many generations to come. Ranbir, on the other hand, is the one and only actor who acts from his heart. I watch his movies only because of him. I don't see any other actors in the movie. I saw his last movie, 'Tu Jhoothi Main Makkaar' and I enjoyed his character, his acting, and his style.
A lot has been said about nepotism and campism in Bollywood. Were you sceptical before entering the industry?
I focus on my work and want to create my own personality. I meet a lot of directors on a daily basis. However, I feel that until I prove myself, they will not entertain me. Nepotism is like family. There is a lobby system. You like to work with your friends where you can talk to them. You can get a lot of work from them as a friend. You can talk to them and share a lot of inputs. Everyone likes to work in their comfort zone. Some people call it nepotism. But I think this is a lobby work in our industry. I think we should just focus on our work and respect what we get.