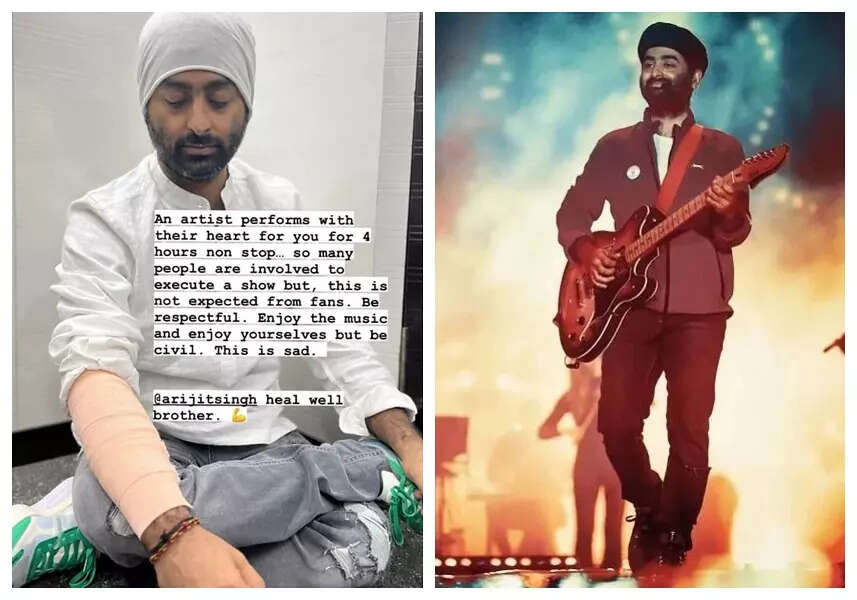 Arijit Singh was left injured when a fan pulled his hand during a live concert in Aurangabad. The incident happened when the celebrated singer was interacting with the audience in between his performance just like he does always. Suddenly one excited fan started pulling his right hand in a bid to have a handshake with Arijit. As the fan pulled his hand Arijit lost his balance and injured his hand. A video of the incident has now gone viral and people are urging everyone to be a bit more responsible.
Interestingly, the video shows despite getting injured Arijit didn't lose his temper and tried to make the person realize how one should respect artists. The ace singer received initial treatment on stage as he didn't want to stop the show. He can be heard politely saying, "Why you pulled my hand? See, now I can't even move my hand. It's a simple equation. If I can't perform how will the show continue? I want to interact with all my fans and I have immense love for all of you. But you have to understand things like this shouldn't happen."
There are quite a few videos from the event that have gone viral on social media and people have slammed the person who pulled Arijit's hand.
The 'Kesariya' singer is right now busy with a nationwide tour and has already performed in Delhi, Chennai, Kolkata, and Ahmedabad, among other cities. On Sunday, he was performing live at a concert in Aurangabad's Chhatrapati Sambhajinagar.