Celina Jaitly might be away from the silver screen but she is quite active on social media. While she commands a huge fan following, she also often gets subjected to trolls.
A Twitter user recently criticised the actress for living and enjoying her life in
Austria
with her husband and kids instead of India. The tweet read, 'Lol.. Thats what called half baked knowledge. You want to live with the nature you don't go Austria but you go to India. Living with fancy battery car, fancy shoes jackets etc.. This is western hypocrisy (sic).'
Check out the tweets here: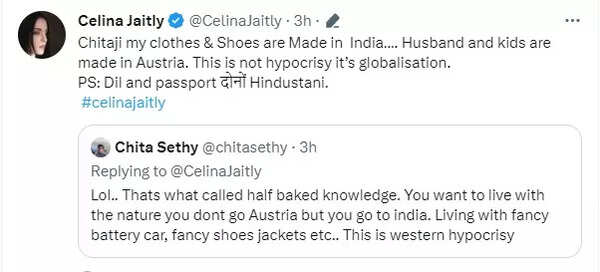 Replying to the same, Celina wrote, 'Chitaji my clothes & shoes are Made in India…. Husband and kids are made in Austria. This is not hypocrisy, it's globalisation. PS: Dil (heart) and passport dono (both) Hindustani.'
The actor had written a long post summing up her experience of living in a historic village in Austria and driving occasionally to bigger cities for some 'me time'. She had also talked in depth about her lovely drive through scenic locations.
Check out her post here:
Celina lives in Austria with hotelier husband Peter Haag and their three sons: 11-year-old twins Winston and Viraaj and five-year-old Arthur.