Priyasha Bhardwaj is currently on cloud nine as her latest show, 'Saas Bahu Aur Flamingo' has been receiving positive reviews from all sides. The actress essayed the role of young Savitri (
Dimple Kapadia
's character) in the series. ETimes caught up with the actress for an exclusive interview where she opened up about working with ace actors on the show, her bond with her 'Aarya' co-star
Sushmita Sen
, her journey in the industry so far and more. Excerpts…
'Saas Bahu Aur Flamingo' has been receiving positive reviews from all sides. How does it feel?
I feel on top of the world, frankly. There's so much love coming for my character also. It looks like I have surprised people with this particular character. So I am on cloud nine these days.
You play young Savitri in the series. What attracted you to the character?
The fact that I had to play young Dimple Kapadia was quite an exciting challenge. So I went all guns blazing for my audition. I was like, there's no two ways about it. I have to get this part right. So I worked really hard on the audition and then the rest, you know, I left it for the universe.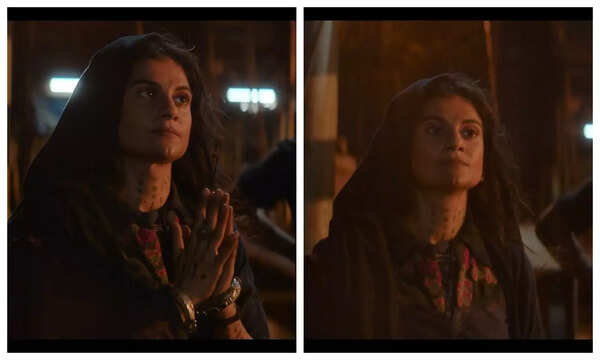 How was it working with actors like Dimple Kapadia, Naseeruddin Shah and others?
Being around them felt like I was living my dream because Bollywood felt like a distant dream to me a few years ago. But now I am getting closer and closer to realising my dreams. And I feel I feel like I belong here. So it feels wonderful. Feels like home to be around them.
The show boasts of an ensemble star cast. Was it fun shooting on the set? Whom did you bond the most with?
I bonded with our director Homi Adajania the most. He was the best person to be around and he's frankly a director that I would want to work with again and again. I have had such a wonderful relationship with him. We worked on the character so hard and like a collaborator, we both were so invested in developing her and all the intense scenes that we had to shoot together. So, yeah, he's an incredible human being and an incredible director. And I don't know how else to express my love and gratitude for that man. He's something else.
You have been a part of some very top-rated shows like Aarya, Mirzapur 2 and others. How do you look back at your journey so far?
Frankly, I don't look back. That's the thing. I am only going forward, forward, and forward. I am very grateful for all the work. And I feel like I am being able to showcase my potential as an actor through all these characters. So obviously, I am grateful for these opportunities that I worked hard for. I made sure that I gave every audition my hundred percent. It is also being in the right place at the right time.
You worked closely with Sushmita Sen. How is she as an actor and as a person?
I don't think I would be able to comment on her acting potential because she's far senior to me. But as a person, I can definitely say that she was like an elder sister to me, even off camera. We both bonded really like sisters and we are both Scorpions as well. So we know that we have certain characteristics common to each other. We both like being super passionate about anything that we do. She has this childlike quality in her. And I think I also do to a certain extent. So we bond beautifully off camera when we are hanging out on sets. We would sing and dance together on the sets of 'Aarya'. We had some wonderful time also sharing some private moments with her in her vanity. So she was gracious enough to spend some time with me, wanting to know more about my life and where I have come from. It was just lovely to be with, be around her. She's just beautiful.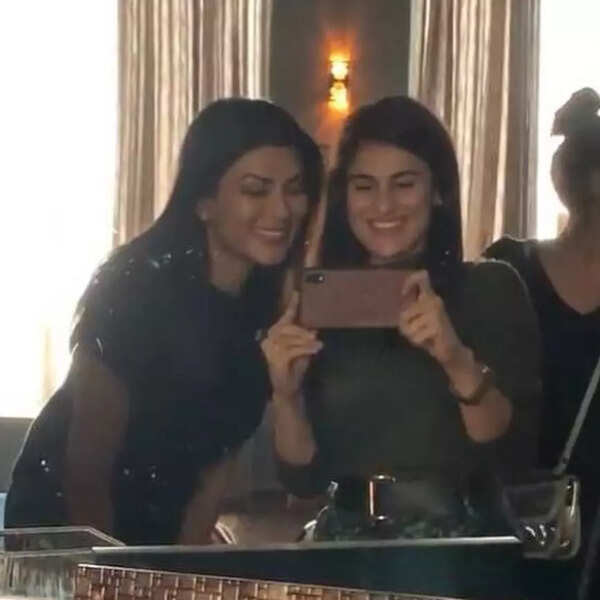 Were your parents supportive of your career choice right from the start?
No, they were all very apprehensive because I didn't have any background. There was nobody to tell them, there was no guardian as such. So, of course, they were apprehensive, but they didn't stop me. More like I had a zid. So I came running here. Now I know that my parents are proud of me. I am grateful to them that they allowed me to give this a shot.
You are someone who has openly talked about the sexual harassment you faced during your theatre days. Bollywood has had its fair share of stories. Were you sceptical before entering the industry?
There are always certain doubts and fears. But to answer your question, yes, I was sceptical. But I didn't let it come in the way of my dreams. So I would continue pursuing with the faith that I will be safe and I will make sure that this doesn't happen to me again. And by God's grace, people have also been kind to me. I believe that I have attracted the right people to work with. And it's been good so far.
You command quite a fan following on social media. How do you deal with negativity and trolls?
I have managed to create a very supportive and loving fan family on Instagram and Facebook. They protect me. In fact, I don't even have to deal with some of those trolls when they come my way. I know somebody or the other is going to stand up for me. And it has happened in the past. My Insta family always stands up for me whenever they see some negative comment or troll on me. And I couldn't have been more blessed to have this little social media family.
What's next?
I have completed TVF's 'Kott Kachheri' and the other project is 'Mirzapur 3'. So these are the two other projects that I'm eagerly waiting to watch and share with you all.