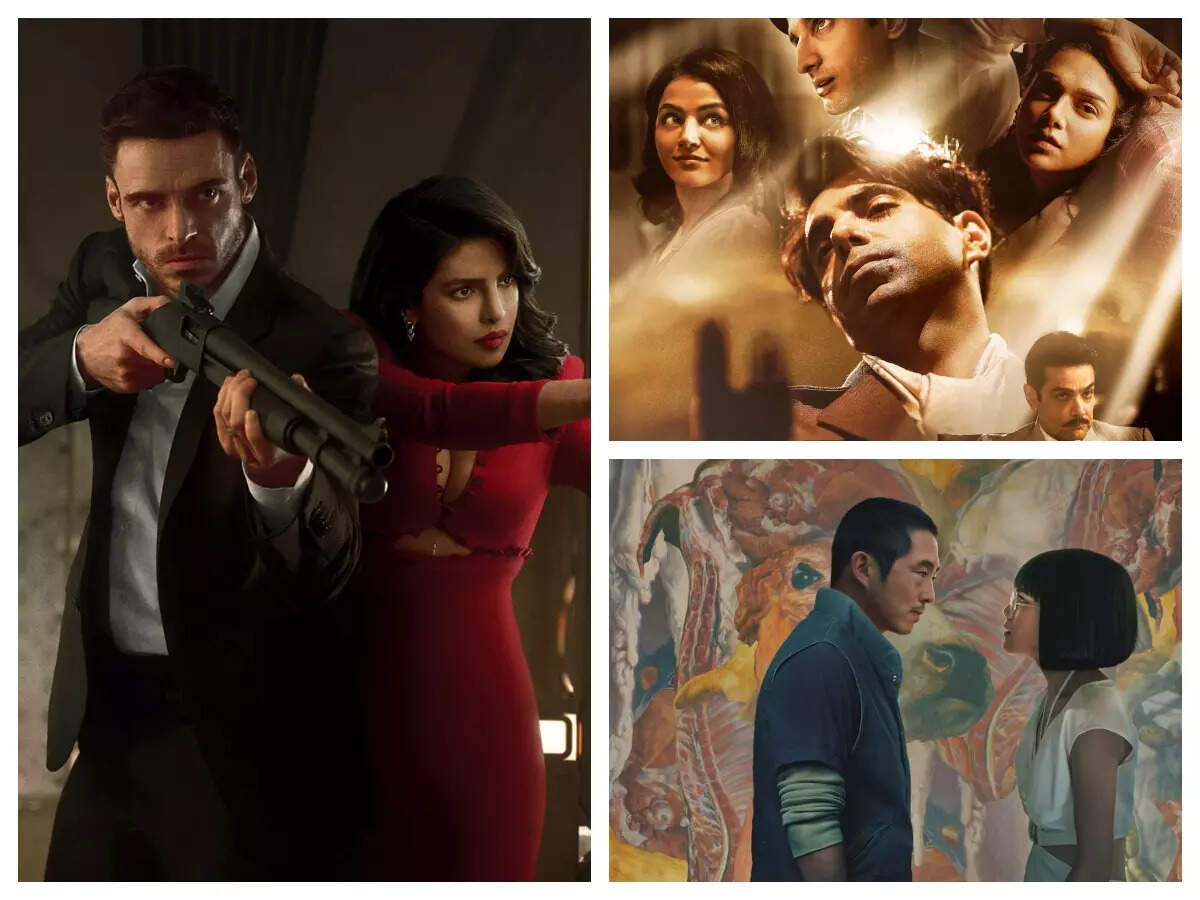 After many dull months of stray pleasures, the OTT platform proved T S Eliot wrong: April was not the cruelest month. Not on the digital platform. We had one extraordinary documentary and some above-average happenings, and then of course there was The Citadel. Did it live up to expectations?
1.
The Citadel(Prime Video
): Is isn't surprising that
Priyanka Chopra
seemed like a female version of
Shah Rukh Khan
's
Pathaan
. She has always been inspired by the King Khan. When she did
Barfi
she sought guidance from SRK's
My Name Is Khan
. Priyanka was kickass sassy as Nadia Sinh(it would be a Sinh to guess whether she is meant to be Indian). The six-episode screen -shattering Bourne-like thriller(only two episodes have been aired so far) flaunts sinewy action sequences that seem the core of the conflict.Yes we are glued.
2.Jubilee(Prime Video): A remarkable achievement in its own right, taking us back to the inception of Hindi cinema as we know it, Jubilee leaves us jubilant.The arc of ambitiousness in Jubilee never flags. The plot remains breathless in its arching allusions right till the end when the main characters are expected to make tough choices, in and out of the court. the ten episodes offer vivid sharp stinging glimpses into the golden era of Hindi cinema when superstars were made and unmade by powerful studio owners.While some performances,particularly Sidhant Gupta were remarkable,the series was let down by some flabby performers who shall go unnamed .
3.Dancing On The Grave(Prime Video): Patrick Graham's series is so well constructed it feels like a monumental meditation on a macabre murder. It is much more than an engrossing true-crime series.It is a cautionary tale , one so balanced and non-judgemental that even the honorable judge who makes an appearance at the end, is given a chance to explain why this crime fell into the 'rarest of rare' category. could this be true, can any man be so cruel to any human being, let alone his wife, a wife who left everything , wealth, fame, family children to be a wife to a low-life self-designated mind-twisted Swami.As one of the victim Shakereh Khaleeli's close friends says towards the end, how could she?More crucially, how could he? To so brutally murder a woman requires a level of heartlessness that normal people wouldn't understand.
4.Beef(Netflix): This one has come to us accompanied by much wah-wah the worldover. But sorry I am not a Beef-consumer. With lead actors who are dull and pettifogging, the ten-episode series Beef causes grief. It is overblown and undernourished. The skeletal plot scarcely manages to rise above the mundane. Most of the time we are left wondering what the fuss is about.And would someone please plant two tight slaps on these two grownups behaving like spoilt little kids who will do potty at a party when they are not given large enough portion of the birthday cake? The writing is clearly infantile.It wants us to embrace the protagonists temper tantrums. But we can't,as the writing doesn't evolve, or involve us as spectators.
5.Tooth Pari(Netflix): The weirdest series I've ever seen on the OTT platform Tooth Pari is meant to be a romance between a diffident dentist and a confused vampire. In-between we get, talented actors like Adil Hussain, Revathi and Tillotama Shome behaving as if they have gone into the wrong fancydress party. After trying to make head or tail out of this frail tale I was left feeling exhausted and pale as if I had been bitten by one of those vampires in this creepy but unintentionally comic rampage into the world of sanguinary desires rendered so abstruse it feels more like a riddle with no solution than a series meant to entertain/enthrall/intrigue.