Sohaila Kapur is popularly known as the niece of yesteryear actor
Dev Anand
and sister of filmmaker
Shekhar Kapur
. Despite belonging to a rooted, artistic and cultural legacy, the actress has successfully carved her own space in the world of entertainment. She has donned multiple hats as a writer, director, and actor in her career. She was recently seen in Sushmita Sen's OTT show Aarya as well. In an exclusive chat with ETimes, Sohaila opened up about being a movie buff, her childhood memories of visiting film sets, plans to work with her director brother and more. Excerpts…
You come from a family with roots in the film industry, right from the legendary Anands (Dev, Chetan, and Vijay) to ace filmmaker Shekhar Kapur. Did you ever feel pressured?
Never. They were good in their respective fields, I am good in mine. I am recognised for my own work, not because of my relationship to these legends, much as I love and respect them.
Do you recall visiting film sets with your uncle Dev Anand or your brother Shekhar Kapur when you were young? Can you share some memories with us?
Strangely, I have never visited any of my brother's sets. But I have visited the three uncles' sets. We travelled to Mumbai during my holidays, which is when I visited their sets. I was asked to get their autographs by the editors of the school magazine. I have visited the sets of Johny Mera Naam, Tere Mere Sapne and Jaaneman. I remember
Hema Malini
looking at me with girlish curiosity. And Mumtaz, who excused herself when I handed over a paper for her autograph; emerging later with a pretty signature. I also remember a war of words between an inebriated Premnath and uncle Dev on the set of Jaaneman, which uncle Chetan settled by calling off the shoot for the day!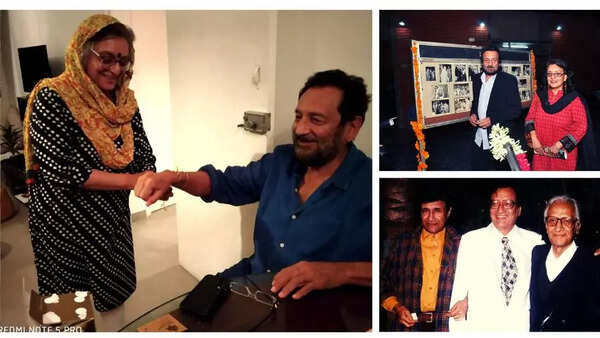 Are you close to your brother Shekhar Kapur? How encouraging have you both been of each other's work?
My brother and my sister (Neelu) were closer since the age gap between them wasn't much and I was the baby of the family. But we worked together for the first time for the international musical 'Why' at the Dubai Expo, in 2021, where he was the concept and creative head and I had contributed to the script as well as written four songs. It was my debut as a lyricist. The music was composed by AR Rahman. We aim to work together again.
Have you been a movie buff in your growing up years? If yes, who did you idolise?
I was a complete movie buff in my childhood. When you have Dev Anand as your mama (uncle), who else can you idolise? I remember young girls being terribly jealous of me. I had a crush on him in my pre-teen years, but I also enjoyed watching Shammi Kapoor films.
What more does 2023 have in store for you?
OTT films as an actor, theatre as a director, and hopefully as a script writer. I want to put my journalistic background and life's experience to use in film scripts. Have had some meetings and developed approved concepts. I am also writing a book on the Anand family for a prominent publisher.