Actor, diva and an enigma –
Zeenat Aman
is all this and more. At a recent event in New Delhi, the veteran performer looked breathtaking in a black dress and rocked the evening.
Instagram influencer and actor Kusha Kapila met the 71-year-old at the soirée and could not stop raving about her. Taking to her IG handle, Kusha shared some pics of the two, while expressing her love and appreciation for the timeless beauty. She wrote, "I consider this moment a life highlight. To be able to experience an icon like @thezeenataman in person is the kind of stuff you tell stories about for years after. Words poured out of me when I met her so for the first time my extroversion wasn't cringe to me, especially since she heard me patiently as I tried to sound as eloquent as her Instagram captions."
She further said, "I know how her presence on the gram makes women feel and I said exactly that to her, in many versions, embellishing it with all the feelings and words I could messily gather in our 7-8 minute interaction. She gave me a compliment that I will lock in a safe place and keep going back to on an off day. Wow, can you believe I met The Zeenat Aman?".
The ever so affable Zeenat responded to Kusha's appreciation by sharing a pic on her IG stories and wrote, "It was a pleasure to meet you, @kushakapila thank you for your kind words."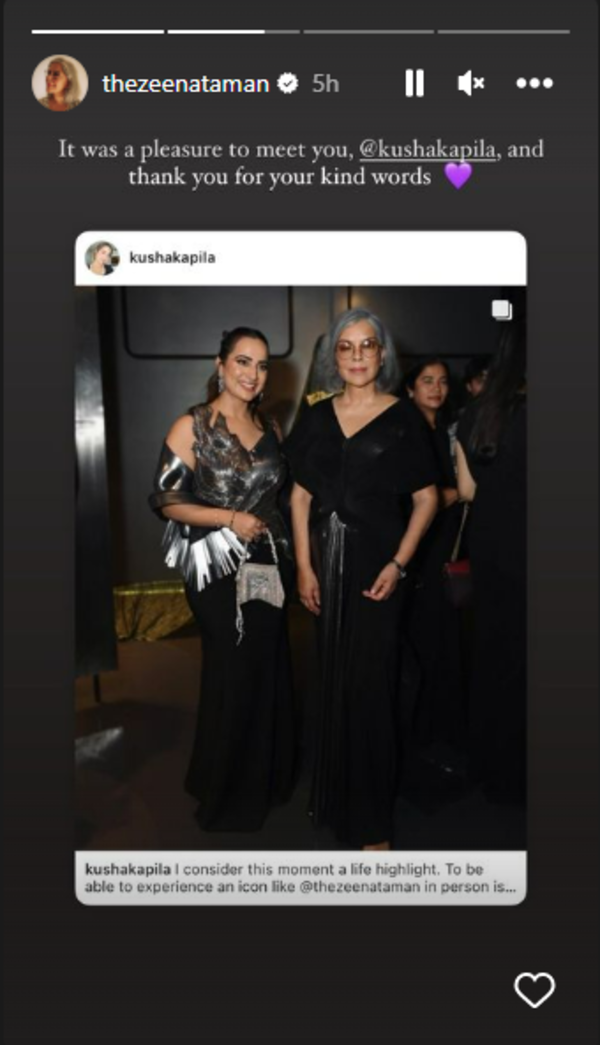 Zeenat Aman made her IG debut earlier this year and often shares her throwback pics and pearls of wisdom on life.