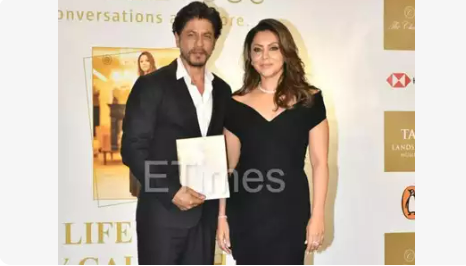 Shah Rukh Khan and Gauri Khan looked every inch the power couple as the superstar launched his wife's coffee table book at a glittering event last night. The coffee table book, titled '
My Life In A Design
' showcases Gauri's journey as an interior designer.
Being the doting husband that he is, SRK could not stop raving about his wife and said that the fact that she excels at work, gives the entire family a lot of motivation. He said, "There is a mediocre sense of creativity in our entire family. Gauri has been very creative, and after 24 years of our married life, we were just busy settling in Mumbai. She never realised that there was an aspect of her, that she didn't know was hidden. She has done it all by herself and continued doing what she does. Gauri is the busiest person in the house now, more than me, my children, and my sister. We keep asking her why she works so much and she replies because it satisfies her dream."
SRK also opened up on life lessons he has picked up from his wife. He added, "We have learned this from Gauri, that it's important to have a satisfying day at work. Thank you Gauri for giving us this success mantra to the family."
SRK also revealed that Mannat was Gauri's first project as a designer, since after they bought the bungalow, the couple did not have enough finances to invest in an interior designer.