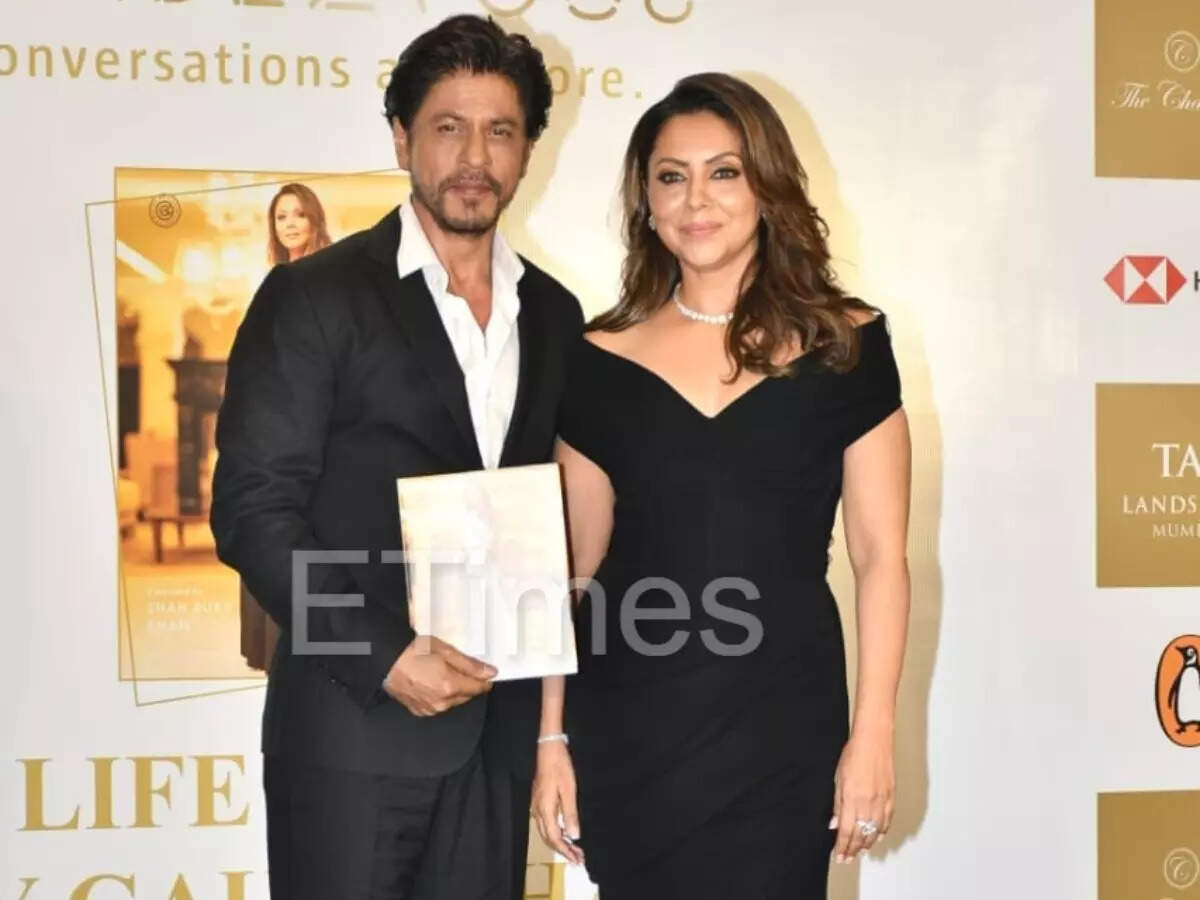 Shah Rukh Khan
launched his Gauri Khan's coffee table book this evening. While Gauri is a superstar's wife, she's proved in the last few years that there's more to her. She's carved her own niche with her interior designing company and talent. Gauri's book is titled, 'My Life In Design' and it showcases her journey as an interior designer. The book also features some exclusive pictures of their house Mannat and their family including kids – Suhana, Aryan and Abram Khan.
During the book launch event, SRK spoke about how Gauri's career started with designing their house Mannat. SRK revealed, "When we bought the house we loved it, it was way beyond our means. Being from Delhi, one was used to living in bungalows, one didn't realise that Mumbai has a whole system where apartments are even more expensive than bungalows. We were just not used to it. Before the Bungalow, we used to live in the house right next to Taj Lands End, it was my director's house . He lent it to us asking to live there as long as we are making films. We didn't have too much of money and as soon as we had some money we bought the bungalow – it was way beyond our means. We bought it that was one thing, but then we had to spend a lot as it was diapalated and broken. We didn't have money to furnish it and of course we called a designer and the lunch he served us telling us how he will design the house, was way more expensive than the salary I used to earn back then."
Because the couple couldn't afford the designer, SRK turned to Gaui and asked her to design the house. "The only person to turn to was Gauri. I told her, you have some artistic talent, why don't you become the designer? Frankly Mannat started that way, so whatever little money we earned over the years were spent in buying some stuff. Like once we went to South Africa, we bought leather for the sofa. Back then we were only allowed to carry 100 dollars or some little money abroad from India and they were spent only on buying decoration pieces for the house," revealed SRK.
The actor further joked, "Beginning so early also helped her. For me it is very nice, I don't have to look for another designer, I can scream and shout at her! I'm just joking I've never done that … but it easier with her to discuss what we want."
On work front, SRK will be seen next in Atlee's 'Jawan' and Rajkumar Hirani's 'Dunki'.