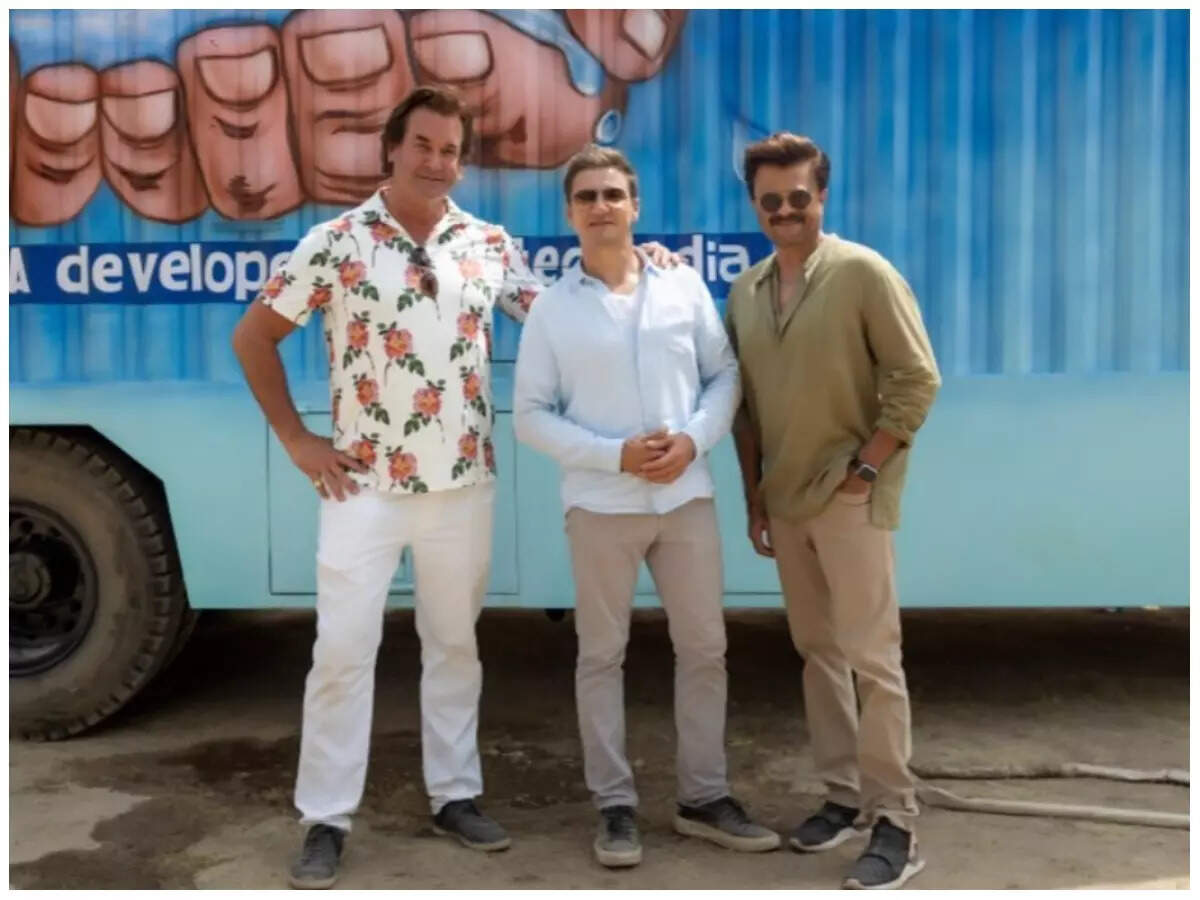 Jeremy Renner
proved that he is a hero on-screen and off when he got fatally injured while trying to save people stranded in the snow. His good works, don't stop there. At a time when celebrities are opting for reality shows that give us a peek into their fabulous lives, Renner opted for a four-part series titled 'Rennervations' fusing the actor's passion for renovating vehicles and his love for giving back to the community.
'Rennervations', which premieres on Disney+ Hotstar, follows Renner as he travels with his best friend and business partner, Rory Millikin to India, Mexico, Chicago and Nevada to help local communities fulfil some basic needs. The purposes range from serving as a mobile music studio to a water filtration truck.
Ahead of the series debut, ETimes sat down for a chat with Rory to discuss the series, his visit to India with Jeremy, finding a new friend in Bollywood star
Anil Kapoor
and so much more. Excerpts:
How has Jeremy Renner been since his accident? His fans in India were praying for him, even Anil Kapoor sent out tweets. How excited are you all now that the show is finally releasing?
Jeremy is doing great! You've seen him, his posts. He's on that treadmill that supports his weight and is starting to learn how to walk. He's rehabilitating and doing everything he can to get back on his feet, and he's one very determined guy.
One of the things Jeremy talks about is that this show is a great inspiration for him to get better and keep going because it motivates him to move forward and I think that's one of the special things about it. It motivates not only viewers but also motivates him.
Whose idea was it to make this show and what was the inspiration behind this project?
Jeremy was buying these large vehicles on auction sites. He was shipping it from god knows where. I thought, 'Wow! That's really cool' because I don't know anyone who owns a fire truck, but I don't know anyone that's an Avenger either. And then, he'd be auctioning away, and it snowballed into hundreds of these things. It is mesmerizing how many he bought.
Jeremy was going to convert them into some business things for communities and kids. The fire truck would have a DJ booth and a slide off of it. It would also have an ice cream machine for kids' parties. It could also be used to spray out fires. If there are fire forest fires in Tahoe, we could use it to protect the neighbours. He's very big on protecting the community and helping stop the fires from spreading. So, they were kind of really neat business ideas.
And then we were kind of talking and I said, "Look, this is a problem you've got. You gotta stop buying this stuff."
We joked that maybe we should do a TV show. I was kind of taking a Shark Tank angle and then he said, 'You know something, I think there's something way bigger here'.
Most other superstars show off the glamorous side of fame and fortune, but you two chose to make a series on social issues. How did you all go about picking the locations and which causes to back?
Jeremy does a lot of work behind the scenes for charities and locally in the community that no one knows about. He doesn't talk about it or make it public. He has a network of people around the world and celebrity friends that he reached out to and said, "Hey, what do you know about NGOs in your country and your state? Is there anyone that we should be talking to?"
Anthony Mackie
and Anil Kapoor do a lot of work for the community. Sebastian Yatra and
Vanessa Hudgens
, are all involved in helping kids and organizations, and you don't know a lot about them because they don't talk about it. So he has this network, and now his friends from other countries are calling him to Peru, Argentina, England, and sharing the work of these great organizations.
Jeremy has relationships with these people, so it's very personal to him.
Have Jeremy and Anil been in touch since their Mission Impossible days?
Oh, God yeah! It's funny because he didn't let me know who the calls were with. So when we were in India, I didn't know who Anil Kapoor was. They showed me a screen and I looked at him and I go, "That's the guy from
Slumdog Millionaire
." It's one of the movies, my kids and I watched many times, but when I met him at Fort Parsoli, it was at night time, and it was dark, and he was with a bunch of his entourage. I kind of walked around the quarter, grabbing a late-night snack and they were around the corner, and he just starts talking to me.
I had no idea it was Anil Kapor, and I think I asked him "What part of the show are you here for?"
He looked at me, and very politely, talked about why he was there. And then I'm like, oh, "You're the Slumdog Millionaire guy!" and he goes "Yeah, yeah, that's me, I'm Anil Kapoor."
He and I text just texted the other night, and he has the most wonderful sense of humour. This guy is very, very funny and has a huge heart, and cares a lot about everything around him. So I'm so lucky I got to meet him, and we've become really good friends, and he's invited me to come stay with him and his family. I'll be back soon.
When Anil sees or reads this interview in the Times I have a message for him; Anil, my bags are packed, and I'm moving in for the summer. It's not just 2 weeks. I'm coming for 2 months, my friends. I'm in love with India!
This time around, you were here just for a week or so…
It was almost 10 days to 2 weeks, between New Delhi and Rajasthan. But, it wasn't long enough. I would have stayed there for months. I just love the smell of the spices in the air. The food was unbelievable.
Did you try out the local food stalls?
I tried butter chicken and naan and you know, that was some of the best food I've ever tried. I swear to God I had it for breakfast, lunch and dinner. I couldn't eat enough of it. I'm Irish-Canadian so we're not big on spice, but I've learned to appreciate spices from the Indian food.
I've also learned from Anil that you don't drink water, but drink milk when the food is spicy. I didn't know this. Anil loves spicy food and so I'd sit next to him, and I'd eat dinner with him at a restaurant, and he was always feeding me. This man would share food off his plate and give me his water bottle! Who does that? Not many people these days…
What did you love the most about your visit to Rajasthan and what moved you?
One of the most interesting parts was the headmaster of the school had also been a student in that same school. That blew us away. He was so passionate about helping these kids because he was once helped, too and that really resonated with him. That sums India up very nicely.
The headmaster of the school was telling us these amazing stories and we were listening to how important the school was for him, and how important it was to get clean water there. This was just a tear-jerking moment for all of us to see kids getting water, which they so richly deserve. We take water for granted over in the US, but for them, it was a great gift.
This show will help launch some beautiful projects, but how will these organisations sustain them?
When Jeremy was interviewing and talking with the organizations, it was really important that he wasn't just giving them something that was a one-time use thing, that they couldn't afford to sustain. So these were chosen very carefully so that they would have a lot of life and use the water filtration truck in India, for example, I drank the water and it was perfectly like what we envisioned. Jeremy said that he would love to work and create a whole fleet of those with charities. Create a dozen and then 100 of these trucks because they need to go from school to school to provide water. All those villages are pulling water from wells, so you've got to be able to clean the water.
There should be 100 of those trucks and I think that's what really could be a very exciting venture and a great follow-up story. Sustainability was a big part of this project. We wouldn't go do this and leave it with an organization if it didn't have a lot of usefulness, because there's no point in that.
That's when a show becomes fake versus a show being authentic, and Jeremy was insistent on this being authentic. He also insisted on not making the show about him, but making it about the organizations and focusing on the kids.