Writer-director Jaspal Singh Sandhu has kicked the ball out of the park in his first attempt. The director, who has been garnering praise from all quarters for his debut directorial, 'Vadh', is currently on cloud nine. The film recently swept the Filmfare Awards this year by bagging two awards in the Best Debut Director and Critics Award Best Actor categories. ETimes got in touch with Jaspal for an exclusive chat where he spoke about the inception of the film, working with Sanjay Mishra and
Neena Gupta
, actors he wishes to work with, and more. Excerpts…
How does it feel to get appreciation for your work in your debut directorial 'Vadh'?
I am elated to receive this award. There was a lot of hard work behind this. It feels really good and surreal.
Why did you choose this film for your directorial debut?
I did not choose this film. The second director, Rajeev Barnwal and I were the writers of the movie. Initially, we just had an idea – an old man commits a murder. And so we started writing it. And we were so convinced by the whole idea and how the story progressed while we wrote it that we were very convinced that this would be something good. Before this, this idea kept knocking. We were writing some other stuff also. I was writing some other stuff, Rajiv was writing some other stuff. But this particular idea knocked on our doors all the time. So we started writing this. And organically, we were convinced that this would be something good.
How was it working with ace actors like Sanjay Mishra and Neena Gupta?
It was amazing. I mean, they responded so well. We could explain to them what we wanted and the result was amazing, just amazing! It was really an experience and I was a little scared to direct them in my debut directorial. They are veterans in their field but it was amazing. They were comfortable and easy to work with, and if I said one, they would grasp ten. So it was amazing.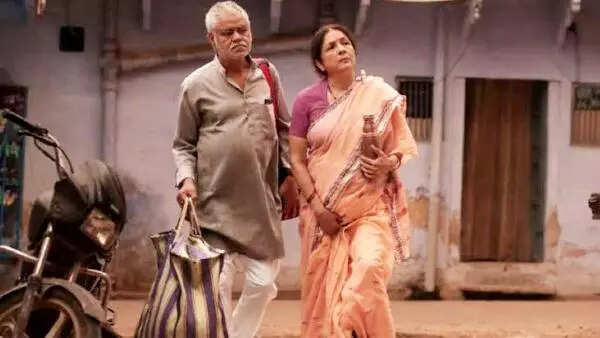 Did you picture Sanjay Mishra in the film during the writing process, or did you have other actors in mind as well?
We just had one line – an old man commits murder, and I had Sanjay Mishra in mind. I wrote the complete story thinking of him as the protagonist. I mean, I could not think of anyone else. It was Sanjay Mishra all along.
While the film remains sombre and dark throughout, did you guys have any fun while shooting for the movie?
It was fun because the output was amazing. But yes, there were difficult times because it was very hot. It was 46 degrees and we were shooting in Gwalior. It's a very hot place. That's my hometown as well. We shot this film in 24 days in Gwalior. Production was strong. The only fun was that we were getting the output that we wanted.
'Vadh' has received great reviews from all quarters. What was the biggest compliment you got for the film, and from whom?
I think the best compliment I have received is from the audience. I don't recall anyone in particular. I kept checking Twitter when the film was in theatres. There were groups of people explaining the ending of the movie, and people were speculating, so it was the best compliment that anyone could ever get. People got what we wanted to convey, and I am really thankful to the audience.
Do you have a bucket list of actors you want to work with?
It's not a bucket list, but I had one person I wanted to work with, and this is an old word. I wanted to work with Irrfan Khan Saab. I had written one story for him, but I just couldn't work with him. But every actor here is great, so no one in particular, I would say.
2023 has started on a big note for you. What's next?
I have a lot of things actually. I am working on a couple of projects, one being grief horror and one being an action crime comedy. I am still figuring out what I should pick next because now I have a burden on my shoulders, so I have to be at par with the expectations of the audience. But yes, there are a few stories I am working on. I will try and pick the best one so that it justifies everything.