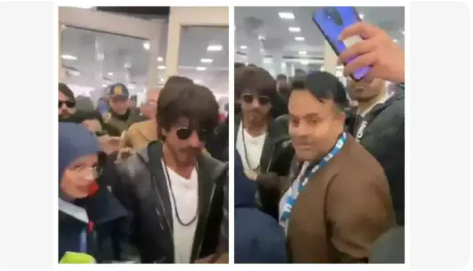 In a rare display of exasperation, superstar
Shah Rukh Khan
was recently spotted refusing a selfie with a fan at the airport, as he brushed him away and moved on towards the exit. The actor had returned home from Kashmir, where he was shooting for 'Dunki', and seemed tired and in no mood to click pictures.
The video of the incident went viral in no time and received mixed reactions from netizens. While some slammed the actor for behaving this way with a fan, others opined that he might have been groggy or in a hurry and he too, has a right to privacy. While one user said, "That fan is a airport staff he nt even touch him den also shahruk insulted him so badly ..this shows real face of celebs ..full of attitude", another comment read, "What r you guys even gonna do with tht selfie… so dumb… let everyone have thr own privacy.."
Hours later, the OG American band Backstreet Boys arrived in India for their concert, taking place after 13 years in the country. As expected, the band was heavily papped, given their popularity in the country and netizens were quick to spot that the same man who chased SRK was trying to get close to the band too! While earlier, the man, who was formally dressed, appeared to be an employee working at the airport, it now seems that he is simply a fan, who loves to get clicked with celebs.
As videos of the same went viral, one netizen commented, "Ok, that guy in white shirt and black tie is he the same guy who was trying to take selfie with srk and now trying his luck here..😂😂". Another fan added that it seems like the man tries to click selfies with any celeb he spots at the airport.