Amitabh Bachchan
recently turned into a fodder for a meme on social media after a Instagram user decided to decode the megastar's real identity and it is sure to make you roll on the floor laughing.
Check out the post here: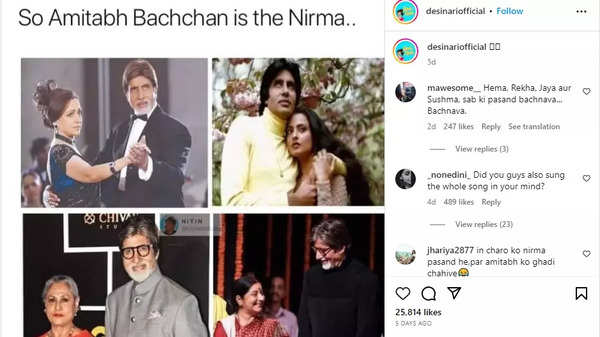 In the post, the user has shared a collage of four photos where Big B is seen posing with four different women. His first photo is a still from his film, 'Baghban' where he is dancing with Hema Malini. His second photo is a still from his film, 'Silsila' where he is posing with his co-star Rekha. The third photo is with his wife Jaya Bachchan and in the last one he is seen posing with late Minister of External Affairs of India, Sushma Swaraj.
Putting the pictures in the correct order, it zeroes down to Hema, Rekha Jaya Aur Sushma, which makes up for a line from the popular Nirma detergent ad that most of us grew up singing. The post suggested, since Hema, Rekha, Jaya aur Sushma, sabki pasand is Nirma, so Amitabh Bachchan is Nirma!
As soon as the post was shared on Instagram, likes and comments poured in from all sides. While one user wrote, 'Hema, Rekha, Jaya aur Sushma, sab ki pasand bachnava… Bachnava', another one added, 'Omg I never thought this logic(sic)'. A user also pointed out, 'Gaddar bhi hai Nirma Hoke Ghadi ke Ad karte hai.'
Amitabh will next be seen in the official Hindi remake of Hollywood film, 'The Intern'. The film also stars Deepika Padukone in the lead role.