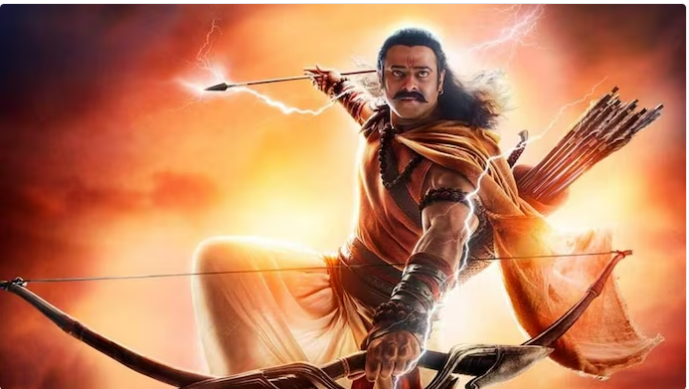 The trailer of Om Raut's magnum opus Adipurush released earlier today and quickly amassed views in millions. The mythological drama, starring Prabhas and Kriti Sanon in lead roles, had earlier been postponed after being panned for sub-standard VFX. However, all that seems to be in the past as the breathtaking trailer left netizens in awe.
While one netizen started off by saying, "The timeless epic is trending in the hearts of many! ♥️#JaiShriRam," another one added, "GOOSEBUMPS STUFF, whatta a trailer mahn, was very disappointed with the teaser earlier, but now the clothings, the visuals, dialogues, music, everything looks perfect. Will smash every existing box office record. #AdipurushTrailer".
More users chipped in lauding the trailer. While one said, "#AdipurushTrailer Hits the bulls eye🔥🥵🥵..Theatrical experience ela vuntundo asalu ..Hollywood feels most of the shots 🙏🏻👌", another one added, "#AdipurushTrailer is BREATHTAKING Director @omraut has created a 3D visual spectacle of highest order, such Live Action film has never been attempted in Indian cinema before which certainly look outstanding on big screen.. Many moments in the trailer evokes Goosebumps.. Much much Better than the teaser, infact there's no comparison atall.. Take a Bow Team Adipurush #Prabhas look & dialogue delivery is 🔥🔥🔥🔥 #Adipurush could create MAYHEM at the box office across India."
Seems like users can't wait to catch the spectacle on the big screen. One user said, "MIND BLOWING 🔥🔥🔥 An EPIC being retold in an EPIC way 🙏🏽 #JaiShreeRam #JaiShriRam Royalty of @PrabhasRaju Anna Goosebumps 🔥💥 It's a Must Watch First Day First Show Congratulations."
Finally, one netizen commented, "Here is the most anticipated trailer of #Adipurush A very good one with brilliant shots and dialogues. The vfx is superior to the previous output. Cinematography and bgm elevated the scenes. This trailer raised expectations for the movie."
Adipurush, co-starring Sunny Singh, Devdatta Nage and Saif Ali Khan will hit theatres on June 16, in multiple languages.