This madventure packs quite the punch as a heartwarming and hardcore family entertainer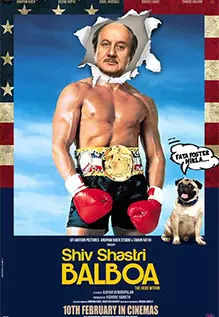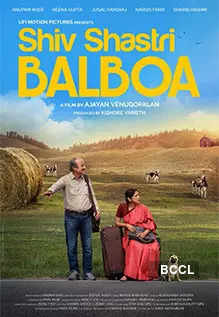 Shiv Shastri Balboa story:
A die-hard Rocky Balboa fan and founder of the local Rocky Boxing Club retires and permanently moves to the US to live with his son's family. There, he deals with alienation and culture shift, and goes on a madventure to Philadelphia with a house help he befriends and chooses life over mere existence.
Shiv Shastri Balboa review: Director and writer Ajayan Venugopalan proves that a film based on boxing needn't be an actioner about a fading star's spirited comeback to be a thrilling entertainer. The protagonist can be an ageing retired banker with a prostate problem who has never set foot inside the boxing ring and still displays bravura in his own way. Shiv Shastri (Anupam Kher) embodies this as he considers Sylvester Stallone's franchise Rocky a philosophy to live by. When he moves to Ohio to live with his son, Dr Rahul Shastri (Jugal Hansraj) and his family, he tries to teach the values to his young grandsons. But the movie is not about him training the kids, either. Shiv Shastri is the one who ends up living the inspiration from his favourite franchise.
The senior man aims to go to Philadelphia to shoot a video on the 'Rocky Steps' for an interview on his favourite news anchor Rajat Sharma's show. Rahul does not care much about the dream and calls it their last priority, but at the spur of a moment, Shiv takes off for Philly without informing the family to pursue his endeavour and help a Hyderabadi house-help, Elsa Zacharia (Neena Gupta), flee from her exploitative masters and go to her hometown to celebrate her darling granddaughter's 13th birthday.
Shiv's adventure begins right when he sets foot in America as the cops pick him up for urinating in the open and levy a heavy fine. It becomes crazier as he and Elsa are forced to live with a wannabe Punjabi singer Cinnamon Singh (Sharib Hashmi), due to an unfortunate event. The shenanigans include taking on a gang of bikers, going to a strip club, pretending to be Cinnamon's parents to meet his girlfriend Siya's (Nargis Fakhri) folks and a run-in with the law.
Throughout the 132 minutes of runtime, the viewer will stay delighted and in splits as he becomes friends with the family's pug, Casper, whom he fondly calls Capsule and has hilarious conversations with through the pooch's funny thought bubbles. Directors of photography Joshua Osley and Binendra Menon complement Venugopalan's taut direction and screenplay, showcasing the quaint and serene American landscape and even rough biker neighbourhood. Alokananda Dasgupta and Utkarsh Umesh Dhotekar's guitar-laced music adds gravitas to the narrative.
Anupam Kher portrays Shiv Shastri Balboa with great finesse and owns every scene with his delightful dialogue delivery, whether frustratingly exclaiming about the pug he's initially scared of, 'Friendly hai toh rakhne ka kya faayda?' or the outrage at being fined an eye-watering $75 for urinating or his grandsons not being introduced to the inspirational Balboa universe. When his older grandson Arjun falls in trouble with bullies, he doesn't pump him up with boxing tips but gives practical advice to stay out of their way since they will forever remain on the streets. Anupam imitating Stallone on a couple of occasions is on point, too. His chemistry with Neena is extraordinary. She does justice to her role of a bungling grandma guzzling down vodka and beer and dreaming of escaping the life of drudgery of eight years to provide for his greedy daughter and son-in-law back in India. Sharib Hashmi completes the team and stands strong alongside the two powerful veteran actors. As the NRI son, Jugal Hansraj is relatable with his light American accent and demeanour.
The movie subtly touches upon alienation, racism, culture shock, and what it means for the third generation to grow up amid increasing intolerance. But all these are presented just as a matter of fact, not once taking away from the central theme of Shiv Shastri and Elsa being on an inadvertent adventure.
The story is a complete family entertainer, though it does suffer from one subplot too many and loses some steam for a while towards the end as a legal battle is introduced. If you are looking for a movie you can enjoy with your family, you must definitely head to the theatres.