Netizens tease Malaika Arora for allegedly wearing ex-husband Arbaaz Khan's jacket on dinner date | Hindi Movie News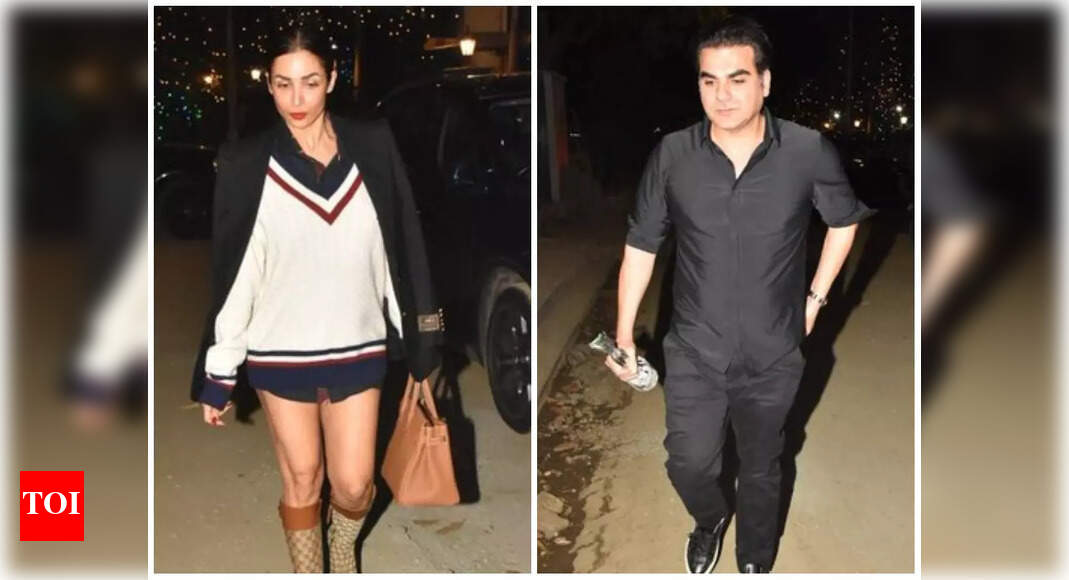 Arbaaz Khan
and
Malaika Arora
grabbed headlines when they reunited on a dinner date late Tuesday evening.
The estranged couple got together for a New Year's dinner at a plush restaurant in the city. Arbaaz was even seen playing the gentleman and carrying a gift, presumably for Malaika. While the producer rocked an all-black look, Malaika embraced sweater weather and rocked a white cardigan, a shirt and topped it off with a high-end jacket and boots.
Netizens were quick to take to the comments section to share their reaction, while others tease the actress. Some plainly asked if the actress was wearing her ex-husband's coat. "Coat pehen ke bahar aana zaruri tha Arbaz ka," wrote an Instagram user.
Another said, "She is wearing court of her ex-husband because she must feeling so cold."
Another asked about the whereabouts of her boyfriend Arjun Kapoor. The post read, "Arjun kidhar hai dikh nahi raha."
While fans had a lot to say about the two stars and their choice of clothing for the evening out, everyone seemed to agree, "They both look hot."
Amidst the many conversations, the photos and video kicked off online, were some of a possible reconciliation. A fan asked, "So u guys are shipping them again??"
Another teased, "Patch up" and added a couple of laugh-out-loud emoticons.
Malaika's outing with Arbaaz comes just days after her New Year's getaway with Arjun in Rajasthan. The couple was joined by a few B-town friends as they celebrated the New Year amidst nature and wildlife.
While Malaika and Arbaaz caught up over a quiet dinner, their son, Arhaan was seen catching up with his friends at a sushi restaurant. The celeb parents have made it a point to meet up occasionally when their son is in town. They are also often spotted at the airport to receive him and send him off after his visits.
Arhaan, like most other star kids, is also studying abroad. The hunk was reportedly pursuing a degree in the USA.