Kavya Thapar calls Randeep Hooda 'finest' and 'most talented' actor; says. 'It was a blessing to share screen space with him in CAT'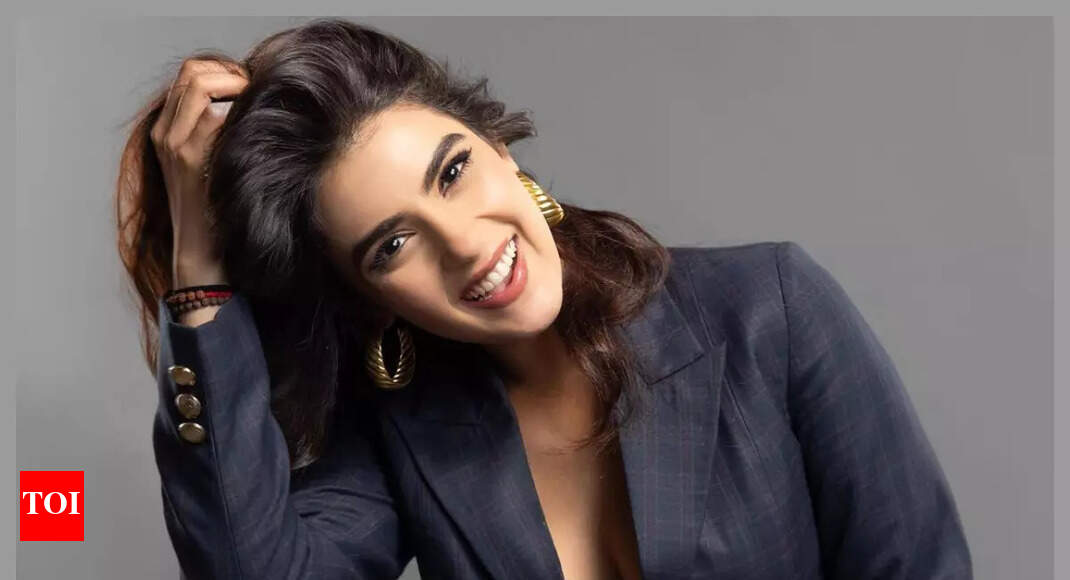 Kavya Thapar recently garnered immense praise for her portrayal of Kimi Aulakh in the critically acclaimed Indian web series CAT. ETimes got in touch with the actress for an exclusive interview where she opened up about sharing screen space with Randeep Hooda, her upcoming Telugu film with
Ravi Teja
, being a movie buff and more. Excerpts…
You have been receiving immense praise for your role in CAT. Tell us something about your character…


I played the character of Kimmi Aulakh who is the young, spoiled daughter of Madam Aulakh who's had everything served on a platter for her. She was born with a golden spoon in her mouth. She is a young college student who has everything she wants when she wants it, she is a wild child who has power, money and freedom, and she's fierce and daring. The series has shown drastic change and growth in the character over time when she's faced with the harsh realities of life.
How was your experience working with Randeep Hooda? How is he as a co-star?

It was a blessing to share the screen with Randeep sir, one of the finest and most talented actors in our industry. He was an inspiration to all of us on set. He was always very helpful and supportive as a co-star and was always ready to help us perform and deliver better scenes.
You have also been a part of some films down South. What differentiates them from Bollywood?


I think the difference is language for me, and being able to express the right emotions and take the correct pauses in a different language was the major difference for me. Also, with the industry differences, the audience and their perspective also change, but that's something I can easily adapt to as an actor.
You will soon be seen sharing the screen space with superstar Ravi Teja. Tell us something about it…


I am very excited for this one. It's my next Telugu movie with Mass Maharaja, the energy king, and I can't wait for people to see what we have shot in Poland and are about to shoot. It's a unique story with an amazing action-packed film and a beautiful, emotional love story.
Were you a movie buff growing up? Whom did you idolise?


Of course, I always loved the glamour field and I loved Poo from 'Kabhi Khushi Kabhie Gham…!' In films, I admired Madhuri Dixit and Kareena Kapoor.The first Hollywood film I watched was 'PS I love you' and I was a diehard fan of Hilary Swank and Gerard Butler.
From the current generation of actors, who do you think has great potential?


I think the pool of actors in the last two years has widened to an outstanding range, and so many fresh actors have proven themselves and made their mark whether in a movie or OTT platform. I don't think I am the right judge to say who has great potential, but I'll humour myself and say ME. All directors and producers, it's me (laughs). Just kidding!
Do you have a bucket list of actors you wish to work with?


I definitely do. I have a huge list. I adore working with both experienced and inexperienced actors, both male and female. There is so much one can learn from their contemporaries. I believe you can always learn from anyone, not just an actor. Any human you experience can help you learn something new and beautiful and help grow, change, or evolve your perspective and widen your outlook in life.
Coming from a non-film background and making it on your own in the industry, how has your experience been so far?


I think my experience has been exceptional and a great blessing from God. I have seen the struggles and hard work of so many actors and how they leave their homes, their comfort, and their family and friends and come to a fast-paced, competitive city like Mumbai to make their mark. There's only so much space for everyone, but day in and day out they work hard to be where I am today, and I think that's commendable. Just to be able to live in Mumbai with my family and friends around and be able to do what I love and be able to successfully get such opportunities makes me feel nothing but immense gratitude. Having said that, yes, I have worked very hard and put in everything I've got to make it to where I am since I don't belong to a filmy background but am definitely still blessed, lucky, and grateful. Also, this is a big thank you to my fans, who accepted me, supported me, and loved me through my journey. I hope to keep working hard and entertaining my loved ones.
What's next?


There's a lot coming up, and I'm very excited to present these upcoming movies to my audience. I'm doing two Telugu movies and one Tamil movie. There is also an upcoming Hindi web series that I am a part of.