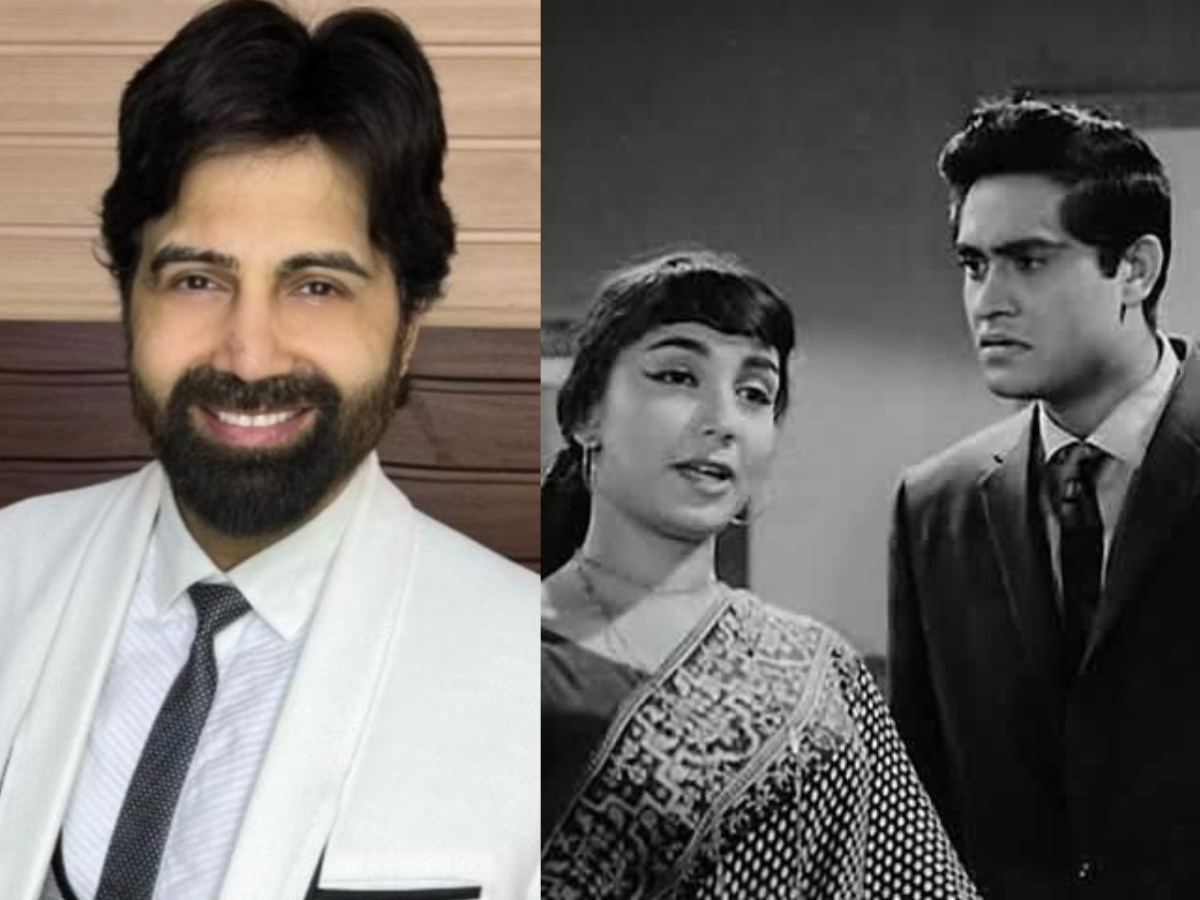 The leading man of musical romances like Love In Shimla, Ek Musafir Ek Hasina, Phir Wohi Dil Laaya Hoon, Love In Tokyo and Hum Hindustani – Joy Mukherjee was quite the popular star back in the 60s. He phased out during the 70s, but over the years, his films supported by the music of OP Nayyar, Usha Khanna and Kalyanji-Anandji and with the presence of star heroines like Mala Sinha, Asha Parekh and Sharmila Tagore have managed to attain cult following. Joy was the son of acclaimed producer-filmmaker S Mukherjee, who made movies like Jagriti, Love In Shimla, Leader and more. The Ganguly brothers – Ashok Kumar, Kishore Kumar and Anoop Kumar – were all brothers in law to S Mukherjee, he was married to their sister Sati Devi.
His son Sujoy Mukherjee now plans to revive their family's legacy again. Their production house produced most of Joy's memorable musical hits in the 60s. Now Sujoy wants to revive their banner Joy Mukherjee Productions. Speaking to ETimes, Sujoy revealed his plans and inspirations to revive his father and grandfather's evergreen legacy.
Reviving the Joy Mukherjee banner
We are planning to revive the preview theatre and after a year the Filmalaya Theatre will be back in Mumbai. I made a short film Ab Mujhe Udna Hai. When I was making a film as an associate producer Hai Apna Dil Toh Awara, which we shot for 30 days in Kashmir, I got a keen interest to direct films. When I came back to Mumbai, I spoke to two of my favorite writers Sunil Kapoor and Sudhir Kapoor because I was looking for a subject. They asked me to visit them in Delhi and I met them at the USI resort. While walking in the beautiful garden, suddenly, a thought came up about women's empowerment and I titled it Ab Mujhe Udna Hai.
I used to read articles where a lot of women who were 16 to 18 years of age, got out of their houses to meet people and certain things happened to them. Men touch them in the wrong places and try to molest them. I read a story of a girl who was a dancer who went into depression. She was molested outside a discotheque. She got saved from getting raped. But after that incident, she did not have the same confidence and went into depression. So, the story is about how she stands up on her feet again. I wrote Ab Mujhe Udna Hai with Sunil and Sudhir Kapoor.
This short film went on to win 39 awards all over the globe. In 2019, it won the Best Short Film award at the Dadasaheb Phalke International Film Festival.
Releasing Love In Bombay after 42 years
After the success of my short film, I got a keen interest to work on a feature film. I made the short film under my father's banner Joy Mukherjee Productions. In 1968, my father made Humsaya. The songs of that film became super hit. After that, he made a film called Love In Bombay with his maternal uncles Kishore Kumar and Ashok Kumar. He couldn't release that film. After my dad passed away, my elder brother Manjoy and I released that film in 2013. We revived that film because its negatives were spoiled. We revived everything in the lab. In his old age, our dad kept telling us that he wished the film was released. We took it as a challenge and the film was released on ZEE5.
Taking the legacy forward with Kalpvriksh
After that, we made Hai Apna Dil Toh Awara which is streaming on Prime Video. Ab Mujhe Udna Hai is streaming on Disney+ Hotstar. Now, I am debuting as a director in feature films. The film is titled Kalpvriksh. Kalpvriksh is the divine tree. The story is about how parents build a legacy; they take so much time to build so many things in life. And once they pass away, today's children just want to sell everything off. It's an entertaining family drama. There are a lot of emotions attached to this film.
Anand Ji from the legendary music composers Kalyanji-Anandji, Sunil Kapoor, and I were in Delhi. We were going to a party. Anandji gave us a story idea about how today's kids just sell everything off all too quickly. That subject hit Sunil Kapoor and I. We started working on the story the next day. I'll be announcing the motion poster of Kalpvriksh on the January 21. The casting will happen after that. I have an ideal cast in my mind. A mix of established and newcomer actors which I will reveal later. My producing partner is CH Muhammed whose banner Royal Cinema has produced two superhit films in Malayalam. One of them is Mamoothy-starrer Masterpiece (2017).
Referencing Joy Mukherjee's hits
Kalpvirksh is a story about a filmmaker who at his peak time makes wonders but when he's old and dying his children want to sell everything. There's a character of my father Joy Mukherjee. The protagonist is a filmmaker who is directing a film starring Joy Mukherjee and Sadhna. We will also be referencing some Filmalaya films in Kalpvriksh as well. We will recreate the black and white era.
Till today, we have not sold the negative rights of any film produced by Filmalaya. We still hold the negative rights to all Filmalaya films. Everything is digitized. We are keeping the legacy of the studio and films and reviving the theatre too.
Remaking Ek Musafir Ek Hasina
After starting Kalpvriksh, I will make another short film that I have already written. I would like to remake Ek Musafir Ek Hasina (1962).