Rajkumar Santoshi's upcoming film 'Gandhi Godse – Ek Yudh' is in a spot of bother. Santoshi has to pay up Rs 50 lakh to financers YT Entertainment Ltd if he wants the film to see the light of day.
The judgment in question was passed as an Order by Mumbai's Dindoshi City Civil Court, two days back. We have a copy of the order that we are attaching here below: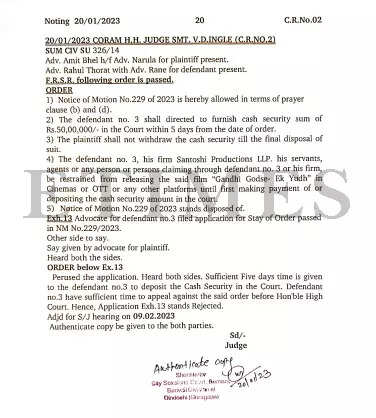 Santoshi was given a signing amount of Rs 50 lakh, courtesy YT Entertainment Ltd who had shelled out the said amount to Samee Siddique (producer of the 2008 Santoshi-directed 'Halla Bol'). Post 'Halla Bol', Siddiqui wanted to make another film with Santoshi. But Santoshi could not put the film together.
Post that, there was a settlement agreement between the three parties in question and Santoshi had confirmed to them that he would return the money if and when he produced and directed a film. Post that, Santoshi helmed 'Phata Poster Nikla Hero' but only as a director and not as a producer.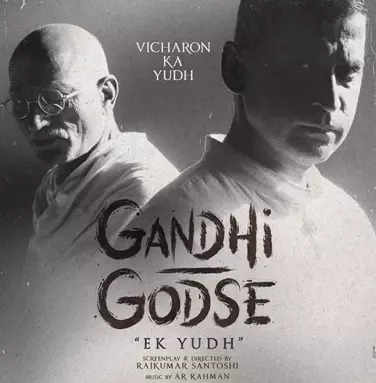 Incidentally, YT Entertainment was one of the financers on 'Halla Bol' too.
We hear, the theatres have also been informed about the Dindoshi Court order.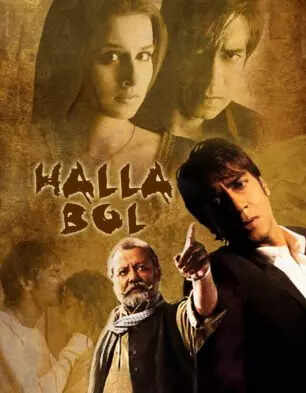 Santoshi has been directed to deposit the disputed amount in the Court in five days after the above order (debarring Santoshi to release the film in not just cinemas but OTT platforms too until the financial dispute is cleared) was passed.
A source tells ETimes, "YT Entertainment had no option but to wait until Santoshi comes up a film wherein he is both- producer and director. Seeing that 'Gandhi Godse – Ek Yudh' was his first film after his promise, YT Entertainment Ltd took a fresh legal recourse seeking a stay order on it unless and until Santoshi clears their dues."
When contacted, Yash Shah, son of late financer Raju Shah (who passed away last year), confirmed and said, "I am happy that the right decision has been taken and we stand by it."
The above case was going on very hotly since the past few days but has not been reported so far. Remember you read it FIRST and EXCLUSIVE here on ETimes.