Arjun Kapoor, Tabu, Gulzar, Vishal Bhardwaj: Celebs attend the musical evening for 'Kuttey'; Rekha Bhardwaj leaves crowd mesmerised – Watch | Hindi Movie News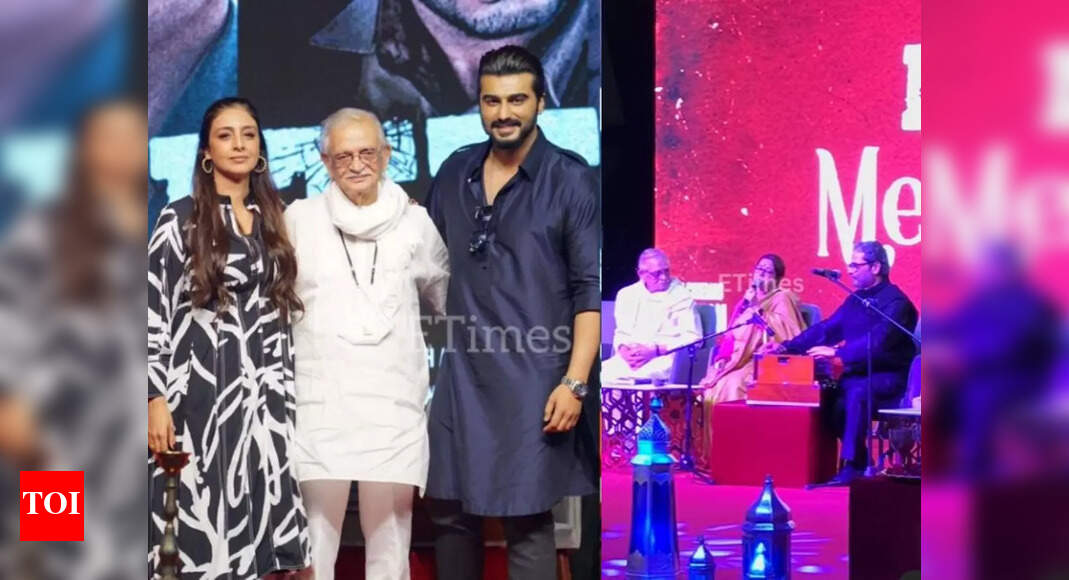 A special musical evening was held in Mumbai On Tuesday, ahead of the release of 'Kuttey'. The evening was called, 'Mehfil-e-khaas' and it attended by the film's cast and crew including Tabu, Arjun Kapoor, Radhika Madan. The film is directed by Vishal and Rekha Bhardwaj's son Aasman Bhardwaj hence they were also present at the evening.
The highlight of the evening was also legendary singer Gulzar's presence who as always created magic with his words.
Meanwhile, Rekha Bhardwaj's made the evening magical with her mesmerising voice and the crowd was left cheering for her.
The singer spoke about her son's directorial debut. "It feels special. There's excitement as well as nervousness because I am his mother. Vishal and I have learned from Gulzar Sahab to not do mediocre work. So, I am happy that Aasmaan has tried to follow the same path. I feel proud that Aasmaan has learned his work. This is just the beginning," expressed Rekha Bhardwaj.
The cast and crew was seen having a good time as Tabu, Radhika and Arjun were seen laughing. Arjun shared his experience of working of working on 'Kuttey' and shared that while many actors don't get to work with an ensemble like this one by one also in their career, he got the chance to work with such a cast in just one film. 'Kuttey' also stars Naseeruddin Shah, Konkona Sen Sharma, Kumud Mishra and Shardul Bhardwaj. '
'Kuttey' is set to release on January 13.