Sai Tamhankar: Emraan Hashmi is one of the biggest underdogs that we have in Indian cinema | Hindi Movie News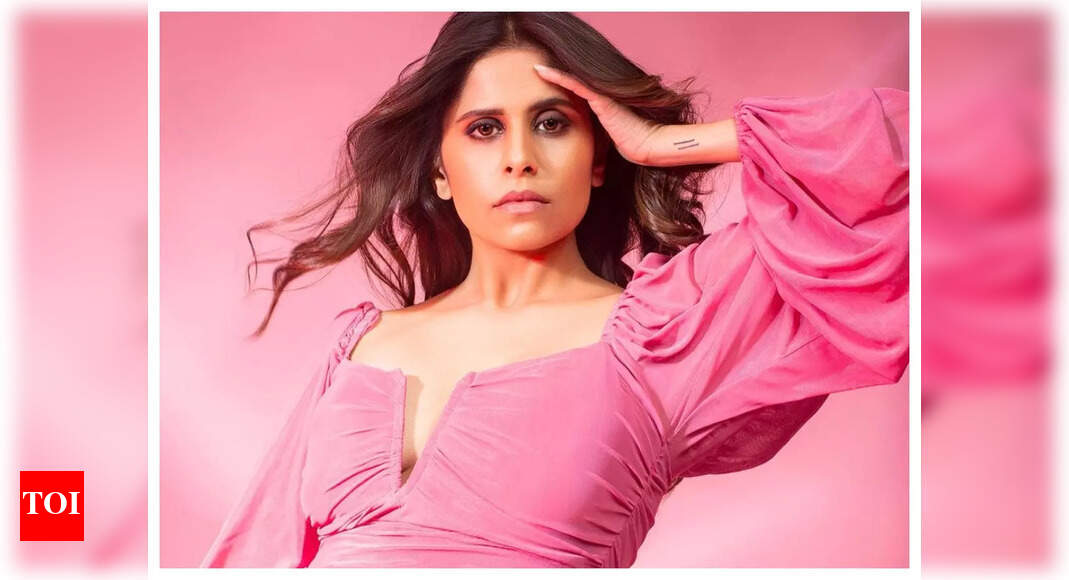 Sai Tamhankar is enjoying the positive word coming her way as 'India Lockdown' released on OTT last Friday. And 2023 also looks promising as she has 'Ground Zero' with Emraan Hashmi and 'Agni' with Pratik Gandhi in the pipeline. In an exclusive interaction with ETimes, Sai opened up about her experience of working with Madhur Bhandarkar on 'India Lockdown', shooting with Emraan and her journey in films. Excerpts:
How would you describe Madhur Bhandarkar as a filmmaker?
I really like his quality of being
thet (direct). It really begins from his titles, they're '
thet', like absolutely in your face. and I think his images, his shot-taking, his frames are also very
thet. I think he shows what he wants to say, which is very rare and admirable. He's very transparent as a director. As a person, he is very fun. When you imagine a director of films like 'Page 3', 'Chandni Bar' and 'Fashion', you imagine somebody who's very serious, grumpy and strict, but he is exactly the opposite. He's the most jolly person on sets. He makes you comfortable in a jiffy. He's also a big foodie, so he knows where you get what. So yeah, it was a lot of fun shooting with him.
India Lockdown was announced during the pandemic and shot during the lockdown. How would you describe the onboarding and shoot process in these conditions?
Few restrictions were open, half lockdown was a thing. So the amount of tests we've done every four days, it was difficult. But you derive a lot of positivity and face the situation. But before this happened, I got a call for the film and I did not believe it. I called back to crosscheck twice, after which I went to meet Madhur sir. He knew my films and he even pointed out my reactions in certain scenes from certain films. So, it was quite impressive how people keep a tab of your work and it was sort of reassuring that whatever you are doing, people are watching it. So it was a very fulfilling feeling. And then we directly moved on to the screen test. There was no audition, we discussed the role and I immediately took the look test for the part.

Shed some light on playing Emraan Hashmi's wife in 'Ground Zero'.
Emraan is very sweet. I think he is one of the biggest underdogs that we have in Indian cinema. He is a brilliant actor. When I met him, I told him I loved him in 'Shanghai'. I'm very happy that he is exploring opportunities and parts which he's worthy of. I would love, as a fan also, to watch him in things that he's doing currently.


You debuted with a Bollywood film and have consistently featured in Hindi cinema. Which movie do you think was a game changer for you?
To be very honest, you need the push and eyeballs to make it big and I think 'Hunterrr' gave me the eyeballs and awards like Filmfare sort of sealed the deal for me. I officially started existing after these awards. I think 'Mimi' was a second game changer for me. I mean, very rarely you get a part as a parallel lead and the character was also explored brilliantly.
Are you consciously deciding the roles you take up and being choosy now?
Could I be very honest? I know one thing for sure that if I'm going to do different kinds of stuff, different kinds of stuff is going to get offered to me. It is as simple as that and yes, I'm being choosy and yes, I take my own sweet time and sometimes that's too long, but I'm okay with waiting. I know for a fact that if I'm versatile, versatile work is going to come my way and I am all, all game for versatile roles and characters and parts.